Oh, dear friends, what a month this has been! Since the last time I posted, we have been busy, busy, busy. Most of it has been good busyness, but honestly, I'm so glad to be beyond it all. January started with a family vacation to Florida where we all got to spend a week simply being together. (That was so, so good.) The week after we came arrived back in Minnesota was The Mango Gala where we celebrated with friends at Greysolon Ballroom and shared our vision for our ministry in Kenya. (A beautiful event following lots of work.) The very next day, we packed up the condo and moved three miles down the road to our new apartment! (Is any move easy?) We then battled sickness while unpacking. (To be expected in the middle of winter.) And then I tackled Perspectives, the online missions course we've been taking since October. (Just one more week, though the class has been pretty amazing.) As I sit on our new, overstuffed sofa in our cozy, little apartment, I am so very thankful to have entered a month that looks much different than the last. I'm letting out a sigh of relief and thanking Jesus for the little moments of peace he provided in the days we've experienced since the start of the new year.
First, thank you so much for your prayers after our last post! We knew moving out of the condo would only make sense if someone came in to rent it right away. The DAY AFTER we moved out, the condo was shown to not one but TWO interested parties! A family moved in on February 1. Yet again, God has provided for our needs. We are incredibly thankful!!
With all that we've experienced in the last month, there is so much I want to share. So, let's start at the very beginning. A very good place to start. (Sound of Music, anyone? Go back and sing those lines, then you can keep them in your head the rest of the day. You're welcome.)
Florida! We had such a wonderful time away as a family  when we visited Florida a year ago, we thought it would be fun to escape to the warmth again. This year, we chose the opposite coast and rented a beach house on Cocoa Beach. (Do you ever use VRBO while vacationing? The best! We've used it many times to find cute vacation rentals for the same price as local hotels.) Again this year our dear friends Luke & Hannah joined us on our trip. They are like family to us and the kids adore them. We all have a great time together! The first few days were hot, which were perfect for the beach. Then it cooled of slightly, though really, it was still quite warm for us northern Minnesotans!
This was the backyard of our beach house. Just beyond those palm trees was a quiet stretch a few blocks north of Cocoa Beach Pier.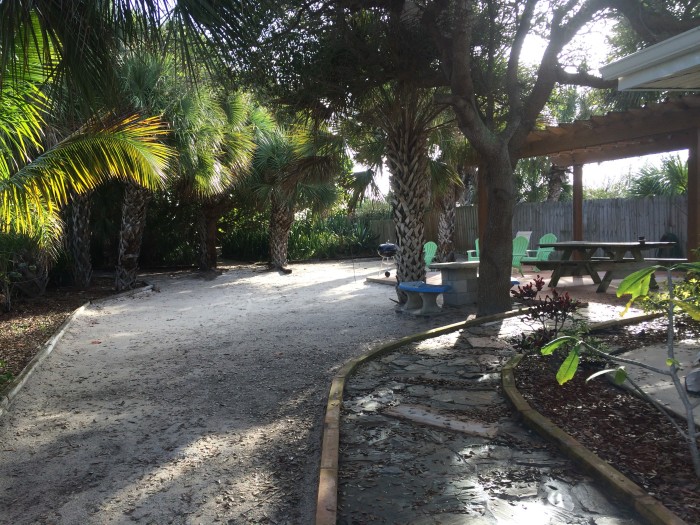 Of course the kids' favorite part of vacation is the beach.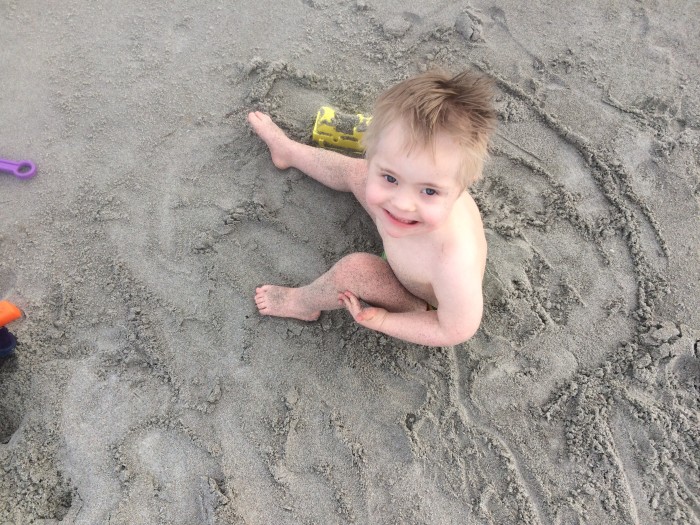 Sam! Showing a little leg!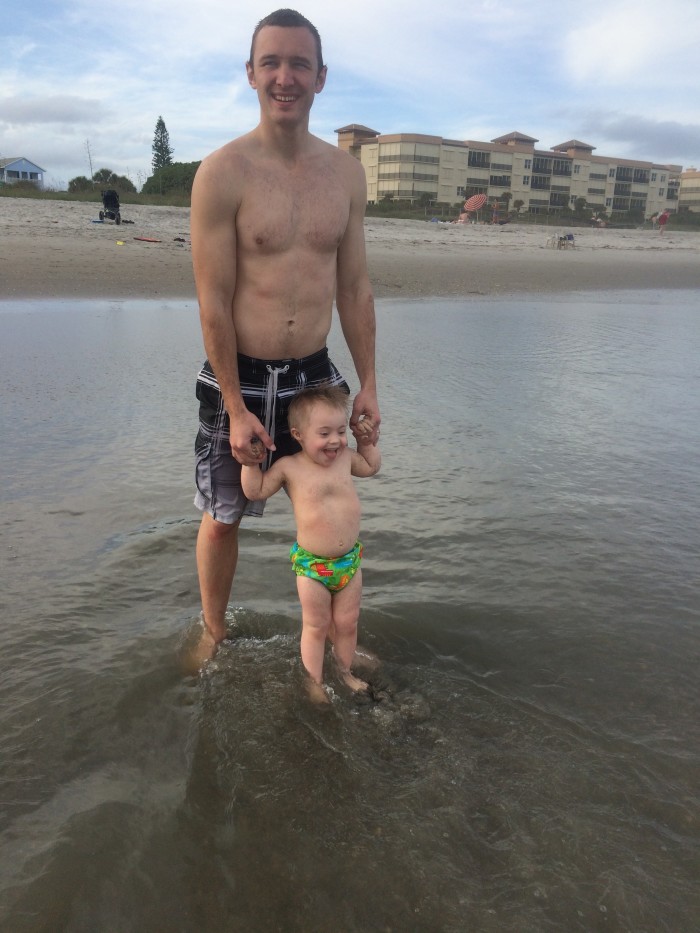 Our rental shared a small pool with the neighboring rental, which thrilled Ella. Such a little fish.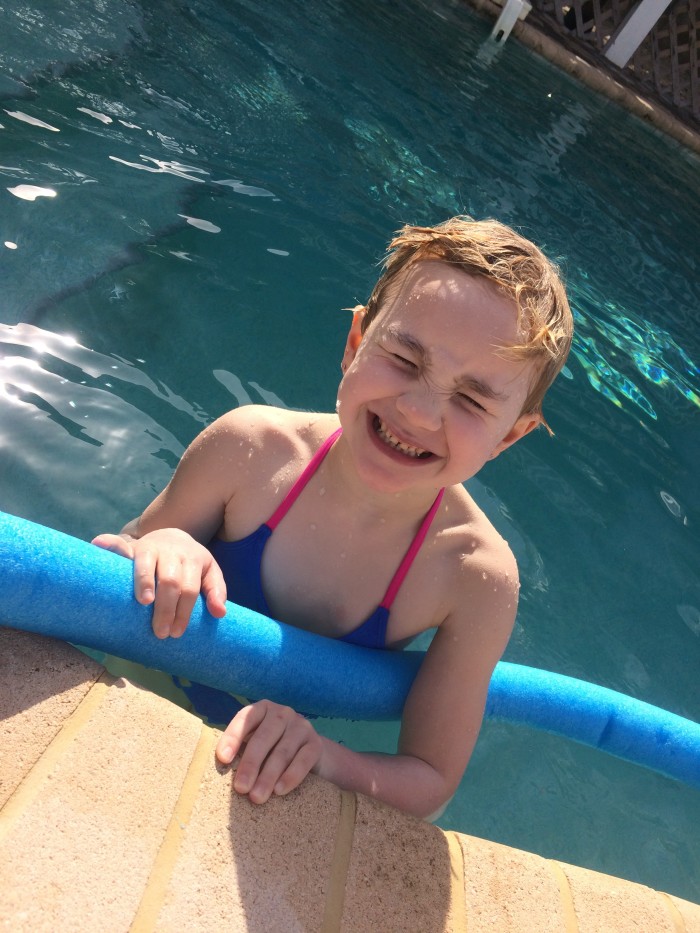 Though she also plays a convincing turtle.
Unfortunately, our little buddy got sick on New Year's Eve. He laid low for a few days at the house.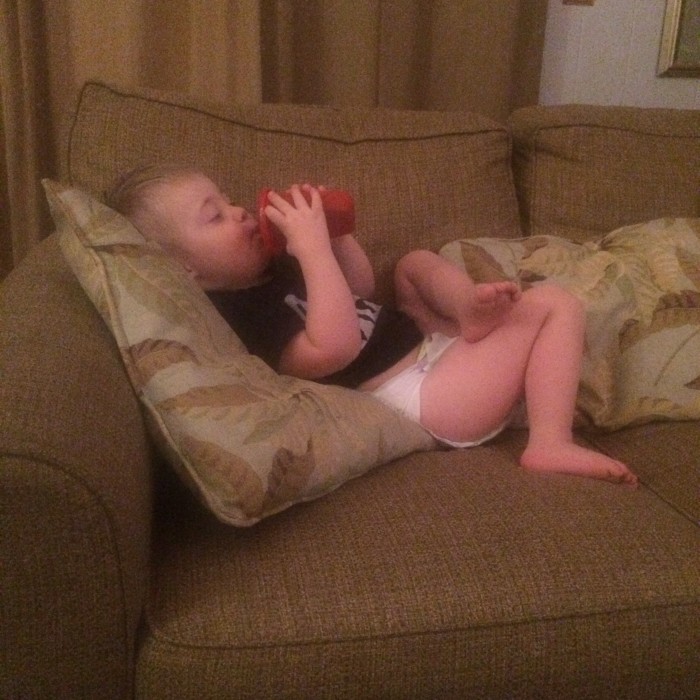 While Sam was resting, Daddy and Ella had an adventurous date together with the gators!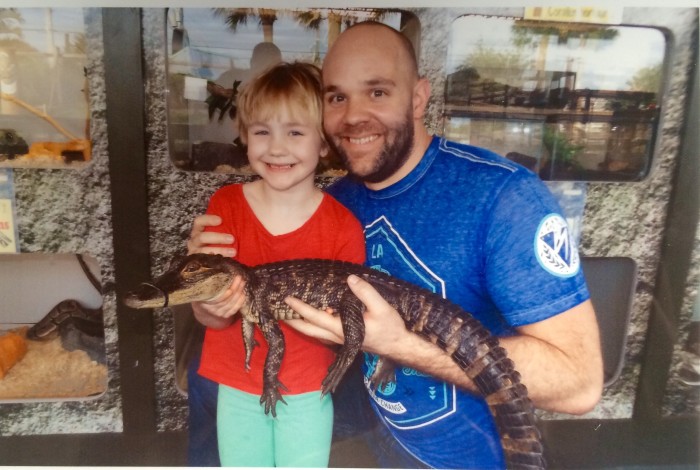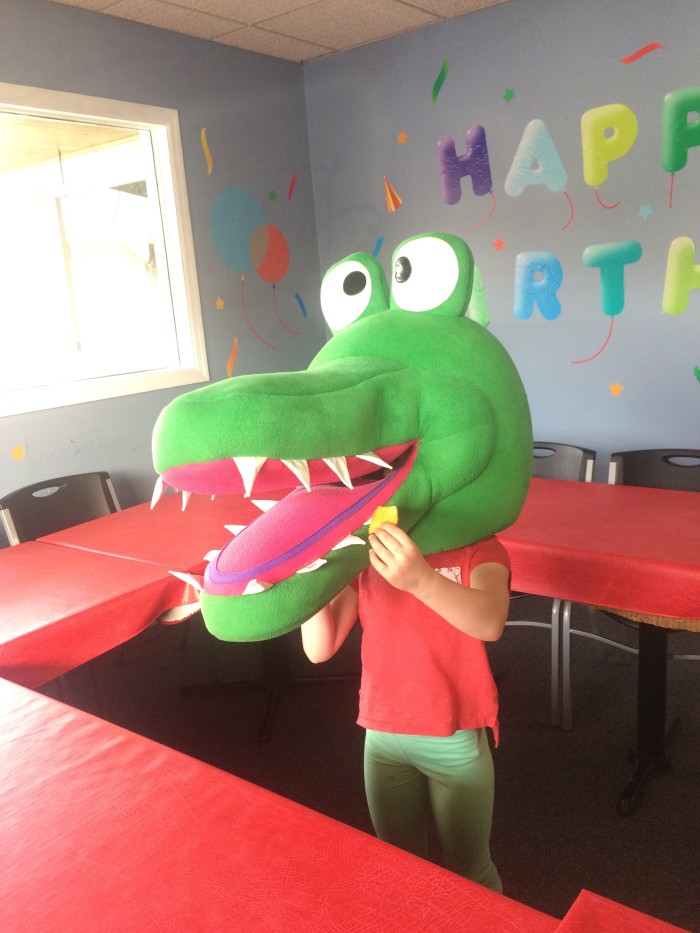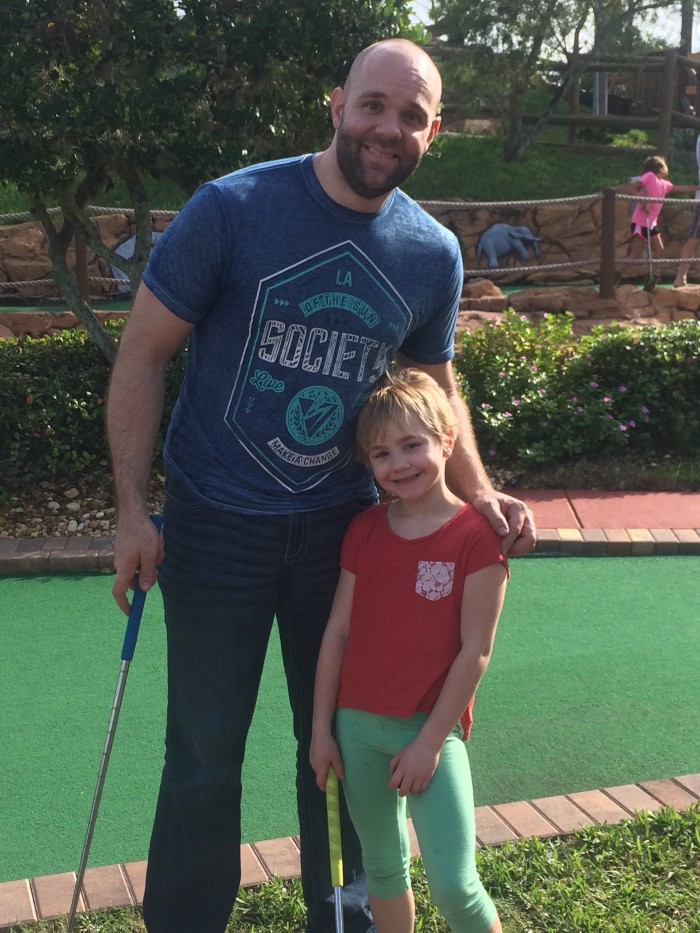 Daddy introduced her to clams, which are now her favorite food. This girl will try anything!
Apparently, wee alligators like hot dogs?? That's what Ella told me, anyway. She strung them on the end of her pole.
On a cooler afternoon, Ella and I walked down to the beach for a little picnic.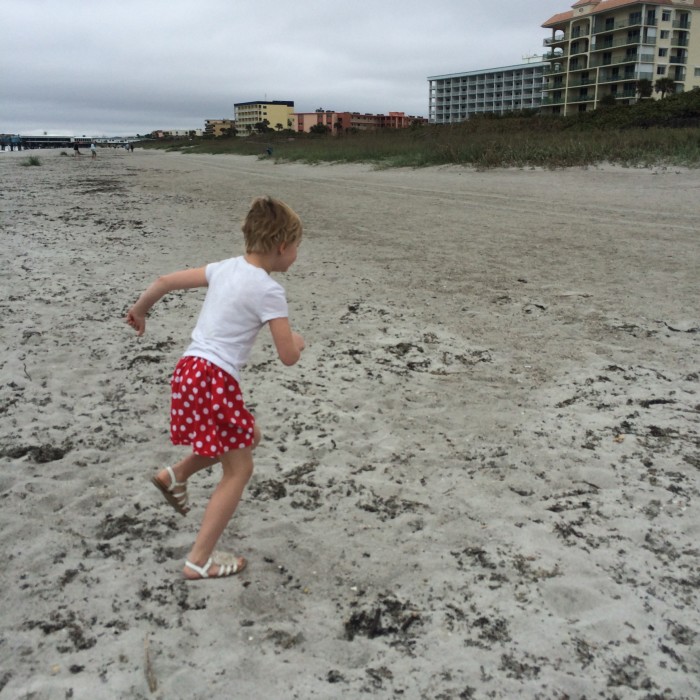 One afternoon while it rained, I drove the kids to Orlando where we met up with my sweet friend, Ashleigh, and her boys.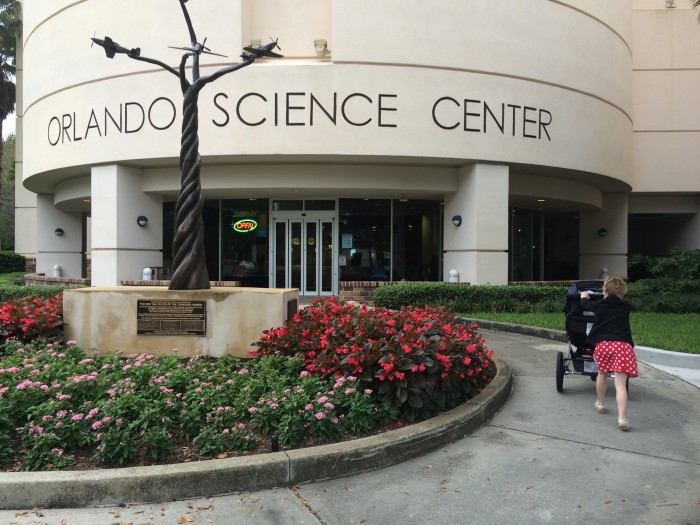 Ella taught Sam the proper technique for digging for fossils.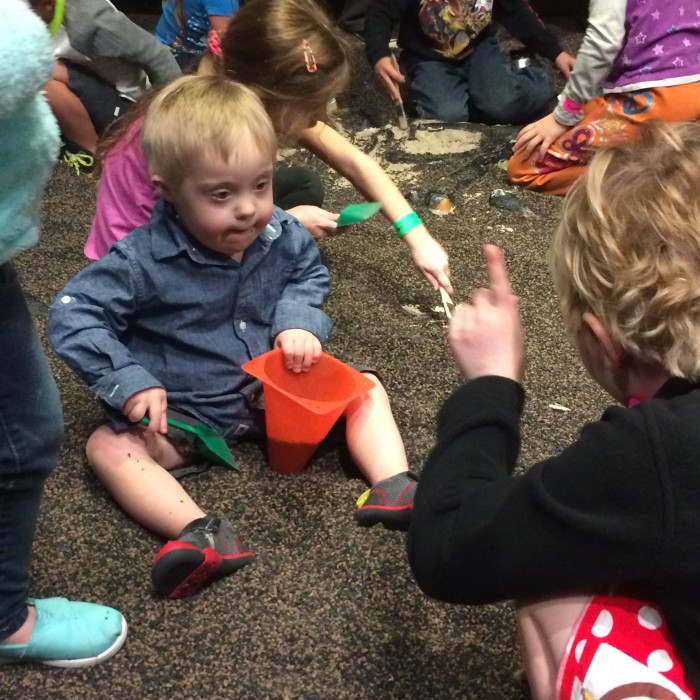 Sam joined the boys on a shaky bridge to get the feel of an earthquake. I was proud of him for keeping his balance so well!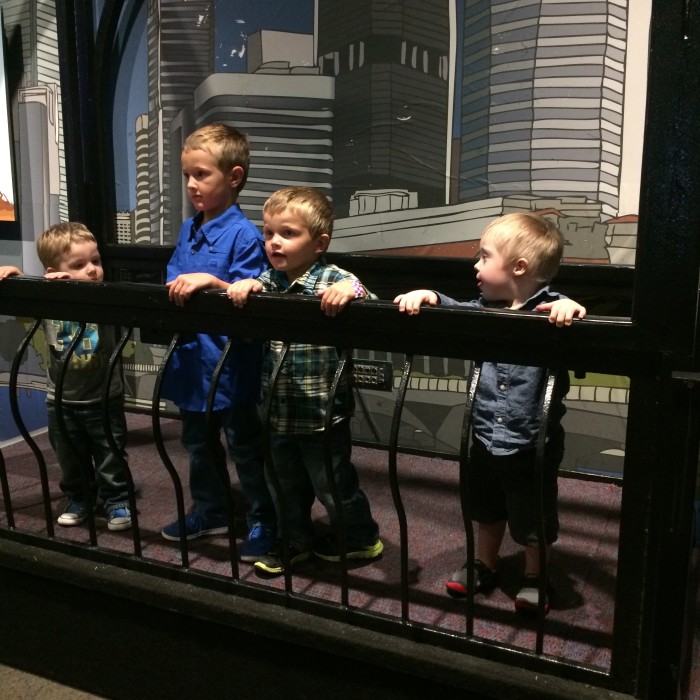 Sam made a friend in the giant tree play structure. He's usually very gentle with new friends. At least until he feels they're ready for wrestling. Then he takes them down, laughing the entire time.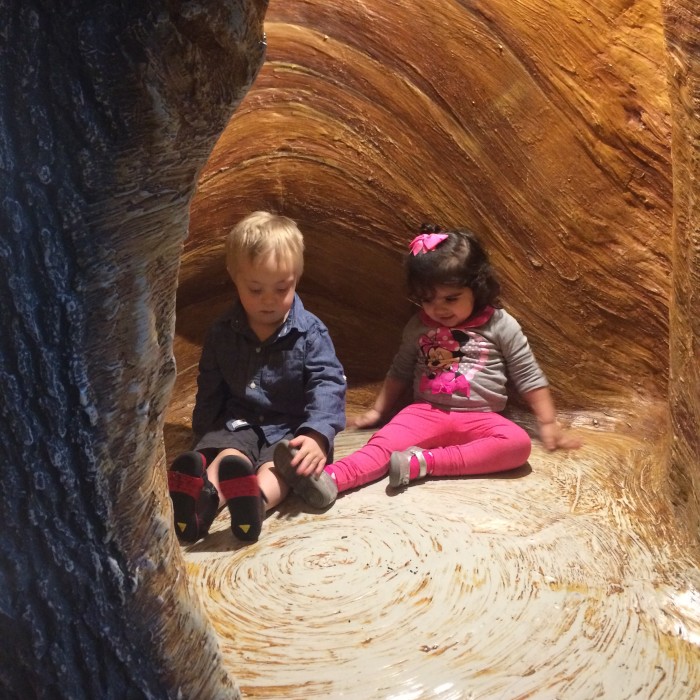 The kids could have played here for hours and hours! It was a perfect way to spend a rainy afternoon.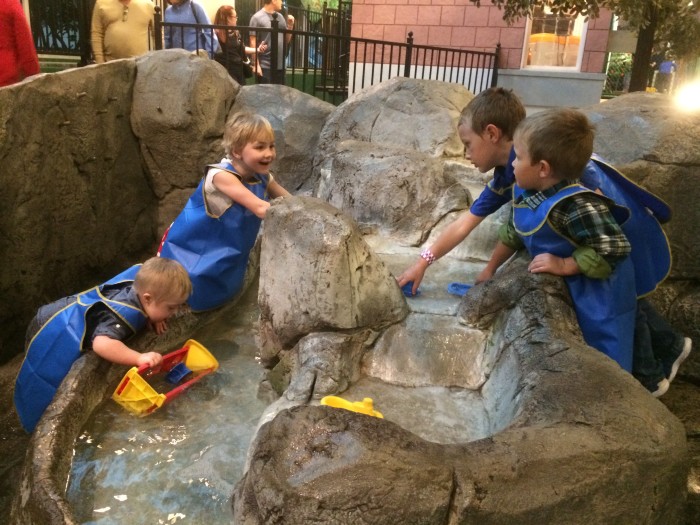 Sweet mama Ashleigh. We met at a conference a couple years ago and have tried getting together multiple times since then. We finally did it! And how adorable is she? That's baby boy #4, making an appearance soon!
We spent one morning at Ron Jon Surf Shop, something that's been on my list since I was in 7th grade. Why, you ask? Let me tell you. When I was in 7th grade, my family took a road trip to Florida. On that trip, we spent a day at Cocoa Beach. At one point in the afternoon, my mom, brothers, and sister walked to the surf shop to rent boogie boards. I stayed with my dad at the beach. For years and years, I've regretted that choice. Every time I've seen a Ron Jon's sticker in a car window, I've remembered that day as a 7th grader and the grand opportunity I missed. So when we decided to stay at Cocoa Beach this year, I knew my visit would finally happen. And it surely did. (Why was it so important for me to visit all those years ago? I have absolutely no idea. F some reason, it just stuck with me.)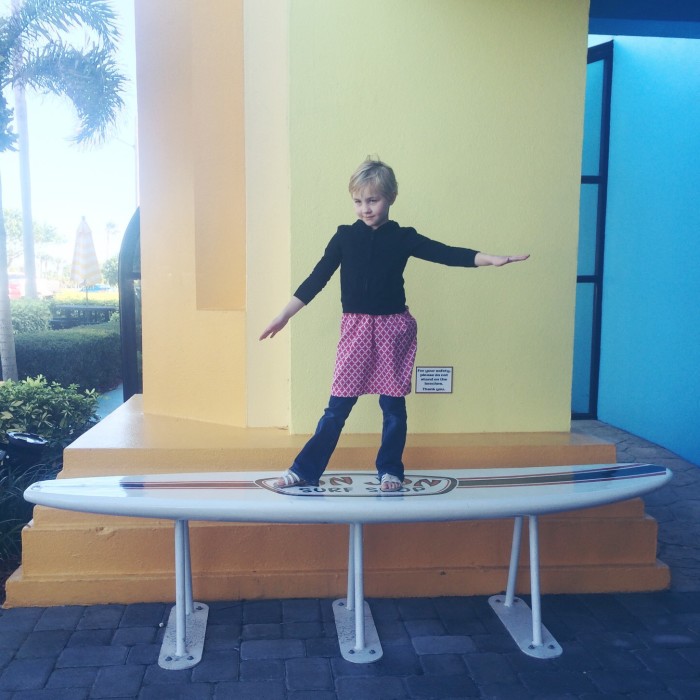 By the time we visited the surf shop, this little guy was feeling much better. We ate at a nearby cafe where we had the privilege of meeting a young man from the area with Down syndrome. We sure do love meeting other amazing people wherever we go!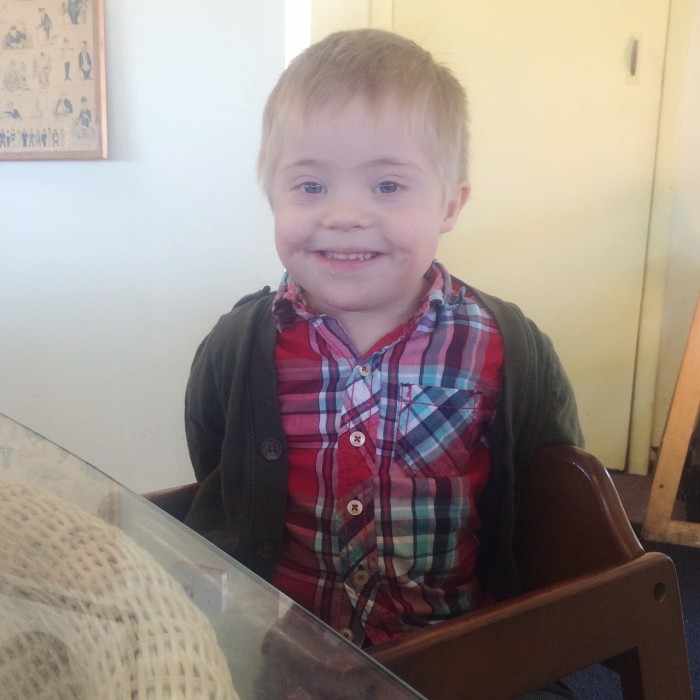 One of my favorite days in Florida was New Years Eve. Pete and I have spent a majority of our time apart the last few months, ever since his job in New Mexico began in September. Because of that, we wanted to do something really memorable to celebrate the new year. Luke & Hannah stayed at the beach house with the kids while Pete & I ventured into Orlando to spend the day at Universal Studios! It was amazing! My heart gets excited even now when I think about the fun we had that day. Just the two of us.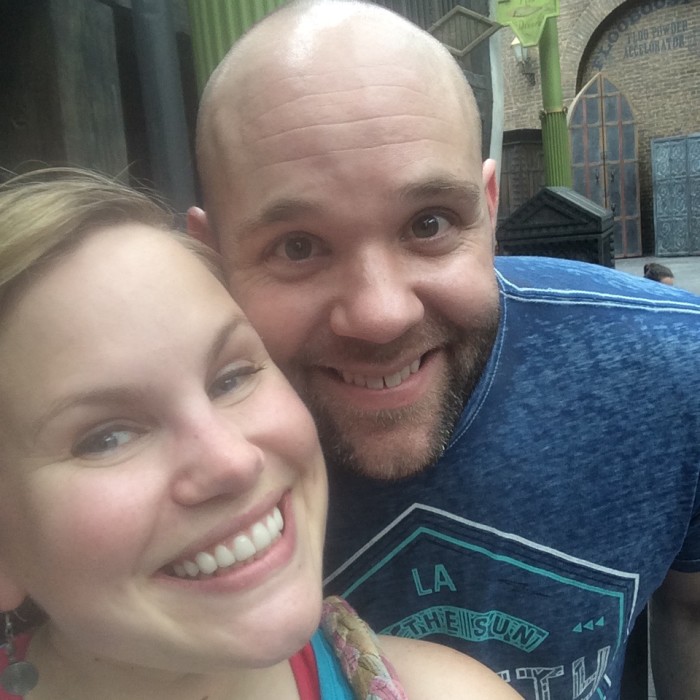 We walked all over, went on rides, saw shows, and ate really tasty treats. The weather was perfect!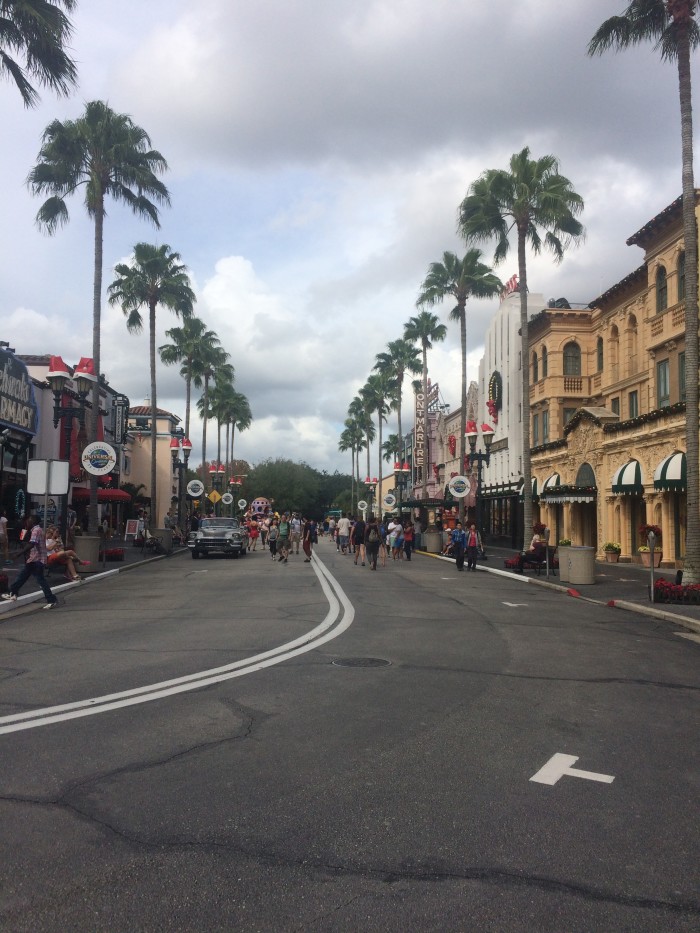 Then we made our way beyond the brick wall into Diagon Alley in The Wizarding World of Harry Potter. It was like stepping into the books! I have listened to the first four audio books in the Harry Potter series, so I was so looking forward to seeing how the park brought it to life. Pete, on the other hand, didn't know much at all about Harry Potter. That was fine with me, because it meant I got to tell him all about it. Our first stop was at a cart for pumpkin juice. Mmm.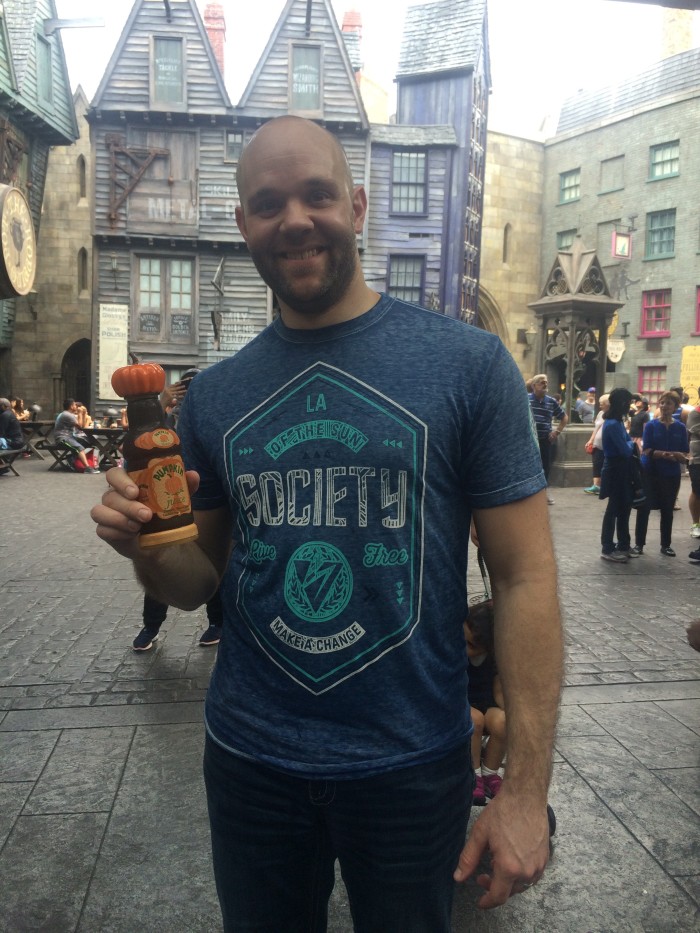 Really, I would probably be equally thrilled to step into a park designed after any number of books or movies. It's definitely my theatrical side that adores the idea of being inside something so imaginative. Every nook and cranny was intricately designed to match the books and every park employee played the part.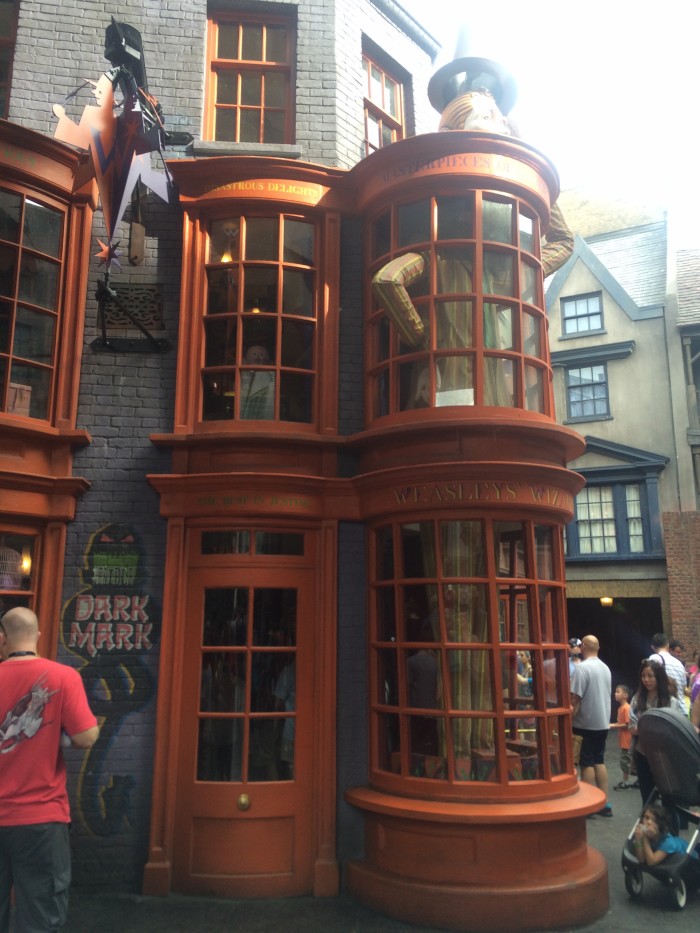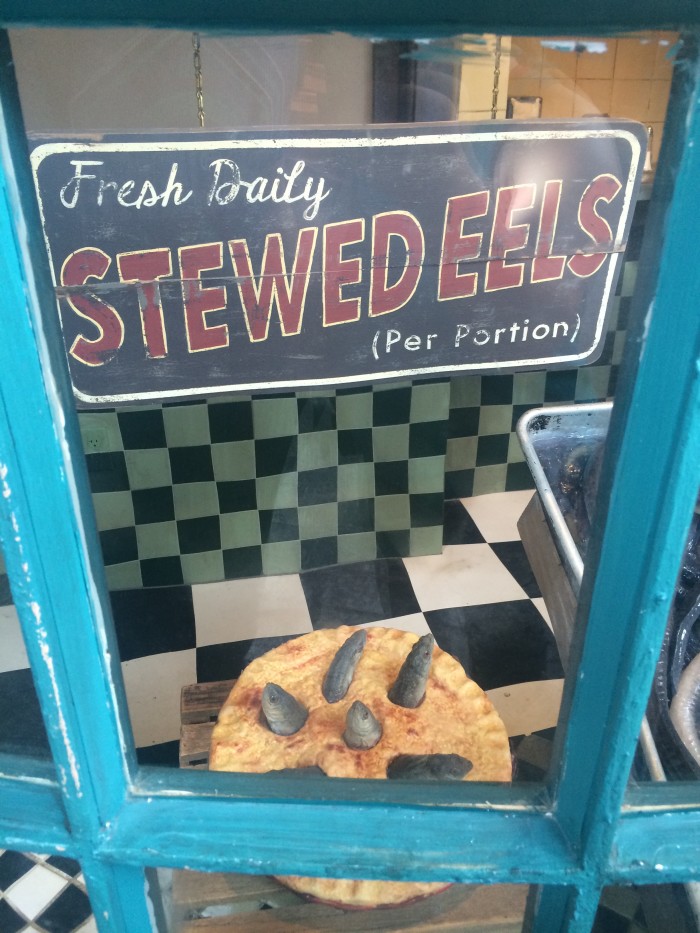 For lunch we stayed in Diagon Alley and ate at The Leaky Cauldron. We liked it so much, we went back for dinner!
This was where we had our first taste of Butter Beer.
And it did not disappoint. It's a creamy butterscotch-flavored non-alcoholic drink that comes straight from the books. I lost count of how many glasses we shared!
After dark, we watched the Macy's Holiday Parade, which included many of the gigantic balloons in the Macy's Thanksgiving Day Parade. I am such a fan of parades, and I've always wanted to see the Macy's Parade, so this was fantastic!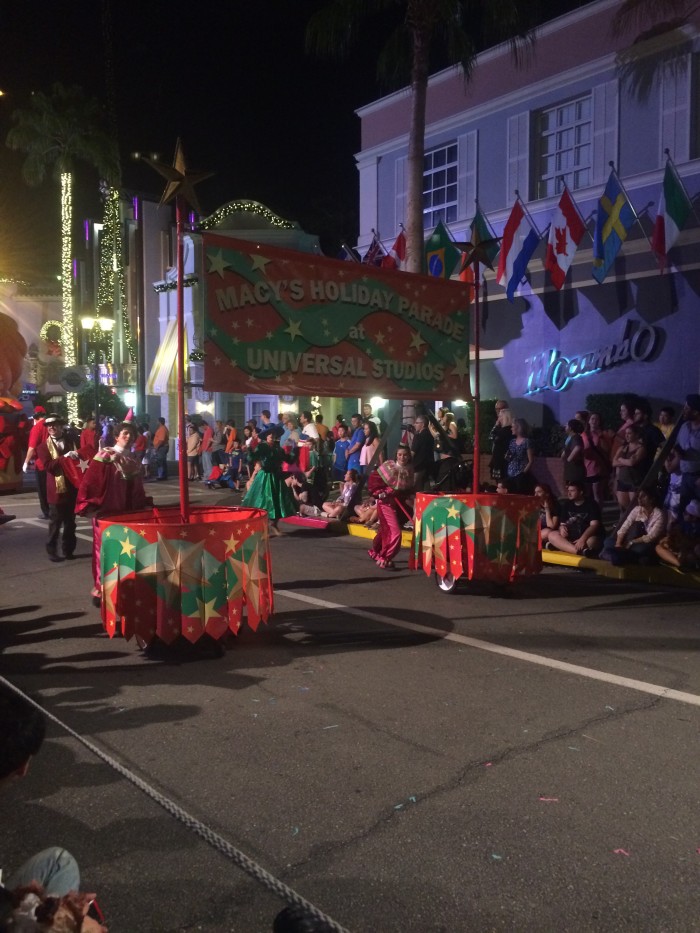 At midnight, we stood on the edge of a fountain in front of Diagon Alley and watched an incredible fireworks display over the park. It was every bit as exciting as I hoped it would be! A very, very memorable New Year's Eve with my Pete.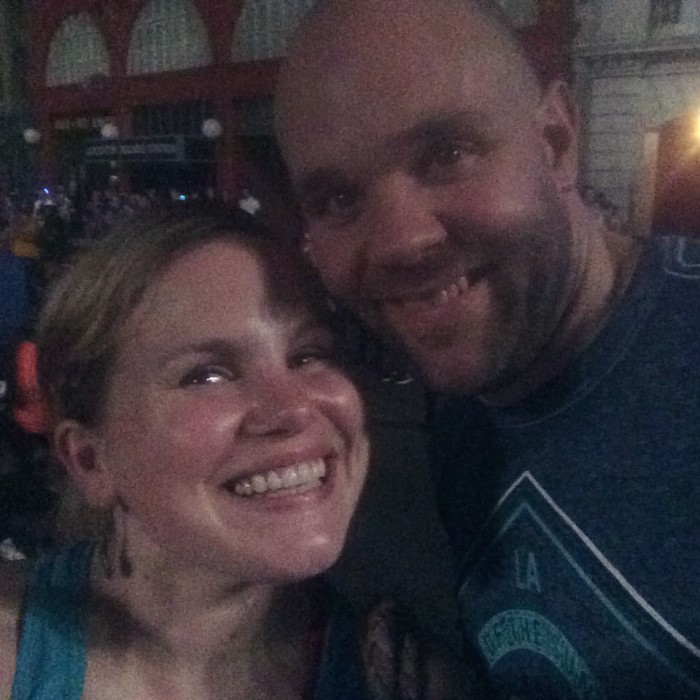 So many photos, but this is not the conclusion of our Florida adventure. I'll share some very special memories in my very next post!