We're jumping back in time a few months to share photos of the day we surprised the kids with a little trip to Disney World! We were in Florida waiting for Pete's work permit to be approved in Kenya and had extra days with zero plans. You guys, this is my absolute favorite place in the world, so when Pete ran the idea by me as a possibility just before we left Minnesota, I got a little excited. Sam's first visit!
I know Disney isn't everyone's cup of tea with the wild crowds and mega-themes, but let's remember that I have years and years of theatre in my past, so anything themed out to the max is totally my deal. We were sure to arrive before the opening show in front of Cinderella's castle. This was different form our last visit when the opening show was at the front of the park at the train station.
The weather was overcast, which actually kept it a little cooler than we had expected. And yes, I had packed my Dole Whip-themed Mickey ears, Vera Bradley Mickey purse, and appropriate shirts we already had for the rest of the family just in case we really did get to make this trip to the happiest place on earth. (What is Dole Whip? Glad you asked! It's one of my favorite Disney treats. Read about it here.)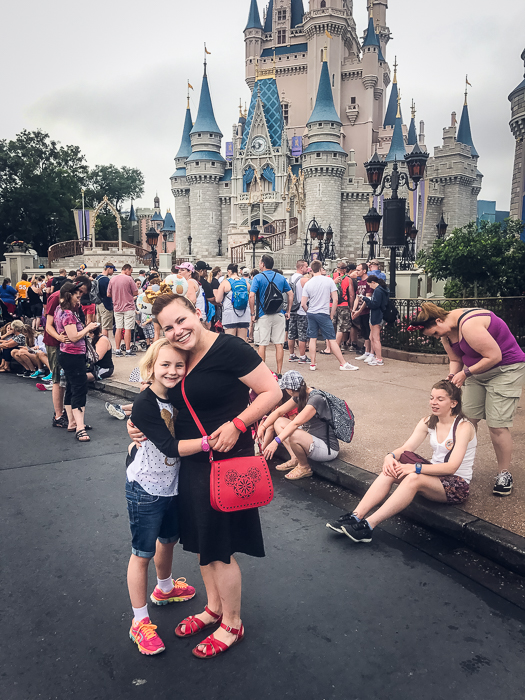 As soon as the opening show was over, these three explored Fantasyland fun around the castle while I booked it back to The Seven Dwarfs Mine Train.
I had wanted to catch this ride on previous visits, but the line had always been too long. On average, it's about a two hour wait at any given time. I waited thirty minutes! Maybe Ella can go with me next time. She was a little nervous about it this go around.
After the Mine Train, I met back up with my gang to say hello to Merida from Brave, one of Ella's favorite Disney movies.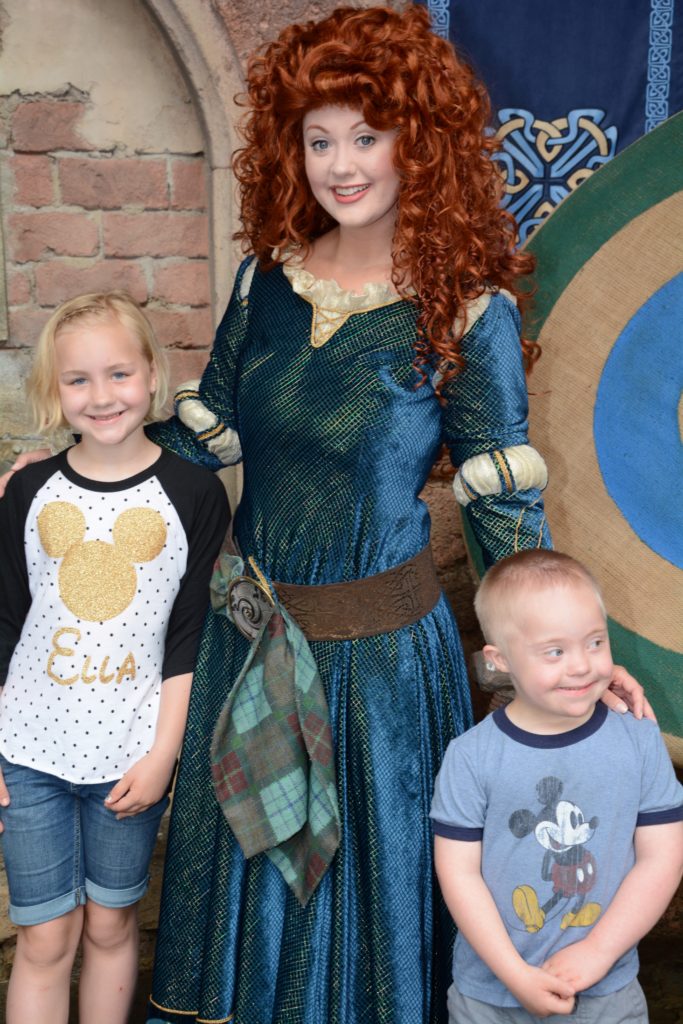 I think Sam was a little surprised to be meeting her in person!
Right next to Merida was the Mad Tea Party spinning tea cups…and Alice herself! Be sure to watch the video at the end of this post to see the moment leading up to this photo. Sam was hilarious.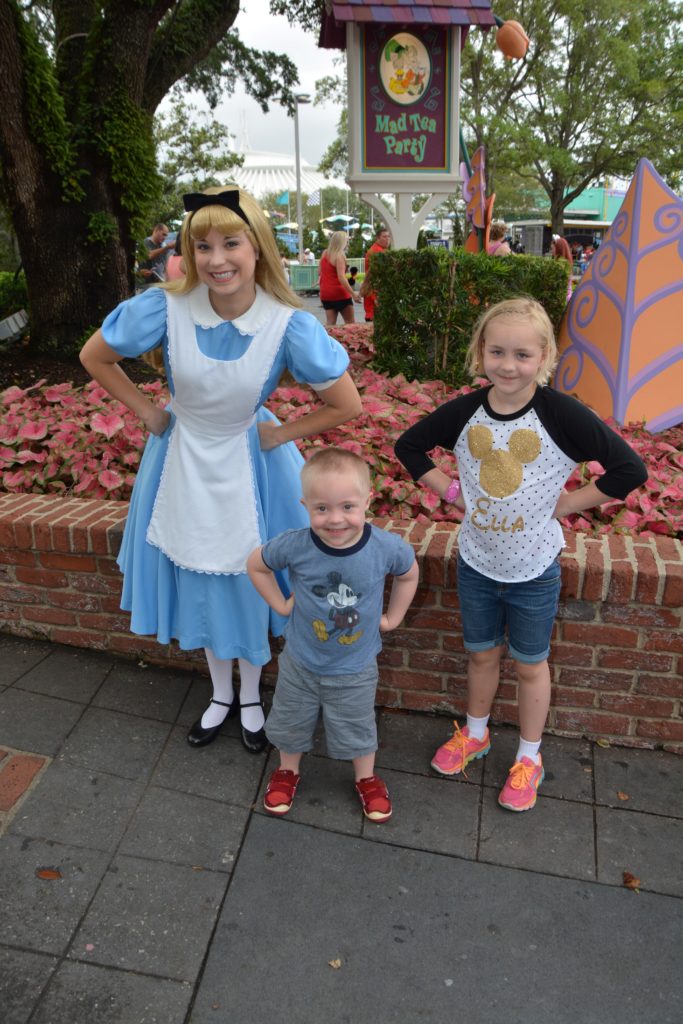 Ella had quite the conversation with Alice.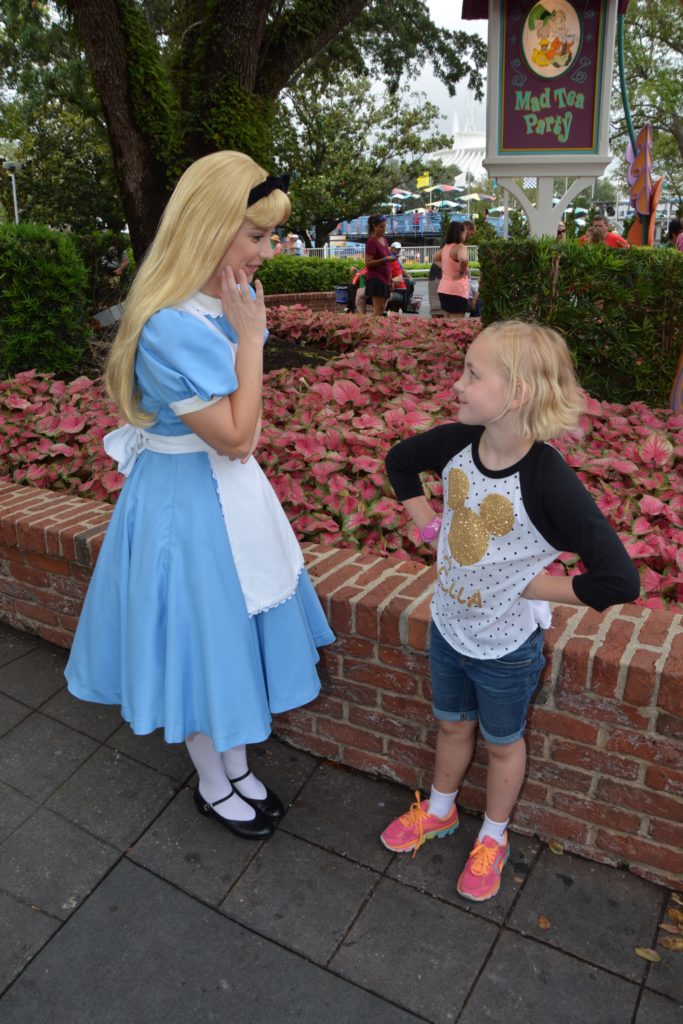 Following our meeting with Alice and a ride on The Many Adventures of Winnie the Pooh, we wandered over to The Crystal Palace for brunch with Piglet, Pooh, and the gang. Sammy's excitement all day was incredible. He was absolutely in love with everyone we met!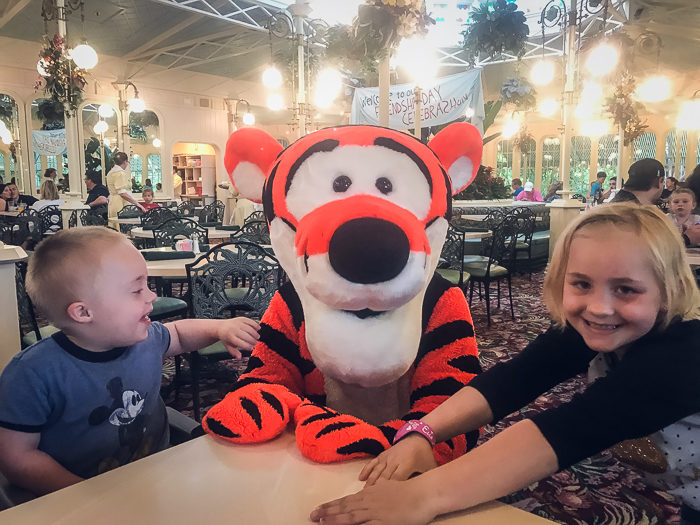 Who can resist this big guy? We all joined him for a parade around the restaurant with his pals from the Hundred Acre Wood.
Our biggest moment of the day, however, was meeting Mickey Mouse himself. Sam's reaction made me teary. How magical was this moment?!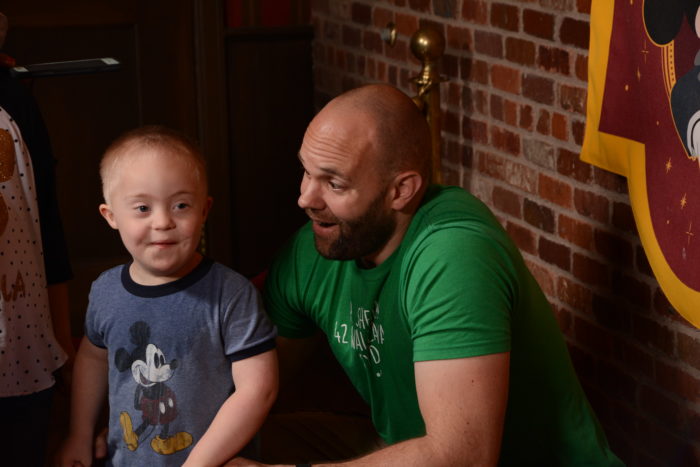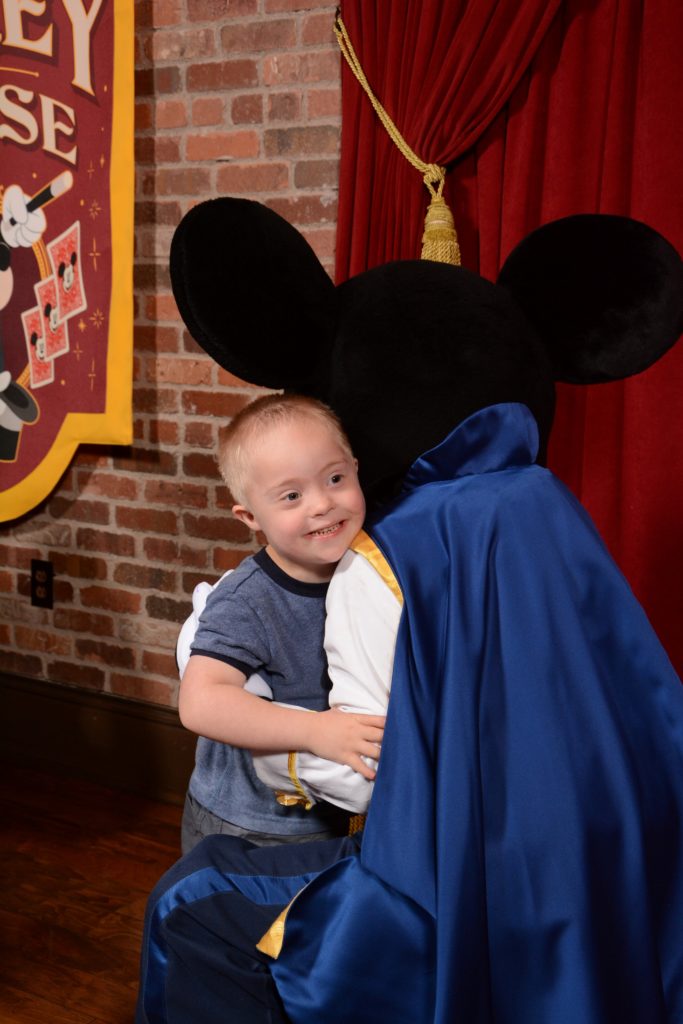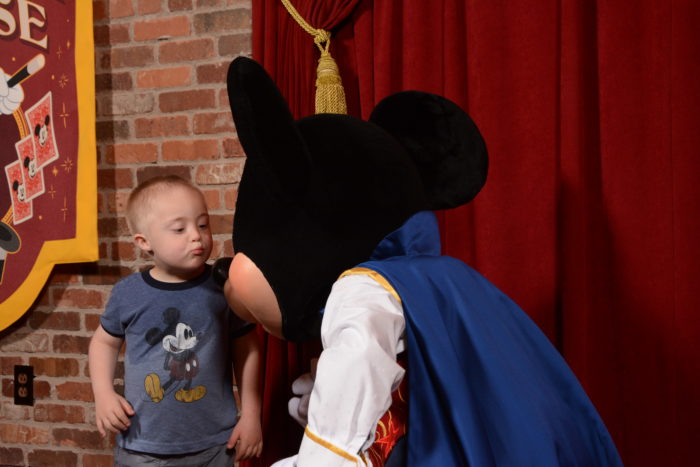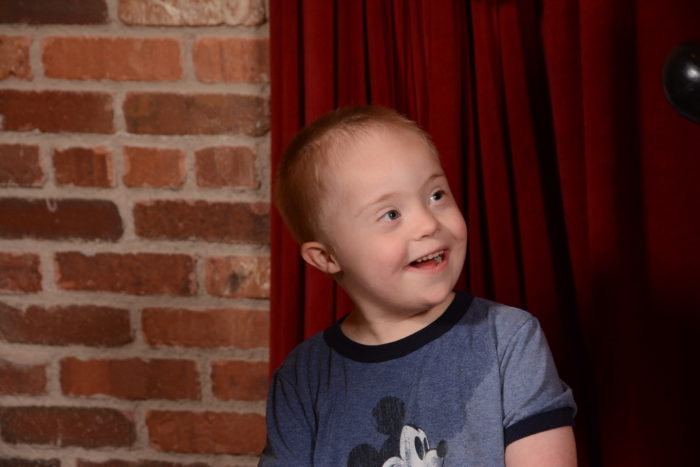 Miss Ella had a very magical moment, as well.
She was an incredible big sister through the entire day. When we met Mickey, she helped Sam interact with him by leading a little dance.
I got in on the group hug only because Sam was a little nervous about a hug from the big guy.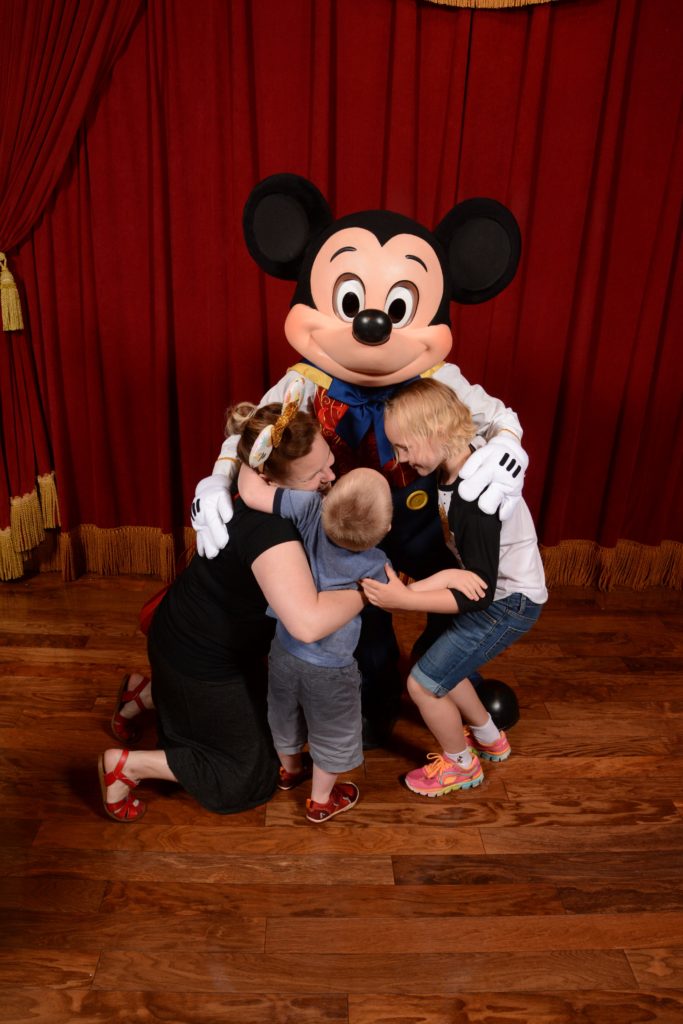 This time with Mickey may forever remain my favorite Disney moment. When we got in to see "the talking" Mickey, it was as though time stood still. I kept waiting for the staff to rush us through our photos and hugs and out the opposite door, as had been my experience on two previous visits. This day was completely different. Mickey was unbelievable! He gently interacted with Sam, he danced and sang with both kids, and he spoke in sign language as we were about to say our goodbyes.
The moment he started this with Sam, my breath caught in the my throat. This is often how Sam communicates, and to have his favorite character sign with him was absolutely unbelievable. Upon our goodbyes, Mickey gave us each a wonderful hug, but his hug with Pete was the most endearing. Though Mickey didn't speak during those hugs, we felt so much being communicated in his farewell. As we were slowly escorted from the room, Mickey stood at the door, waving until it was completely closed. Pete and I looked at each other and couldn't even speak. What had just happened? Who was the person inside the Mickey costume, and what was he (or she) expressing in our interaction? It took us a moment before we could talk again, as silly as that sounds. We will always remember that interaction.
Yes, we did buy a stuffed Mickey for Sam as we walked through the shop afterward. How could we not? And then we realized it was pouring outside, so we grabbed our umbrellas and raced to the monorail. Fortunately, we had been able to book a night at one of the hotels near the monorail line, so we headed back for naps and treats.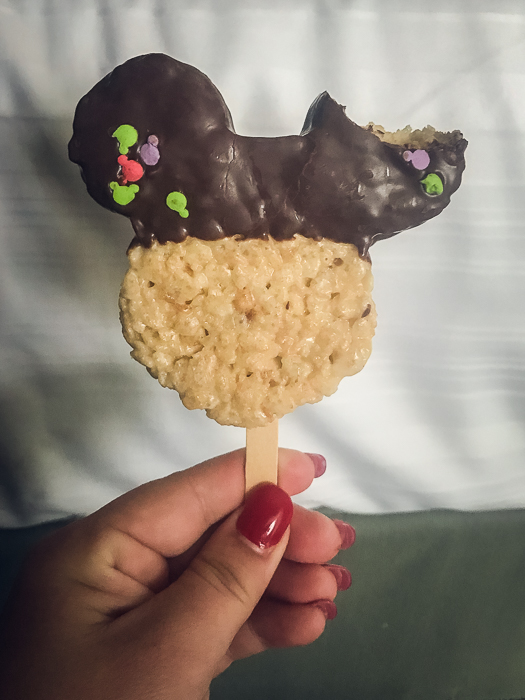 While this boy slumbered…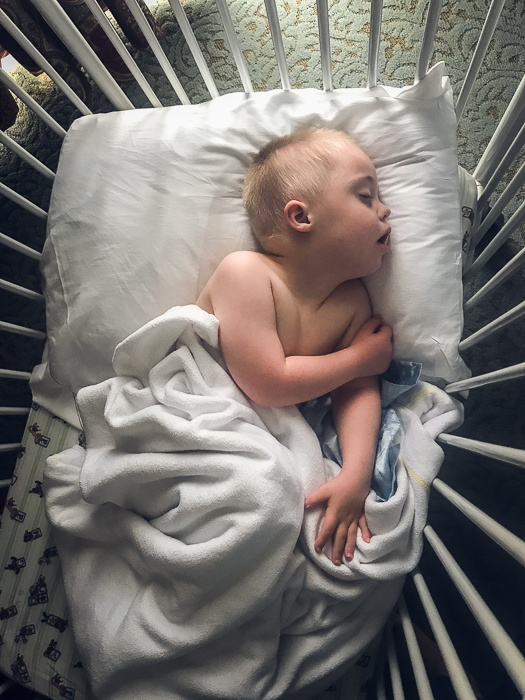 …Ella and I had some fun of our own. We explored the hotel shops…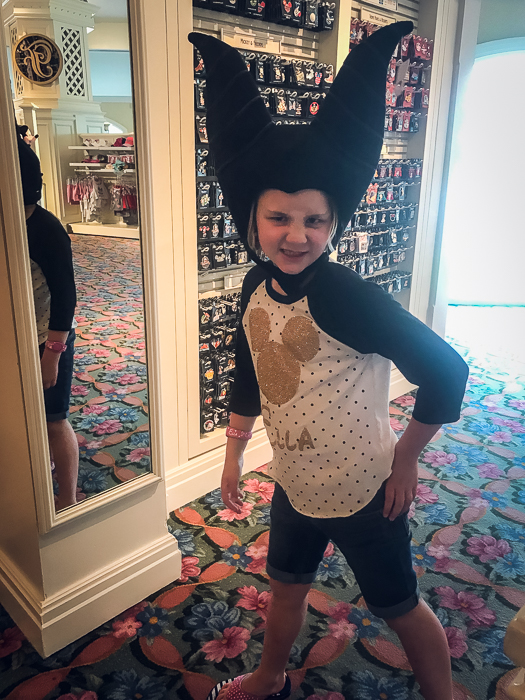 …and encountered a grand waltz with Cinderella and Prince Charming!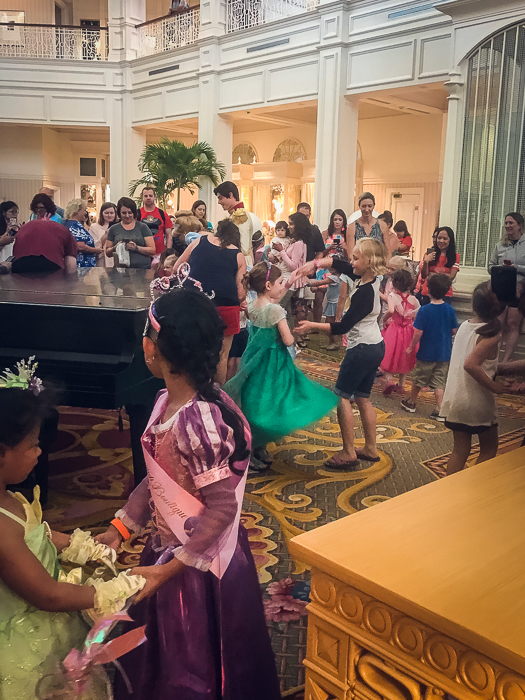 After nap time, we boarded a boat and floated across the lake back to Magic Kingdom.
We went on more rides like Little Mermaid and Pirates of the Caribbean, Tomorrowland's People Mover and Dumbo's Flying Circus.
We were also able to catch the brand new fireworks show over the castle! (Happily Ever After took the place of Wishes back in May.) Another first for Sam was that this was the first fireworks show he's ever been able to enjoy since I finally thought to get him little ear muffs. The sounds are far too loud for his super-sensitive ears. He LOVED the show!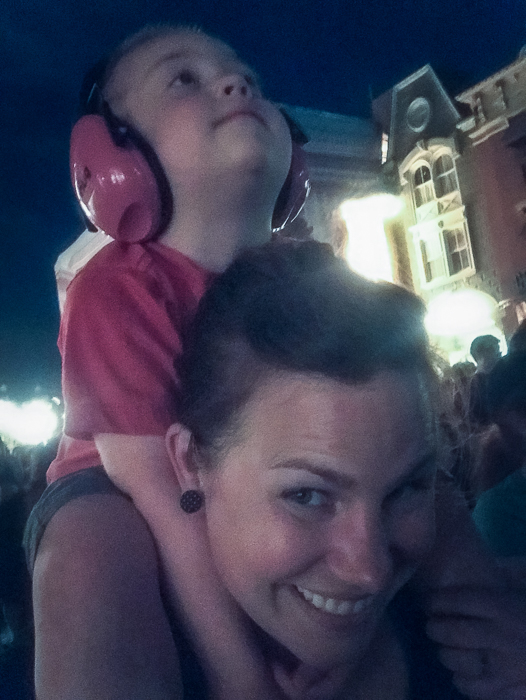 Once the show finished, we dashed back to our hotel.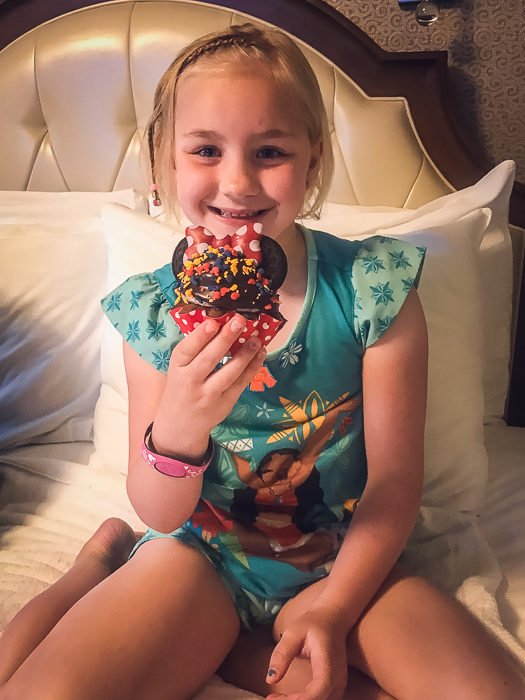 It wasn't that we were excited to leave the park. It was that we wanted to get back to the park without kids! I know lots of people think Disney World is for the kids, but when you discover your Disney hotel offers a babysitting service, and a sweet grandma shows up at your door with a suitcase filled with fun for your kids, you head back to the park for Extra Magic Hours!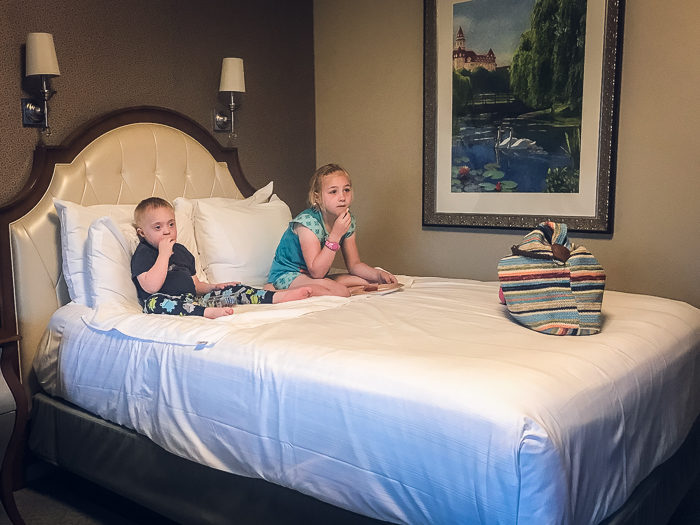 Sleep tight, children. Daddy and Mommy are going back to the park! First stop: Starbucks on Main Street.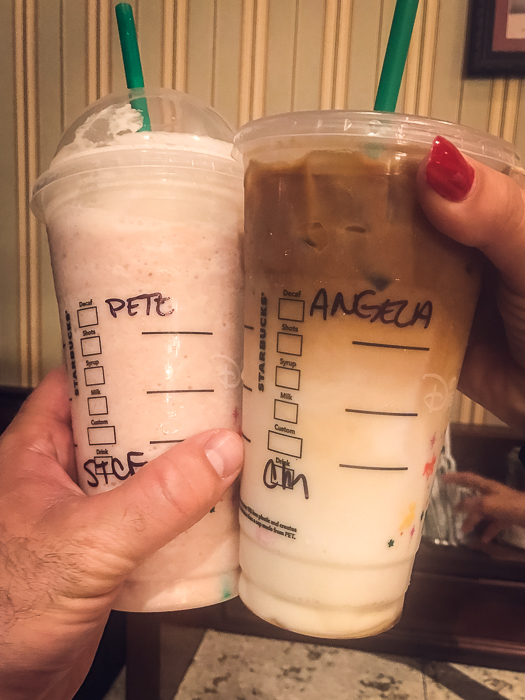 This is seriously my happy place.
Why yes, we did wear buttons that said "Happily Ever After" while on our late night date around the park. They are typically worn by newlyweds visiting Disney on their honeymoon (so we got all kids of congratulations from strangers), but Pete said we were celebrating our 10 year anniversary a few weeks early. I was totally game for that. Our happily ever after is always!
We were at the park that night on our own from 9pm until 1am. We hopped in line for rides that had been too long during the day, ate amazing Disney treats, and wandered slowing through each land. The next morning, while playing at the hotel, we got a call directly from our friends in Kenya to arrange our flights for just a few days later. This was the perfect way for us to wrap up our adventure in the States and head out on a new one in Kenya. From the happiest place on earth to the place we worked so many years to be. I couldn't have asked for a better way to transition.
Dole Whip custom Mickey ears | To Never Neverland
Vera Bradley Mickey Mouse Purse | eBay
Pete's Finding Nemo Shirt | Conch Blossom
Ella's Personalized Mickey Shirt | My Everyday Design
Ella's Moana pajamas | Disney Store (no longer in same design)
Sam's Mickey shirt | Disney Parks (previous visit)
Sam's earmuffs | Amazon