We have internet! Thunderous applause! Let the posts from Kenya commence!
Following my last post, we made our transition out to our new home in Bomet County, four hours from Nairobi. We've had 3G on our phones, so you may have caught a few updates and photos on Facebook or Instagram. But now that we have wifi, I'm able to actually write. I've had so many thoughts run through my mind each day we've been here, thinking I need to share this or that with all of you. I'll do my best to fill you in on our first full week in our new country. What I miss, I'll share later. If you're on Instagram, you can see short videos with moments from each day. Those videos only stay up for 24 hours, so take a peek if you're an Insta user!
We left off at the end of the last post with a day of rest with Sam and shopping for Pete and Ella. I'm glad to say Sam was feeling much better later that day. Since he was up for it, the four of us ventured off to visit the elephant orphanage just outside the city on Saturday morning.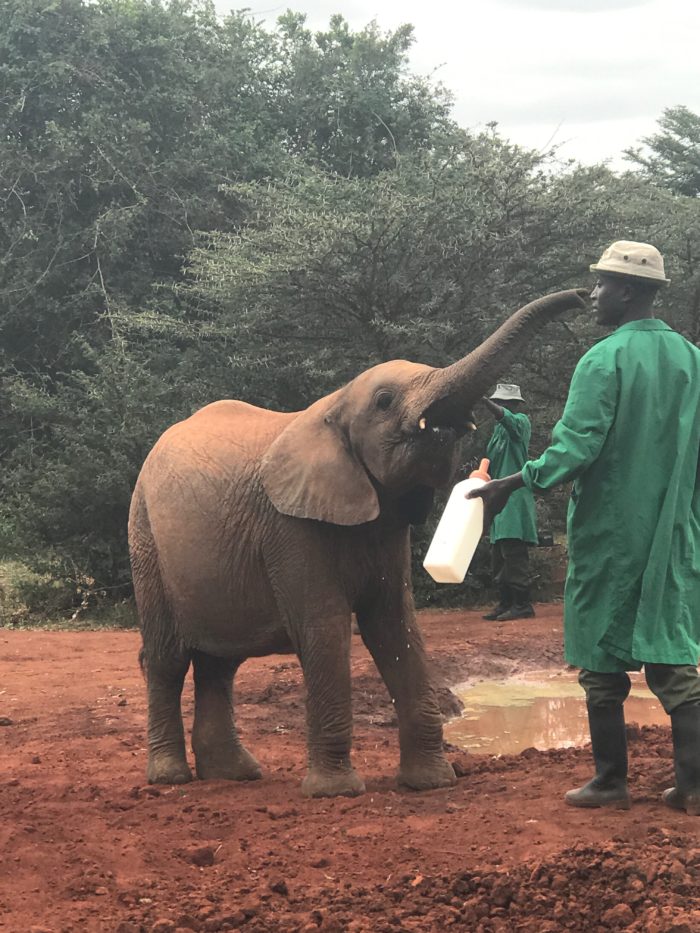 We first saw the youngest elephants come out and feed from enormous bottles. Seriously adorable. Then the two-year-olds came out to play.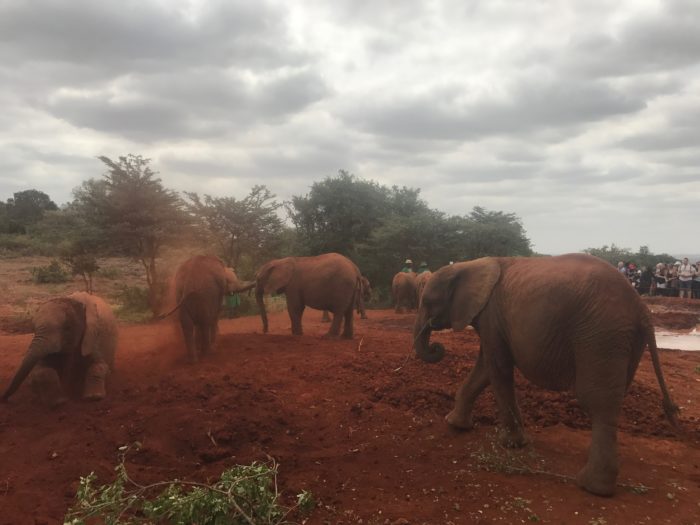 They had a great time throwing dirt up on their backs with their trunks and rolling around in the mud.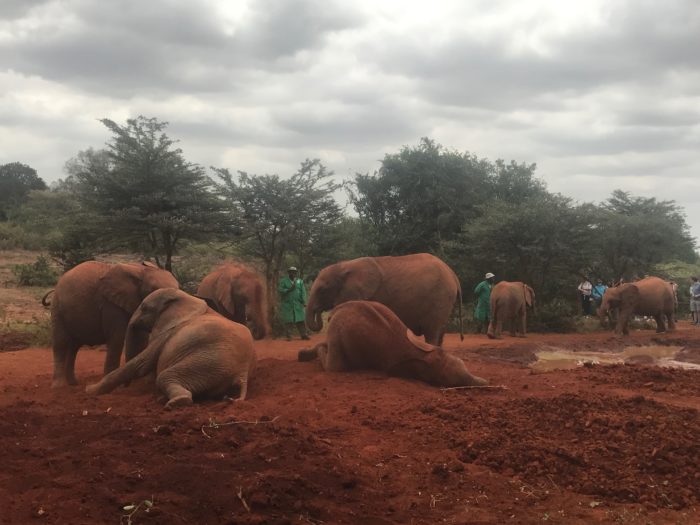 Ella did eventually get to rub the head of this elephant. She was a very happy girl.
Sam was completely mesmerized…until he decided he was done.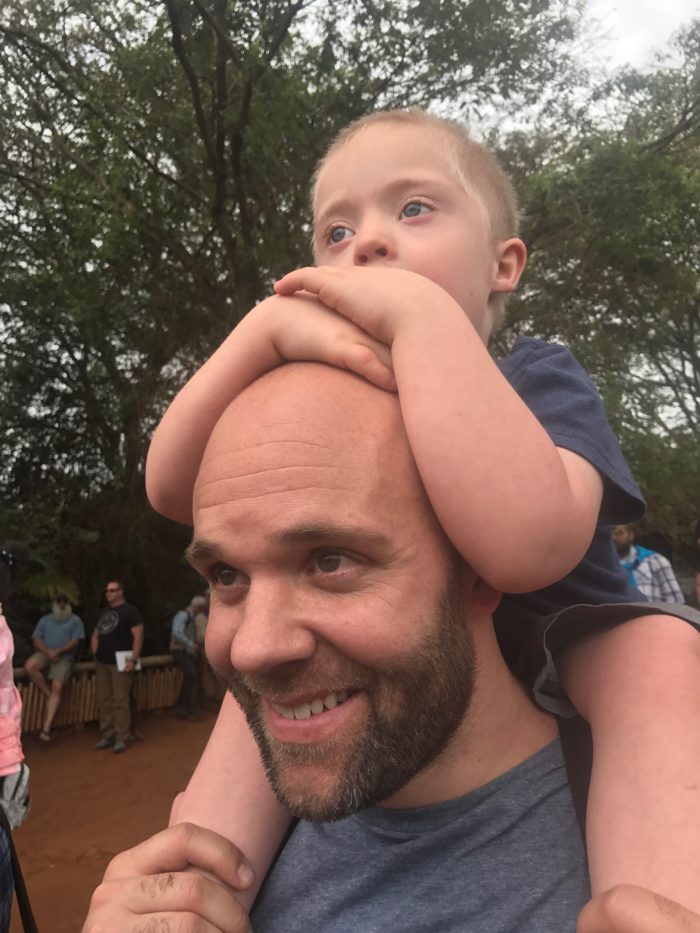 Then he wanted to explore and make friends. 'Hello, person I've never met. Can I hug your head?' He's the best at meeting new people.
On our way out of the park, we met this man dressed in traditional Maasai clothing. We took a photo with him for fun, but it makes us look forward to actually getting to know some of the Maasai people in the years ahead.
After lunch at a burger place in Nairobi, we drove out to the giraffe center, a place we wanted to visit when we were in Kenya four years ago but didn't have time.
We knew we'd be close to the giraffes, but we hadn't realized we would get to feed them! We were each given a handful of little food pellets and taught the proper way to feed them.
Have you ever seen a giraffe's tongue? It's crazy long and gray! And it feels scratchy like a cat's tongue. Ella fed all her pellets to this sweet giraffe, Stacy, by placing each piece on the animal's tongue. We've heard they will also take it right out from between your lips, but we weren't up for sharing giraffe germs quite yet. Maybe next time.
The morning we were getting ready to leave Nairobi, Ella had a very exciting surprise. The tooth fairy found her in Kenya! The morning before she had pulled out her third tooth and was curious about the tooth fairy finding her here. Not a problem. She even paid her in the correct currency – Kenyan shillings. (This little surprise was equal to about 50 cents US.)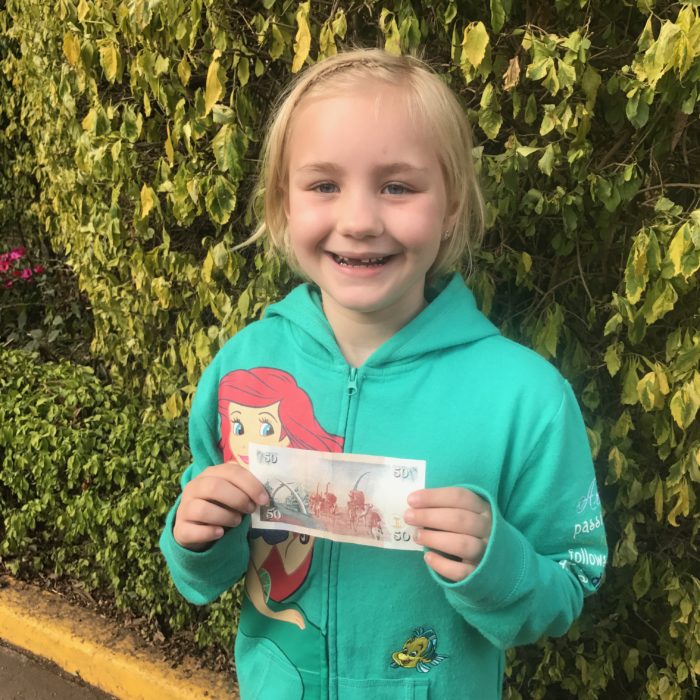 Before leaving town, we met the Crognales, another missionary family at Tenwek, at a shopping center to pick up what we might need for the next month – produce, meat, groceries – all in separate stores. Pete and Ella had gone with them the day before to purchase household goods that might not already be available in our house at Tenwek. We're sooo thankful the Crognales were able to guide us! We would have had no idea what to get without them. While Pete was at the butcher, I took the Crognale kids, Ella, and Sam to the Java House for breakfast. I'm not totally sure yet, but I kind of feel like Java House might be the Kenyan Starbucks, but with a long food menu. Ella and Sam each ordered Mickey Mouse Pancakes while I sipped a mocha. Mmmm.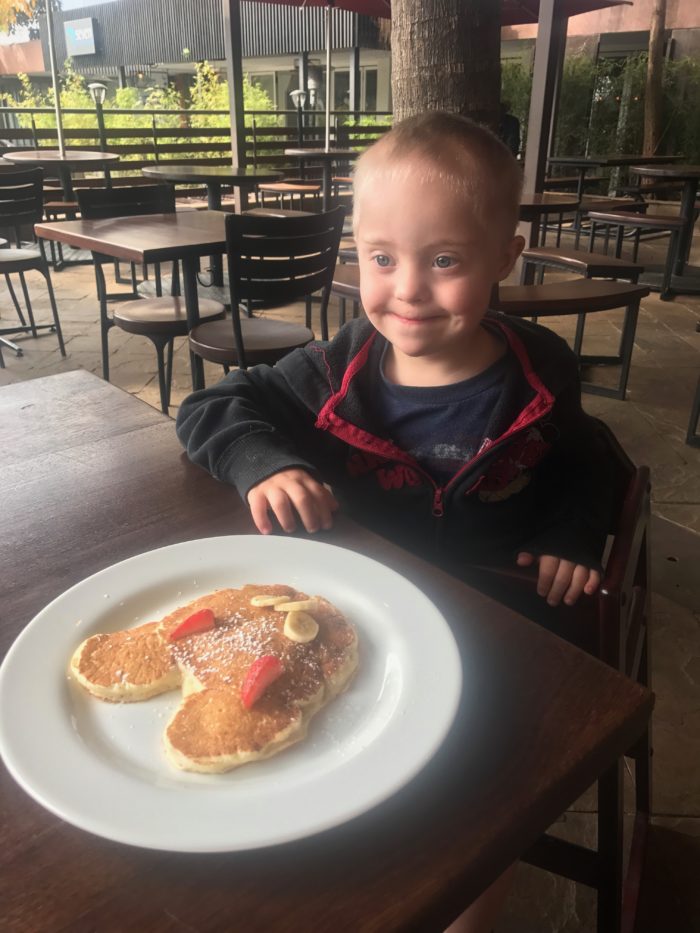 After our time at the shopping center, it was time to hit the road. We had cold groceries, after all, and a four hour drive to our new house. We're fortunate that the road is paved the entire way from Nairobi to Tenwek, and there were lots of new things for all of us to see. These baboons, for example. We drove through one area where the road was surrounded by them.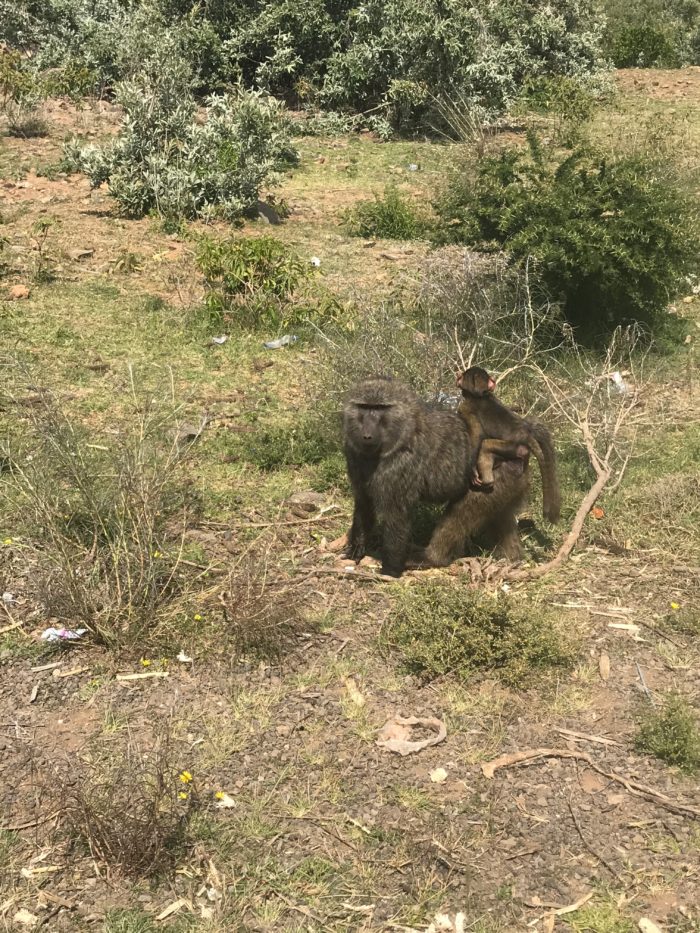 At last, we reached Tenwek. I was really excited, but a little nervous, too. Who wouldn't be? We were about to see our new house for the first time and start settling into the place we'll call home for at least the next two years. This sign taped to our front door made me teary. What a journey it has been to get here.
Inside, all our bags had been delivered from the airport. All those bags I spent months putting together thousands of miles away. I'm still working on emptying them, though our house is already beginning to feel like our home.
Our kitchen is now settled, which was the first thing I did the day we arrived. I don't know how you are, but I feel completely overwhelmed if my kitchen isn't organized. Getting breakfast ready for the kids the first morning we were here was not wild since I knew where everything was. (Even if we did go with cold cereal because the toaster didn't work and we weren't sure how to use the stove or oven.)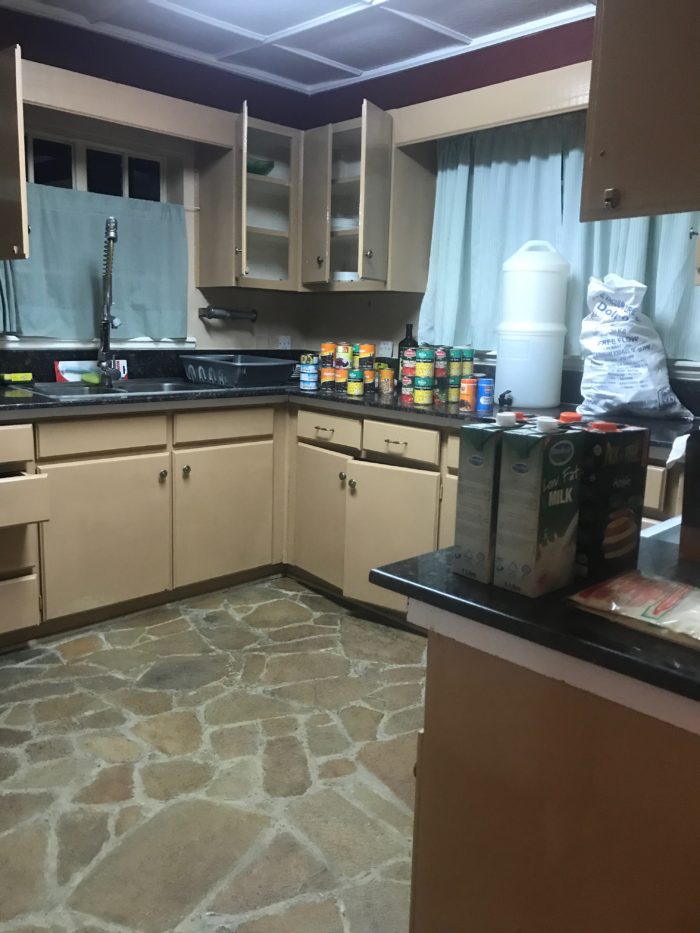 We're finally getting use to the nine hour time difference between here and Minnesota, though I absolutely rely on coffee in the mornings. And I may have just made another French press to get me through the evening. (It's currently 5pm.) I would love to have all of our clothes unpacked and put away before bed. If that happens, I can start decorating tomorrow! That's my favorite. I'll be sure to post photos as it comes together!