Do you workout? Ever think it'd be nice to have a little more motivation to get your workouts in? I Run 4 is a perfect reason to get your run in, to complete your yoga workout, or go for a long walk.
I was first introduced to I Run 4 one year ago. The organization started in January 2013 when a runner named Tim started dedicating his runs to a guy named Michael, who has Down syndrome. A few friends joined Tim in dedicating their miles, which started that official group. By September of 2014, the group had grown to 30,000 members consisting of runners and their buddies. That's crazy growth!
I began following IRun4 on Facebook last spring. Being a part of the Facebook group has been wonderful. Every time I check Facebook, I see at least a couple posts from a few runners to their buddies or from the buddies to their runners. They encourage one another and celebrate the big & small events of their lives. It's a beautiful group that is creating awareness of many conditions and building relationships between families all around the world.  This video is a small gimpse into the awesomeness of this group!
Finally, last fall I decided to complete the form and get a buddy for Sam. Just a few days later, we got a very exciting Facebook message that Sam had been matched! Kim has been clocking miles through the bitterly cold winter months and dedicating them to our little man. She posts her progress on my wall or with the iRun4 group with cute graphics and sweet pictures. I always show them to Sam who smiles and points at the pictures. Of course, he doesn't quite understand what it's all about quite yet but he will before long.  Sam will continue to be Kim's buddy while we're in Kenya, because all we'll need is a connection to Facebook, and most days we will have that! We do hope to someday meet Kim in real life so Sam can cheer her on during a race and maybe even run across the finish line with her. Wouldn't that be amazing?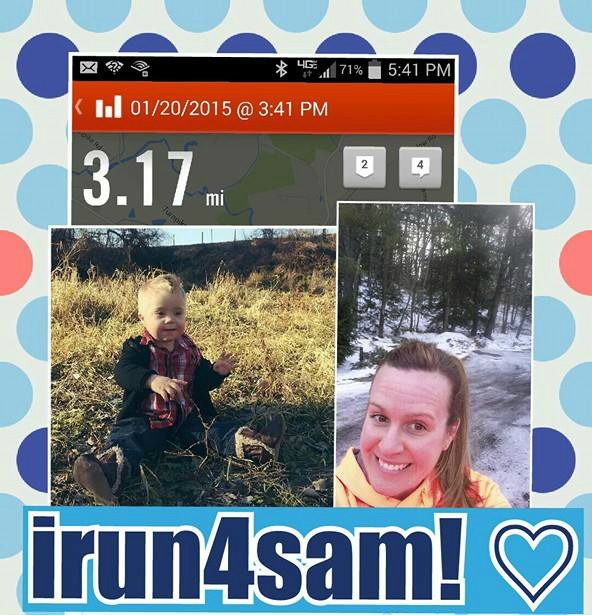 Not only does Sam have a buddy, but as of last night, Ella does, too! The organization has developed the irun4 sibling group to develop relationships between runners and siblings of those in the iRun4 group. Ella is going to be thrilled to connect with her runner. It will be her own special thing.  I can't wait to tell her after school!
Do you know someone who would be interested in matching up with a runner or buddy? Send them to whoirun4.com! I especially encourage you to do this if you know anyone who is not able to run, no matter their age. The list of runners is quite long, but buddies are not as plentiful. Let's help spread the word and get more runners and buddies connected!