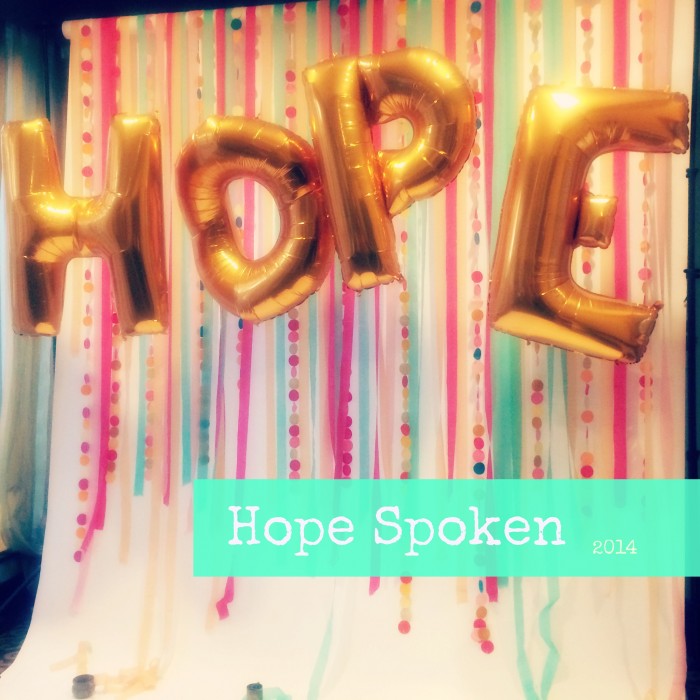 Y'all, I'm blogging on a plane. I'm flying high at 30,000 feet while sipping an iced caramel macchiato I grabbed at Starbucks just moments before boarding.
Hold up, let's reflect on those last two sentences for a sec. One, I said y'all, which is totally permissible after being in Dallas all weekend. Second, my drink is iced, meaning I'm soaking up every ounce of springiness before hitting the ground in the frozen tundra that is Minnesota. And last, what was I thinking when I made the decision to juggle a drink without a sealed top along with my weekend luggage bag sans wheels, my sweet new No 41 bag, and my boarding pass? Dad, you won't be surprised to hear I was among the last half dozen on the plane. And I didn't even have kids in tow. But I made it! And that's something!
I am on my way back from Hope Spoken, likely the greatest conference I've ever attended with 200+ incredibly inspiring women. Besides lots of hugs & tears & laughs & chocolate, there was a whole lot of amazingness going on. I arrived knowing only my darling friend, Anna of Along an Inland Sea. Ms Anna told me about the conference last fall after it was already sold out. Fortunately, I was able to score a ticket over Twitter and started dreaming of a weekend surrounded by some incredible women I knew only from Instagram and through a few blogs. I was a little nervous as our plane prepared to land in Dallas on Friday afternoon. I admit that part of it was due to the turbulence in the air (Anna & I may or may not have squeezed each others hands for dear life), but most of my nerves came from not knowing quite what was to come. It was like getting ready for summer camp and wondering what it would look like, who'd be in my cabin, and desperately hoping the counselor was one of the 'cool ones.' But as soon as we arrived at the hotel, met the roomies, and checked in for the conference, I felt so wrapped in love that all my fears flew right out the window. And that was the beginning.
lots of tears & laughs in the company of these beautiful women
My heart was reset this weekend. It was encouraged and steeped in the beauty of Jesus' love for me. We were led in worship, we spent time studying God's Word in small groups, and we heard words from women who were transparent and honest and so real. That's not something that is easy to come by in this world of blogging where it's so easy to reveal only the cool, artsy, enviable parts of life and hide the messy, tough stuff. As everything came to a close earlier today, I realized that this is the first time in my life I have left a conference fully and deeply content with who I am and where I am. I feel no pressure to measure up to anyone else. Instead, I want to soak in time with Jesus, praying & journaling & reading, to discover what He has next for me.
my dear Anna – soaking in the Dallas sunshine
Friday night, Shauna Niequist, author of Cold Tangerines and Bittersweet, shared a message that spoke directly to my heart. Everything she said hit exactly where I am right now. The need for margin and to slow down and get rid of the busy. She mentioned that we can be 'brimming with contentedness,' which completely appeals to me. This is one area where I struggle, often feeling like I just can't keep up with everything I want to do and feel I should do. But there are very few feelings of contentment in that. It's far from where I want to live this life and it's not at all what God wants of me. It's only what I feel the world wants of me or what I feel pressured to show the world. So I hope to arrive home and go after contentedness. It's so opposite of what I usually go home with after a conference. I love what Shauna said she's striving for this year: More Love. Less Hussle. I dearly want to adopt that and find it in my own life.
So soon I'll be home, in the company of my little loves and my Pete. This plane can't go fast enough. I'm praying I'll be able to hold onto the truths and love I experienced this weekend and carry them into my at-home, woman-wife-mama-friend life. I really just want more of Jesus and his love. And that is so good.