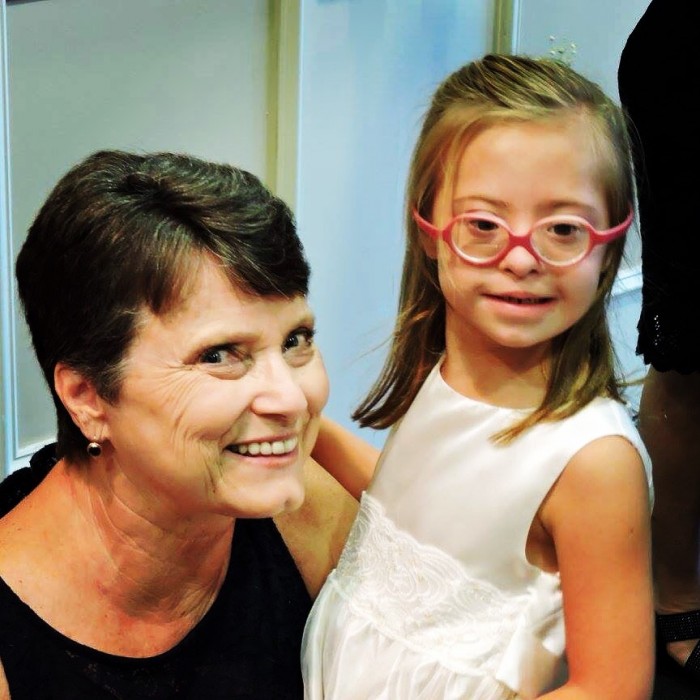 I have been looking forward to sharing this post all month! Today, Susan writes about the day she met her granddaughter, Emerson, and how their relationship has blossomed through the last seven years. Susan can be found on Instagram as @stforster.
My grandmother story is one of love and pride.  Emerson Leigh Frosch was loved and planned for when she was conceived in 2008. Her mother (my daughter) had many regular scans during her pregnancy and nothing out of the ordinary was detected.  She was 26 years old and declined any testing.
Shortly after her birth (within 30 minutes) a pediatrician informed us that a heart murmur was observed and they believed Emerson had Down syndrome. At that point I needed to sit down because I had no idea what that entailed. I was closest to Emerson in the delivery room as the nurses checked her out and noticed that the nurses were looking at each other; all I noticed was that she didn't seem to look like her mom or dad. We all loved her instantly! Since none of us had any experience with Down syndrome, we didn't see any of the characteristics (almond eyes, thick neck, low muscle tone) that we would grow to love.
Emerson spent the night with her parents in the hospital (breastfed like a champ) but was whisked away in the morning for many cardiac tests. She was found to have Tetrology of Fallot and AV Canal Defects. She remained asymptomatic (apparently the two defects counteracted each other) until her successful surgery at 5 months. She now only has an echocardiogram once a year.
Emerson spent 39 days in NICU with a tear in her lymphatic system. She retained her birth weight even after being on IV feeds only for 2 weeks in order to heal the tear. Her mom pumped breastmilk during those 2 weeks and Emerson went right back to breast milk until she turned one. During the NICU time, her parents concentrated on surviving and treating her like a baby. The Down syndrome diagnosis was certainly dealt with but as NICU parents know, the goal is to be released.
A month after Emerson was born, the local Down Syndrome Association of Central Florida had its annual Step Up for Down Syndrome Buddy Walk. My daughter's teacher friends (the entire school!) as well as our friends and relatives formed Emerson's Entourage. It was their way to support this family … they had hundreds of people show up and won Second Place for Number of Walkers … all for a baby still in NICU.
During this time, I lived four hours away in North Florida. My husband had died five years before and I was content where I was. God had other plans. One day on the way to the hospital to visit Emerson, God spoke to me clearly about moving back to Orlando. My house sold in 2 weeks (this was 2008!), I bought a smaller house in Orlando and moved. I wanted to see what Emerson could become and be a help to her parents.
The blessing has been all mine.  I volunteered in the office at DSACF as well as a few other places to acclimate to my new city; I was hired a few years ago as a part-time office coordinator.
Emerson is the light of my life. She just turned seven. We are the best of friends. We both love reading and traveling. She is more athletic than I am – plays soccer, waterboards, goes to gymnastics. She loves Jesus and singing in the choir. She reads above grade level, is in a general public first grade class.  She has been a flower girl in two weddings. We attended the NYC Buddy Walk in 2013 where her photo was on the big screen in Times Square. We (she and I) traveled back to NYC last month to see the Statue of Liberty, see more Today Show anchors and the Broadway show, Matilda.
Having a child/grandchild with Ds is not without its challenges. Emerson is very nearsighted and developed hypothyroidism when she was 6. She will probably have speech therapy her entire life. But, in the grand scheme of things, she is a delight. She is the big sister/big cousin to Shelby and Bryn, who are both 2-1/2. She is my first granddaughter and my introduction to a big beautiful world that I never knew was out there.
Click below to read all the stories from Down Syndrome Awareness Month!