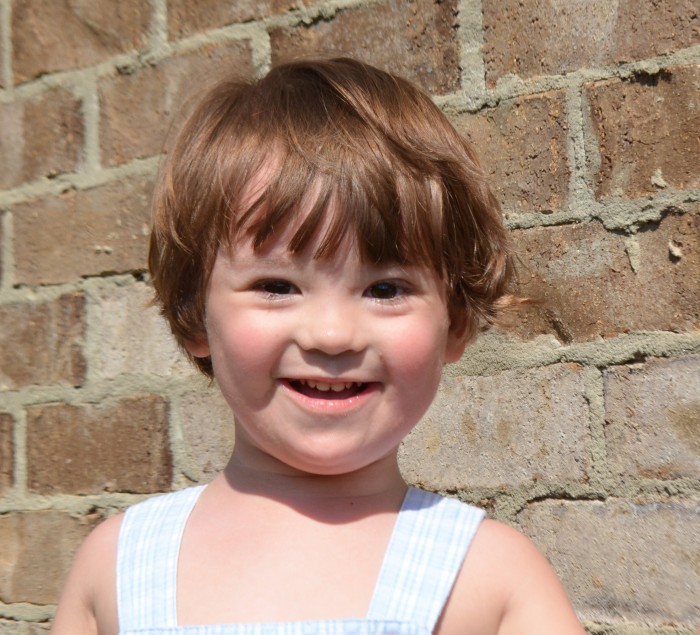 Today in celebration of Down Syndrome Awareness Month, we have a beautifully written post by Jenn, mom to three year-old Baker. You can find Jenn on Facebook, Twitter, Pinterest, and as @jenngbell on Instagram. She also writes about her family's journey at Our Dream Come True.

How did you find out Baker had Down syndrome?
My husband, Brian, and I had been praying for a baby; trusting in God to provide us with a baby to love after a devastating miscarriage and several months of trying unsuccessfully to get pregnant. I will never forget that Wednesday morning in September. After my alarm went off, I went immediately to the restroom to take a pregnancy test, got back in bed, and prayed over the results with Brian. After two very long minutes, he went to the restroom to read the results; his face aglow as he proclaimed news of a baby on the way! Oh what joy! We held each other and cried, overwhelmed at the faithfulness of our Father to answer our prayers.
Over the next few weeks, we shared our incredible news with excited family and friends. Everyone celebrated the arrival of Baby Bell with us!
In December, I received a call from my doctor with the results of our quad screen. Usually I talk to his nurse; however, this time it was him on the phone. He prefaced the results with an uncharacteristically muted tone. He skipped the usual small talk and got straight to business. He began, "Often these results are not accurate; in fact, many times they offer a false positive. With that being said, your child has a 1 in 6 chance of being born with Down Syndrome." I have no idea what he said next. The words resounded in my head. My whole being was consumed with this news. My husband was not home, so I sat in my dark, quiet home, and cried. Cried for the unknown. Cried for my hopes and dreams for my baby. Cried for my little boy or little girl and the cruelty of the world towards people with special needs. Cried, and pleaded with God. Cried out in prayer, because that was all I could do.
We were referred to a specialist for a Comprehensive Level II ultrasound to check for the physical markers for Down Syndrome. Our eyes were glued to the monitor as the specialist checked for a fold in the neck, absence of nasal bone, length of femur, echogenic intracardiac focus (bright spot on the heart), among others. In the midst of those findings, we learned that Baby Bell is a Baby BOY Bell!! I have never seen my husband smile so proudly, as the doctor highlighted the very obvious male anatomy. "That's my boy! That's my boy!" exclaimed the delighted daddy to be. Of the major markers, our son had one present: an echogenic intracardiac focus. (This, we learned is present in children born with and without Down Syndrome – not a very reliable marker). None of the others were found as they scanned our little boy's perfect body and watched him wriggle and squirm and suck his thumb for his mama and daddy to see. Oh how our hearts were filled with joy at the realization of our baby's gender, perfection of his little body, and decreased chance of our son being born with Down Syndrome.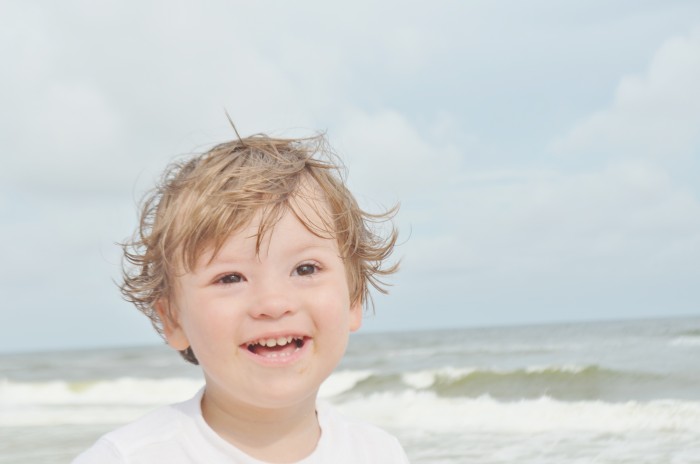 If someone you knew was told their baby would be born with Down syndrome, what would you tell them?
This is what I would have wanted to hear on that day in December when we received Baker's diagnosis of Down Syndrome.
I am wrapping you in prayer. For you, for your little one, for your husband or your wife. For your parents, and your in-laws. For your friends. For your child's future teachers and neighbors, and therapists, and doctors. For the cashier at the grocery store, for your small group, for the person who will give you a smile to brighten a cloudy day, for the friend who will send a handwritten note at the just right time. For the lives you will touch with yours.
Congratulations on your baby. What an incredible gift. There are no words I can convey that will share the immense love our Baker Boy has brought into our lives. In his short twenty months, he has given a lifetime of smiles, hugs and snuggles and kisses so great in number I will never be in want. With every breath, he breathes joy. He is, like his name suggests, a strong willed warrior – sometimes a little more strong willed and stubborn than I would like to admit. He is a fighter, a peace maker. He is a pleaser. He is independent. He is strong. He is gentle. He has a laugh that spreads more quickly than wildfire. The sparkle in his eyes could light the night sky. He is ours. And for that, I am eternally grateful.
This is a place where abilities are celebrated, where joy is found in the everyday, and where love abounds.

This is what I would have liked to read that afternoon in December.
One. You are a first a mommy. You are first a daddy.
Your baby is first a baby. Not a Down Syndrome baby. Your baby is a baby with Down Syndrome. You can read all the books and fill out all of the paperwork later. Today, cherish their kicks. Savor being wholly exhausted during pregnancy. Laugh about your cravings. Daydream about the future. Decorate their nursery. Sit in the rocker where you will read countless books together. When he or she arrives, memorize their first cries. Breathe in their scent. Kiss their cheeks. Study their face. Fall all over in love with your baby. Hold your son. Talk to him. Tell him about his furry big brother waiting not so patiently for him to come home. Sing to her. Whisper lullabies in her ear. Dance together. Cover her in prayers. When the doctors allow, take him home. Introduce him to the place where he will splash in the tub. Show her the garden where you will grow blueberries together and get dirt under those tiny pink painted fingernails. Tiptoe through the kitchen, the home of the famed Tupperware cabinet and chocolate chip pancakes. Christen the rocking chair by reading Love You Forever. Then, gently wipe your tears from his cheek. Break the rules and let her drift off to dreams on your chest.
She is yours. And you, hers.
He is yours. And you, his.
Two. It's okay to grieve. But it's not okay to live in grief.
You can mourn the loss of the child you were expecting. But then, stop. Reconsider all of the hopes and dreams you have for your child. Most, if not all of them, are still attainable. Recognize that. Celebrate that. Your son can still be the point guard for his high school basketball team, and your daughter, crowned Miss Alabama; if that's what you want for them.
For some things, your child will have to work harder. He or she will experience failure. It's okay. It will make both of you stronger for it. And, you will more intentionally celebrate milestones because you know how stinking hard you had to work to accomplish it. Persevere.
The only limitations are the ones you set.
Hold your head up, and grab your favorite sunglasses. That baby you're carrying has a future so bright, you'll certainly need shades!
Three. Tell somebody.
Brian and I chose to keep Baker's diagnosis to ourselves. We silently prayed. We silently worried. We silently read and silently studied. We silently went to doctor's appointments. While I don't regret the way we handled anything, I wish we would have shared with close friends and family. I needed to know they would still love us. I needed to know our boys would be able to play together. I needed to know this wouldn't change anything. I needed their support, their prayers, their smiles, their encouragement.
Four. You are not alone.
When I bought my SUV in 2011, I left the dealership thinking I had the only black Nissan Murano with tan leather in all of Mississippi. Wrong. As I ran errands the next day, I counted twelve. TWELVE. Twelve exactly like mine.
When we received a Down Syndrome diagnosis, I felt like Brian and I were the only parents in the whole world to have a child with Down Syndrome. Wrong. As I learned more, and met more people, I realized we were not alone in this journey. We are part of a community. It is not small. Like any group of people, we share. We share celebrations, we share struggles, we share ideas for therapies, and discuss schools and the best tennis shoes for emergent walkers. And unfortunately, the kids even share germs. Just like a Bible Study group, or a cross fit class, or a Supper Club, connecting with others makes the road a little smoother and the drive a little brighter.
Five. In time, you won't use the words "Down Syndrome" every day.
Right now, it's all you can think about.
I know. I've been there. In the place where all you can think about is the diagnosis.
It is still a part of who we are, Baker will always have Down Syndrome. But, it does not define us, nor does it confine us.
He is Baker. He is mine. He is here. He is loved.
Down Syndrome is a thing, but Down Syndrome is not the thing.
One last thing. Get ready.
You are in for the greatest gift, the greatest joy, the greatest love one can experience this side of heaven.
 Click below to read all the stories from Down Syndrome Awareness Month!