We shared the big details of our trip out to World Gospel Mission headquarters a couple weeks ago, but I've got a few other photos and details from our trip I'd love to share. First off, we left all the kiddos in Duluth except for six-month-old Kai, which was perfect since we then still had a baby to cuddle. Pete and I felt like we were on a spectacular date weekend. Yes, perhaps there were interviews and psychological inventories, but we had no kids, we weren't staying at our house, and meals were provided. Sounds like a date to me!
I sure do love this mama! We may only live 10 minutes apart now, but I can't wait till we share a yard in Kenya.
When we got to WGM headquarters, it was not all serious interviews and questionnaires and personality inventories. It was a really fantastic weekend of getting to know other families heading into missions and eating big meals, meeting the WGM board and some of the staff, playing ping pong, and constructing giant towers of noodles and masking tape. Oh yes, noodles. The guys built one and the gals built another, all with the intention of comfortably and safely cradling an egg. The highest tower won. Check out how tall the guys went. Yes, they won.
But look at the sturdiness of our somewhat shorter tower. Our egg could have lived nestled on our tower for the duration of its life. Not so for the tallest tower. The guys kept their egg safe for a few moments before removing the it from its perch. It wouldn't have had a chance if we had to keep it in place all night. We said our tower reflected our maternal capabilities. It kept the egg cozy and safe. We had nothing we needed to prove. The guys, on the other hand. Well, they felt the need to go crazy with their tower. Typical.
Being at headquarters brought back lots of memories for me. I was in that same place exactly 12 years prior, as I prepared to leave for my year in Honduras. In fact, some of the current volunteers under the same program (Volunteers In Action) were finishing orientation as we arrived. Among them was this lovely girl, Tita. I was so thrilled the moment I spotted her! Twelve years ago, I taught Tita as a missionary kid in Honduras. Now she's preparing to spend the next year working with missionary kids at headquarters, meaning that she will be teaching our kids when we visit for training sessions this winter! I find it hard to believe that one of my very own students will be teaching my kids. Seeing her made me feel that we really are a part of a big family at WGM.
After a whirlwind of a weekend, we were back at the airport waiting for flights early Sunday morning. As we sat playing games and chatting with other soon-to-be missionary families, I realized that this is the first of what will likely be many, many airport sessions with friends and family as we fly thousands of miles around the world. I can't believe this is what we get to do with our lives! I know that not many families may be called to move as far away as we are, but I absolutely could not have it any other way. It won't be easy leaving our families here, but we are incredibly blessed to be able to have such fantastic mission families alongside us on this path.
---
A bit of catching up? Sounds like a plan! Here are a few recent photos.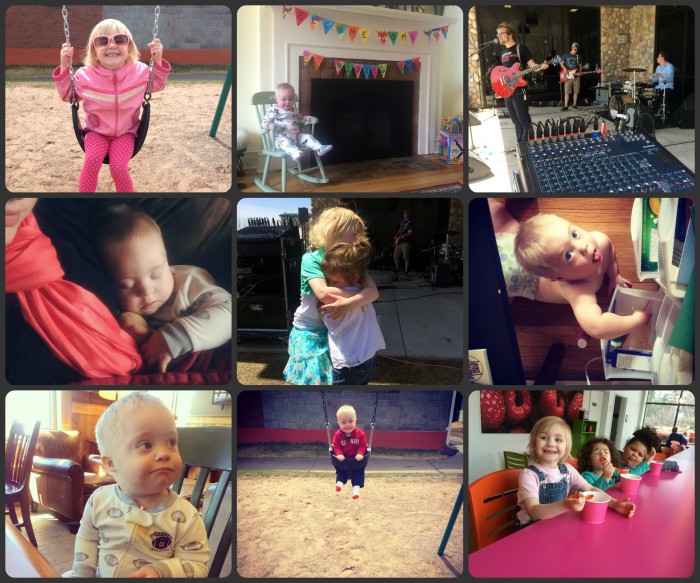 And this, because who can resist a dancing Sammy? (music by my brother, Jake, and his band, Dead Guys)
You'll have to click here on the link. For some reason, it's not just popping up right here on the screen. Sorry, friends!