Contrary to what you may be thinking due to my lack of blog activity in the last week, I did make it back from Arizona safe and sound. I enjoyed every minute of sunshine next to the pool while sipping margaritas.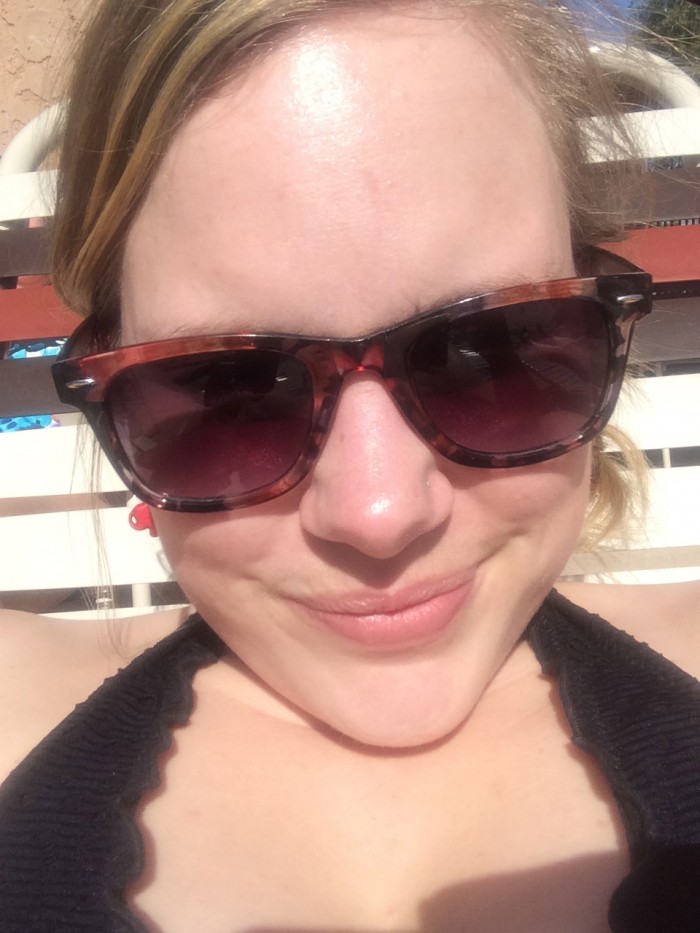 And without little ones to watch, I even dozed off a time or two in my beach chair. It was dreamy.
I was invited on the road trip to Arizona by my mom (center, below) and her sister, Bue (a life-long nickname by my mom and her brother – her real name is Julie). They had already planned the trip when I jumped on board, which was nice since that meant I could simply go along for the ride. After years of being our family's travel planner, it was nice to take a back seat. Bue and her husband, Mike, are spending the frigid winter months in a pretty spectacular resort just outside of Phoenix where my uncle can play softball daily.
This resort happens to be a retirement community, filled with snowbirds from the north. Population? Over 4,000 people. In my book, that's a small town. In fact, it's almost twice the size of the town I grew up in. I don't know about you, but whenever I think of retired couples traveling to Arizona for the winter, I have always imaged long hours of reading in the air conditioning and early bedtimes. Let me tell you, my perspective was rocked when we arrived just in time for an enormous poolside Mardi Gras party.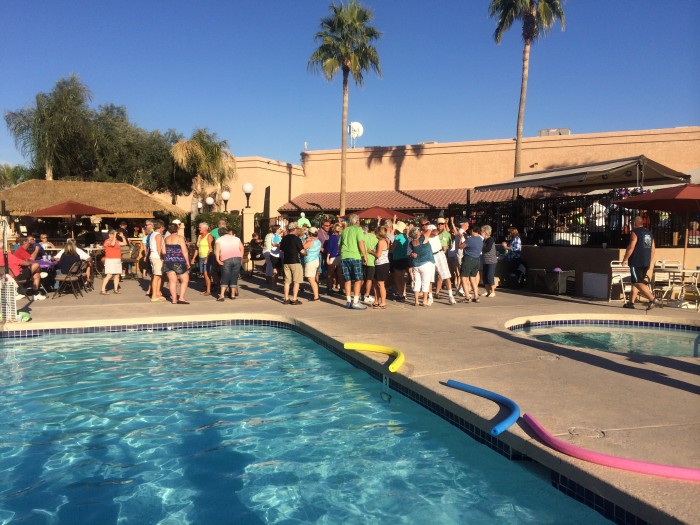 As we approached the pool area, I saw small groups of people meandering with drinks in their hands and strings of brightly colored Mardi Gras beads around their necks. I could hear music, which turned out to be a live band with a singer who danced on the tables. Hoards of people surrounded the stage and the pool and bar areas wearing swim suits and flip flops. There was dancing and loud laughter and, as is inevitable at a wild poolside party, fully clothed guys and girls were in the pool by the end of the party. The best part? ALL of them were in their 60s and 70s! How wrong I had been to assume retirement in Arizona would be quiet and dull! This was quite seriously a spring break party for seniors.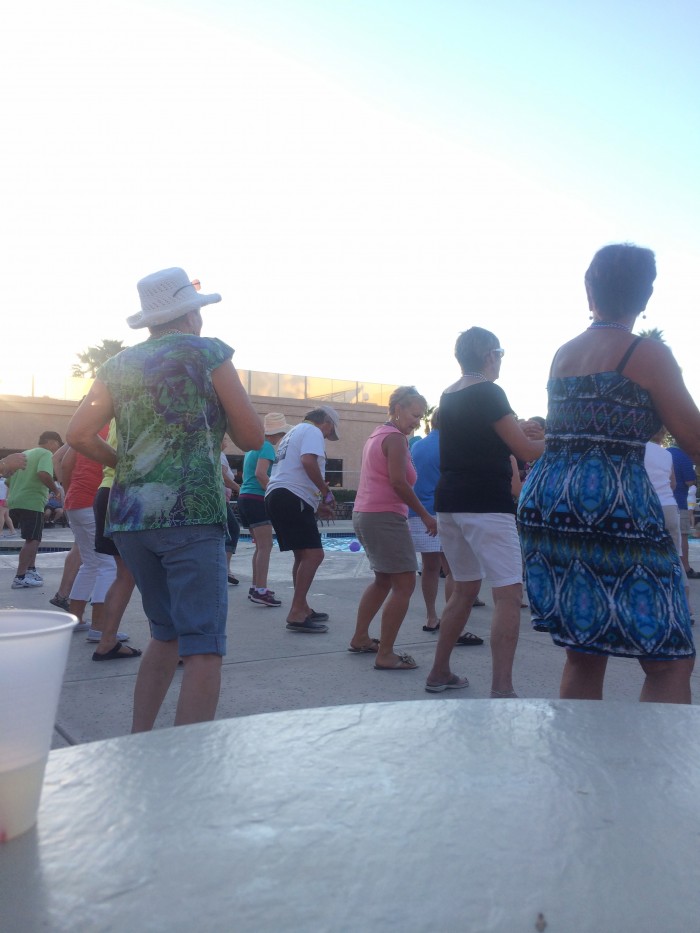 That was the first day. After Mardi Gras wrapped up (they were celebrating early), we got to experience every day life at the resort. I was amazed with all the available activities. Yes, there was shuffleboard and tennis, but there was so much more than that. Check out the sewing room. No, I didn't actually spend any time there, but if I had been there a few more days, I certainly would have. A few other notable places around the resort: jewelry, wood & leather shops, really nice fitness room, salon, dance classes, and an enormous market every week.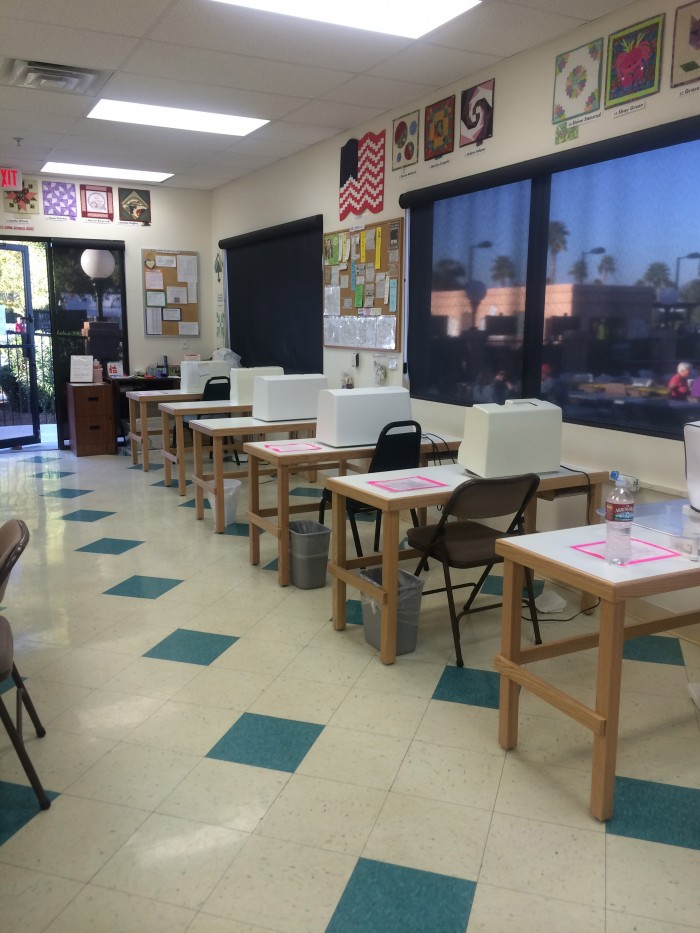 My mom and I love to walk and look at where people live, no matter where we vacation. We walked miles up and down the palm-lined streets.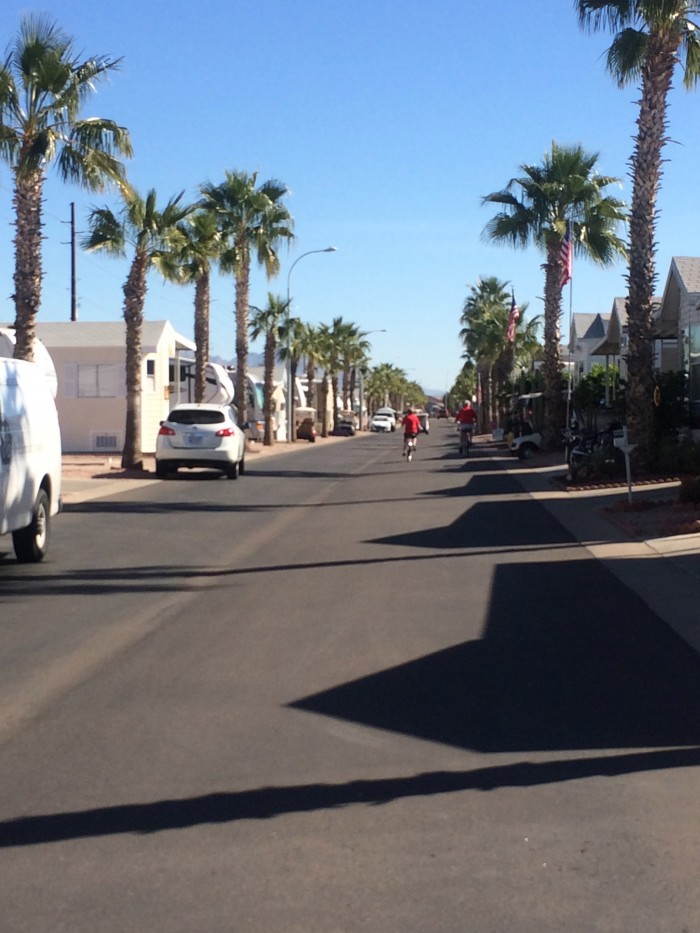 Lots of people who have fruit trees in their yards set out boxes of the extras for others to take. Free fruit? My mom was in heaven.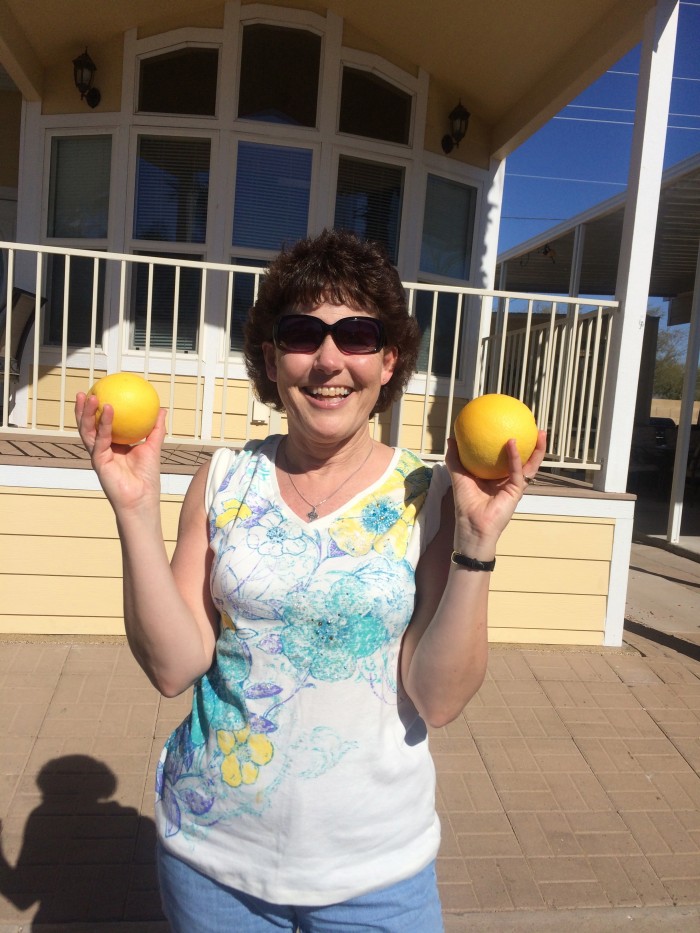 For as long as I can remember, my uncle has been playing softball. When I would stay at my aunt's house during the summer while I was in elementary school, we'd watch him play in tournaments. I got to see him play again at the resort. Their team plays against teams from nearby resorts. Often, they play two games a morning before it get too hot. It's pretty impressive for these guys who are all over 55!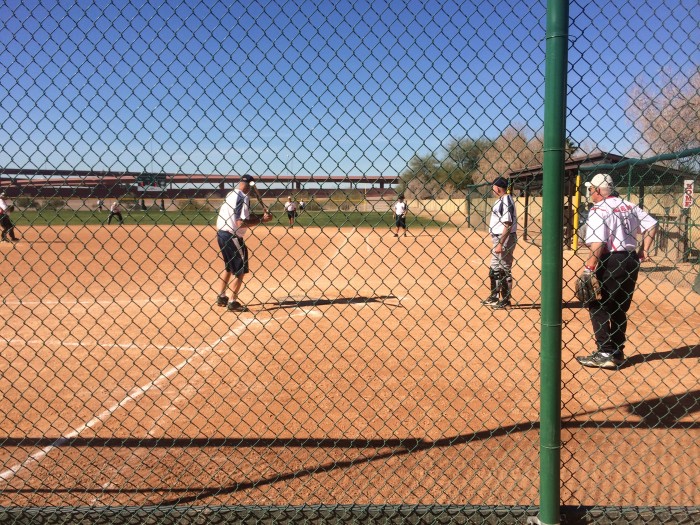 I could not resist the opportunity to play my first round of real Bingo at the resort. Tuesday night is Bingo night at the resort, and it was a good think my uncle warned us to show up early. Games start at 6:45, so we arrived at about 6:15. We were among the very last to arrive. By the time we found a place to sit among the 600 Bingo players, we were rushing to get set up before games began. This was serious business.
In my very small knowledge of the game, I thought there were only three ways to do Bingo: straight lines, postage stamp, and blackout. Silly me. Clearly, I had a lot to learn.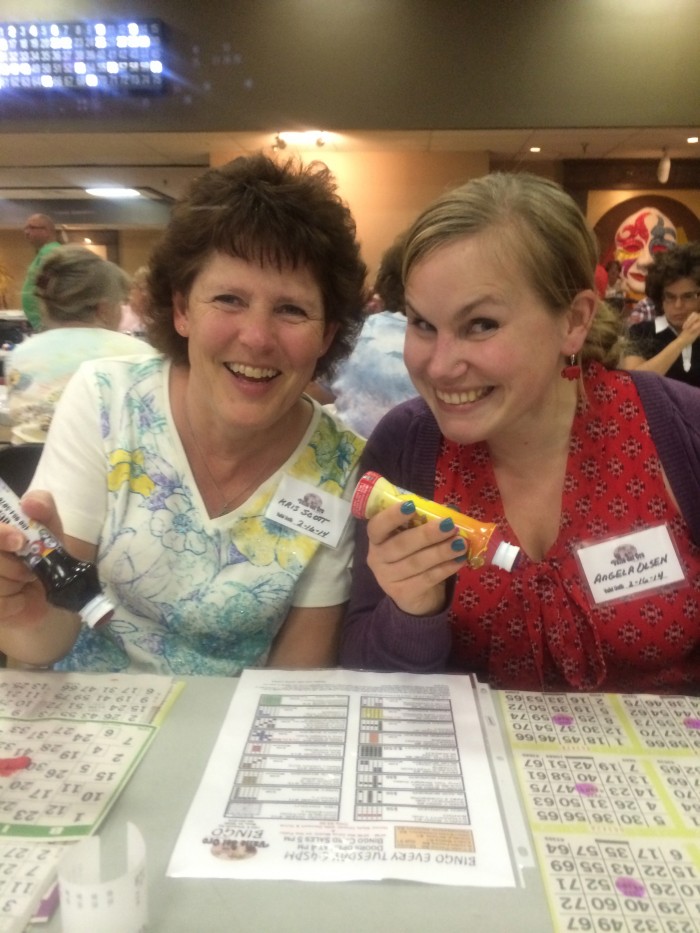 My mom, Bue, and I struggled to keep up with everything, but we fortunately had the help of a few ladies sitting nearby who kept us going. This was very serious business. Many players had customized baskets with a rainbow of blotters, many had rows and rows of games going at one time, and when I quietly whispered to my mom, I got furrow-browed looks from those nearby. (But not from the kind ladies helping us, mind you.) The big jackpot that night was $3,600, but I did not walk away with a single penny. In fact, the big money wasn't claimed at all that night, which sent the jackpot up to over $4,000 for the next week. I now understand why this is such a serious game!
One warm and sunny morning…wait, that was every morning…Anyway, one morning we drove to Superstition Mountain for a hike.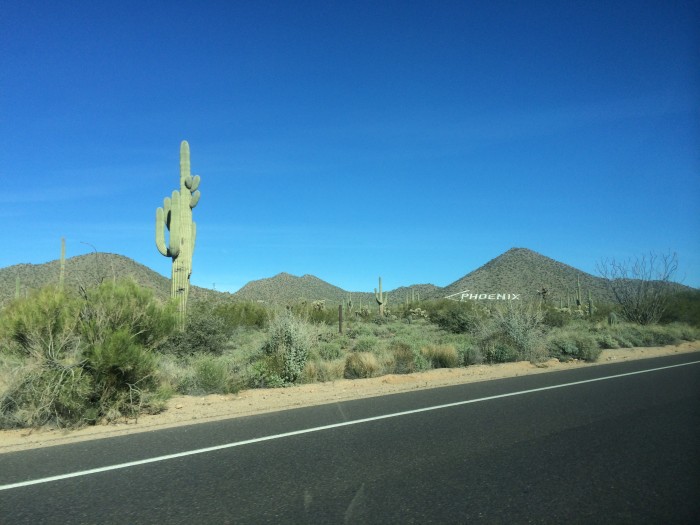 It was beautiful.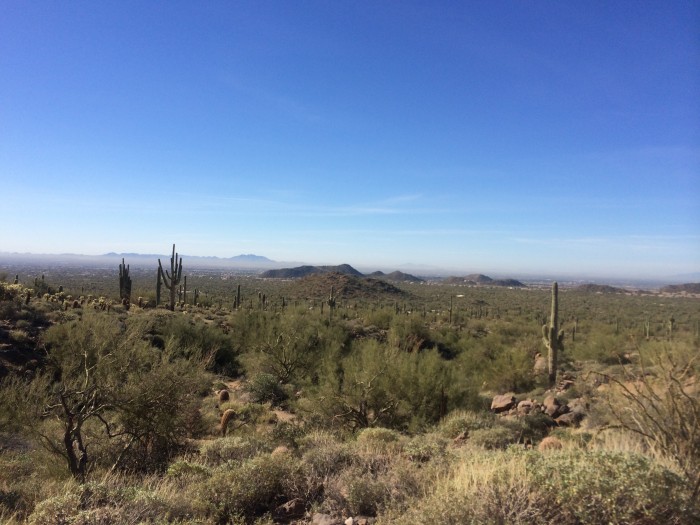 The terrain was incredibly different than I had ever experienced.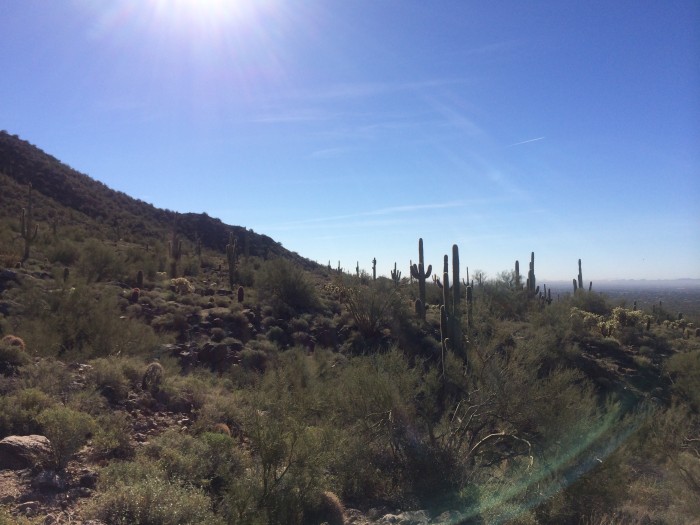 We eventually reached the top of our trail.
It was a big cave, though I'd refer to it more as a really big indentation.
I had a really, really great time in Arizona. And in all honesty, it wasn't that hard to be away from the kids. I asked Pete to send me photos every now and then so I could oogle over them, but then I'd settle by the pool with a book and happily soak in the sun. It's so very healthy for mamas to get away time every now and then. Ten days was by far the longest I've ever been away, and it will probably be a good while before it happens again, but I certainly enjoyed myself.  So thankful for a husband, a sister, and friends who helped made this trip possible. I feel fully relaxed and ready to take on every day life again.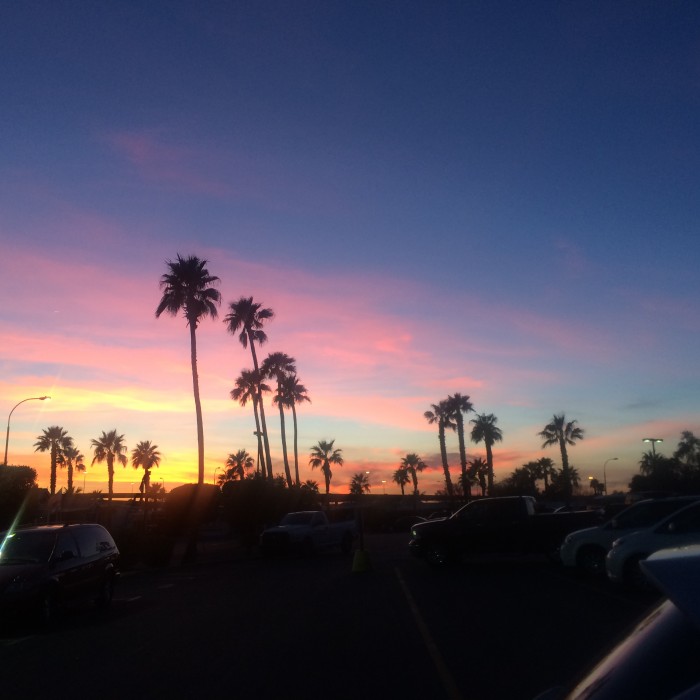 And now, friends, we will be back to our regularly scheduled program. Tune in tomorrow for some adorable photos taken of the little loves this week and to hear about a fun writing opportunity I recently had!