We made it! We're in! And can I please say that we could not be more thrilled to be here?! On September 24, less than 12 hours after I flew back in to Duluth, we closed on our condo on the water and by noon that day, we were moving our things in. We are now nearly settled. It doesn't take long with only a small U Haul. Pete and I did the unloading and we took the next week to get everything put in place. A lot of it was done while Pete was working at night and the kids were sleeping. The time was a bit magical, playing music and finding a home for each item. Now we're working on getting a few pictures hung and are considering buying a few small art pieces for the mantle. But that's about it!
How about some photos? I thought I had more than these, so I'll have to work on capturing a few more!
Here is a view of the living room into the kitchen and dining room. The condo was furnished with everything but that when we moved in. Isn't it beautiful? We are so very grateful for the opportunity to live here!
We have two bedrooms and two bathrooms here, so the kids will continue to share a room. They adore sharing. When Sam is ready, we'll get a bunk bed, probably one with a queen or double on the bottom, so that any future additional babies can join the party when we're on visits back from Kenya.
We also have a large, beautiful deck overlooking the lake. We've sat out on warm afternoons and are looking forward to many, many more days doing the same.
This is the view from the deck toward the canal. We have numerous ships pass each day. The warmer days right after our move surprised me with all the traffic on the water. Lots of fishing boats and smaller pleasure craft, as well as sea planes and small planes that land out on Park Point. Just behind us is the North Shore Scenic Railroad, so we occasionally see small trains pass, the same train we took on our wedding day! The grassy area in the photo is all a part of the condo association and the adjoining hotel, so the kids will be able to run up and down the shore and we can climb the rocks down to the water. Two nights ago, we made s'mores at a small fire pit in front of the hotel that we have access to as condo owners. It really is such a treat to live here!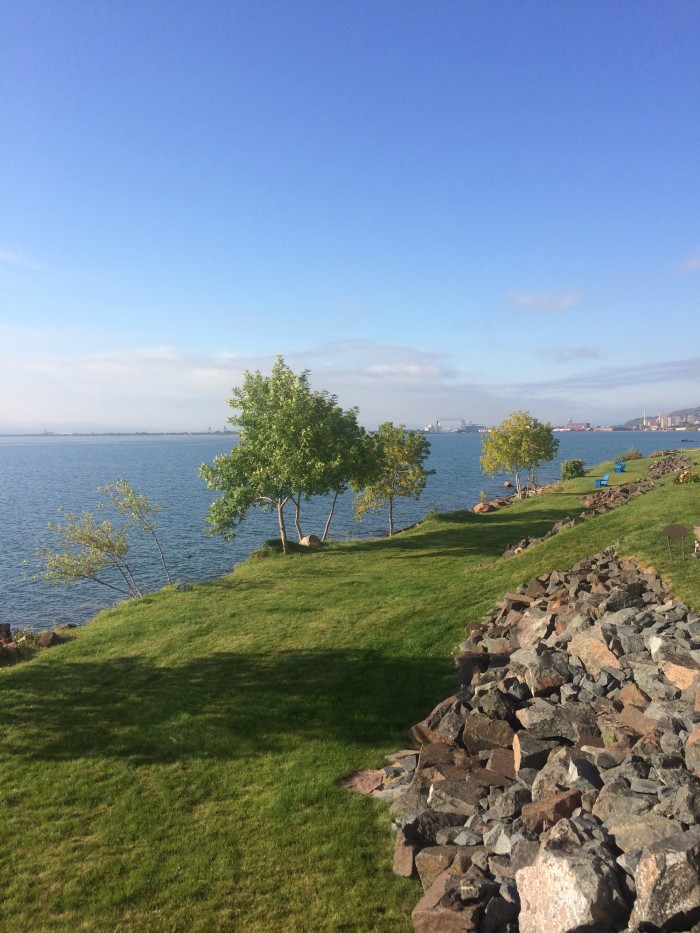 I surely can't forget to mention that we also have access to the hotel pool, hot tub, and sauna. We moved in while Ella was at school and, within 30 minutes of her arrival after school that same day, she was in the water. Both of the kids love to swim, so this is one of our very favorite features here. Daddy, a professional Dive Master from before we met, gladly gave Ella her first snorkel lesson.
Today marks two weeks in our new home. We are soaking in our beginning days here. I'll have more photos up soon of the rest of the place as well as photos from our recent Step Up for Down Syndrome Walk in St Paul!