What fun we had carving pumpkins and getting dressed up over the weekend! I absolutely considered not carving pumpkins this year. Pete was away working and I was feeling fairly awful, but when I realized it had been a few years since I had carved a pumpkin, I decided we just had to jump in. The kids' responses made it so worth it! Sam thought the pumpkin guts were the funniest thing, though I couldn't quite convince him to stick his hand inside to get a handful of the goo himself. He cheered me on as I carved our pumpkin. I think he was pleased with the end result.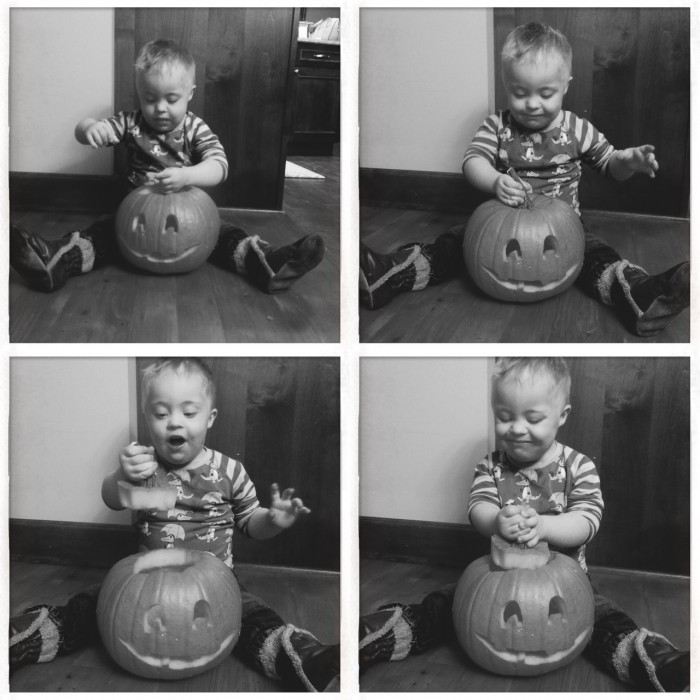 Miss Ella took control of her pumpkin with complete confidence. Well, mostly. She decided she wasn't a big fan of the guts, either.
Sam just couldn't get over his pumpkin.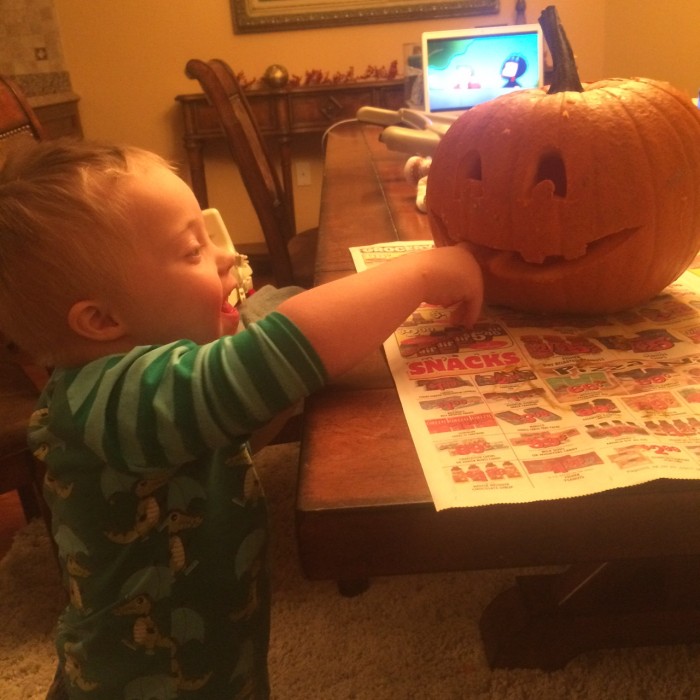 Ella and I did a little team work on hers, but really, she did most of it. How cute is the owl? She did a beautiful job following the pattern! This was so much better than just painting a pumpkin, as we did last year. Honestly, that was just because I felt obligated to do something with a pumpkin. We'll definitely be carving more in the future. Hopefully next year's will be in Kenya!
Saturday morning, I came to conclusion that my 'cold' wasn't really feeling like my typical cold, so I packed up the kids and headed into Urgent Care. It only took the nurse a few minutes to tell me I had strep, so to the pharmacy we went. I felt pretty yucky during all of our Halloween festivities, but I didn't want to miss getting the kids dressed up. We had been looking forward to their costumes for months. Well, for Ella, it had been an entire year. I was able to push through and thoroughly enjoyed taking them out. I'm so thankful to be feeling nearly 100% again, just a few days later.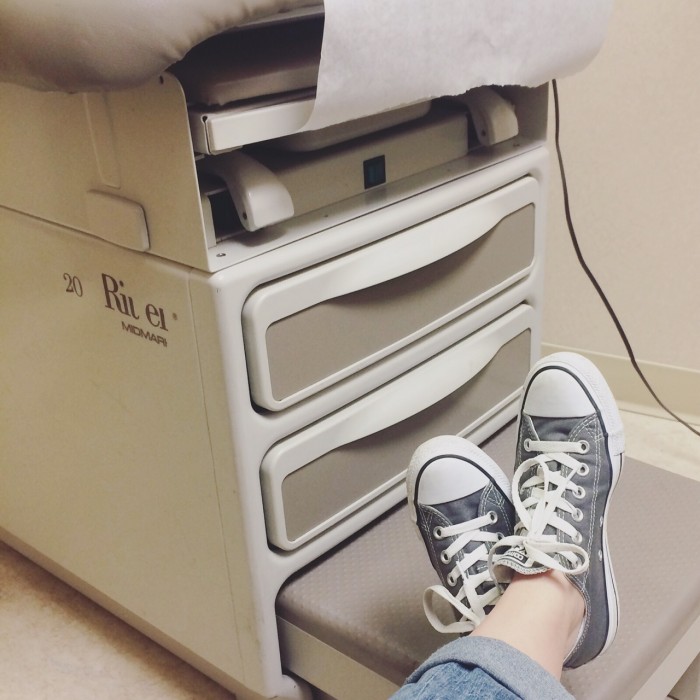 My theatrical side loves getting dressed up, and I adore having little ones to dress! Did you know there are very few skunk make up tutorials on Pinterest? There are countless videos for foxes, deer, owls, and rabbits, but not for skunks. Okay, no, I wasn't surprised at all. Ella has been in love with skunks for at least the last two years. I thought it would be short-lived when she first brought it up, but it has stuck!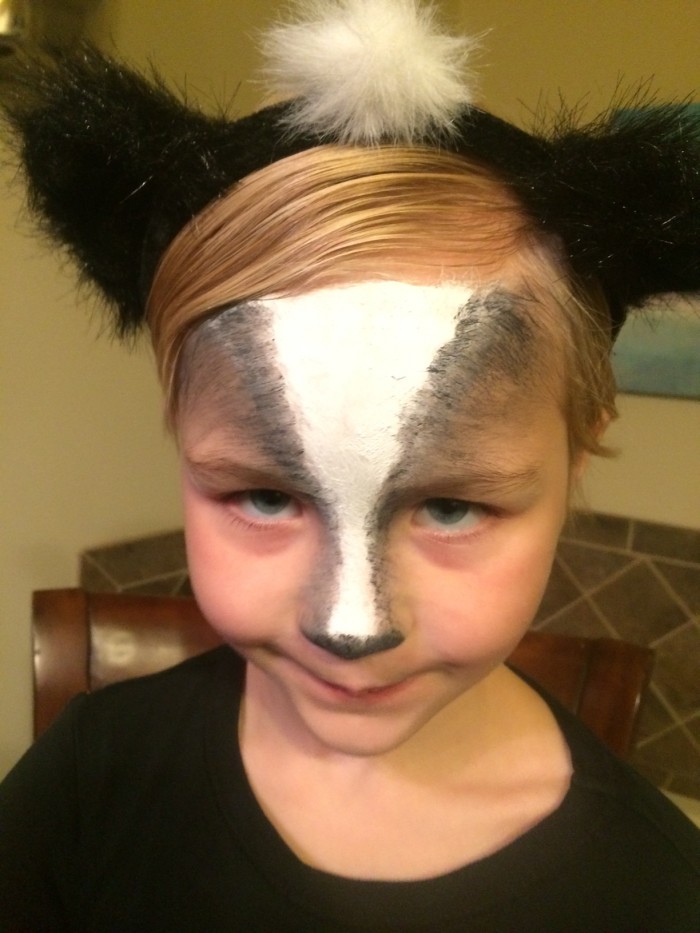 We bought the ears and tail for her at Christmas last year. They are used multiple times a week in our house. To finish the costume, I simply bought a half yard of a strip of furry white material and pinned it to the back of her black ballet leotard. So simple!
We had talked about her spraying lavender, but I vetoed that after coming to the conclusion she would likely spend the entire night spraying everyone over and over.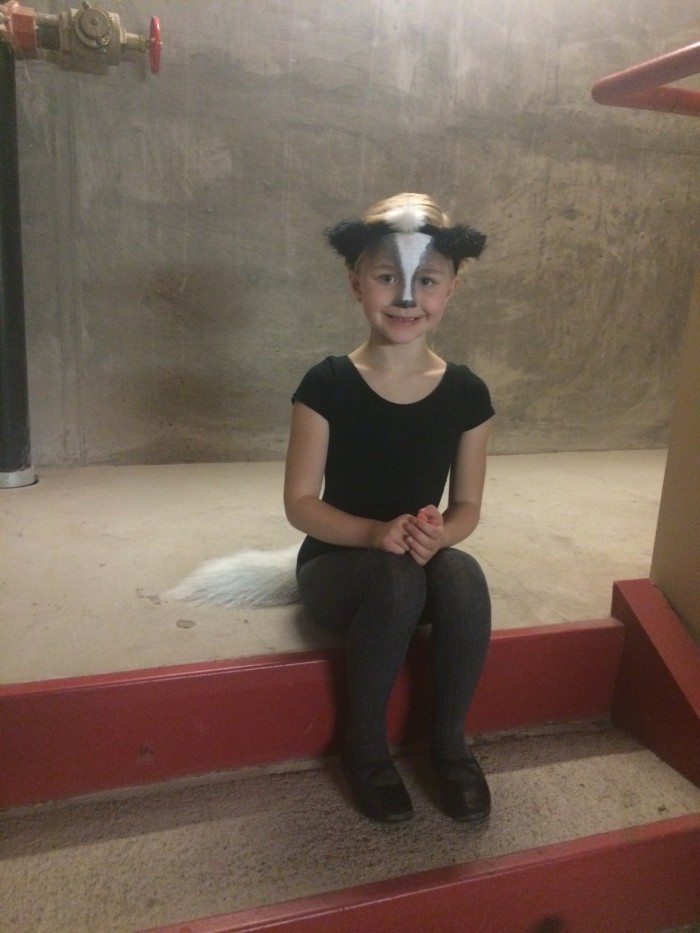 Sam's costume was ridiculously simple. We decided he would be a little wolf pup, a slight variation on last year's costume as The Big Bad Wolf alongside Ella's Little Red Riding Hood. He didn't actually keep his ears on last year, so I didn't have a single photo of him in the costume. This year, he did beautifully. He kept them on the entire night and even wore them while running errands on Monday morning. This was the closest I got to a picture of the two of them together. Sam loves stairs too much to simply sit on them.
After watching Ella have her entire face painted, he sat very still to have the same done on his nose. His stuffed friend is Ella's puppet Penelope. She graciously shared her for the night.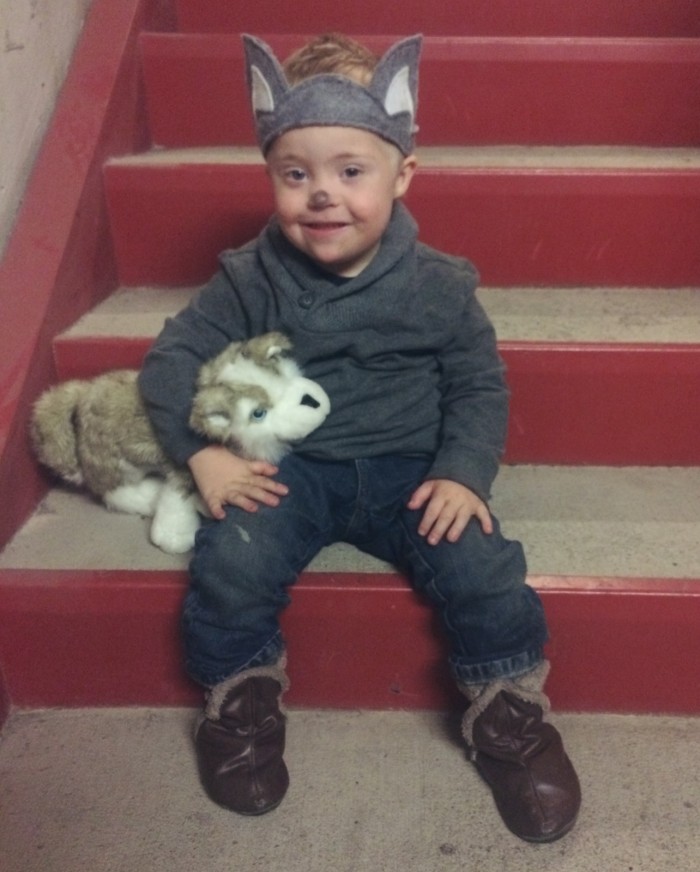 We first made our way through our building. After visiting a total of seven doors, they each had a full bucket of goodies! It's lovely being the only kids in the building, right Ella?
After driving through a few neighborhoods, we met up with friends and spent the rest of the night trick-or-treating with them. Ella was very serious about her door-to-door business. The three-year-olds in our group had no hope of keeping up.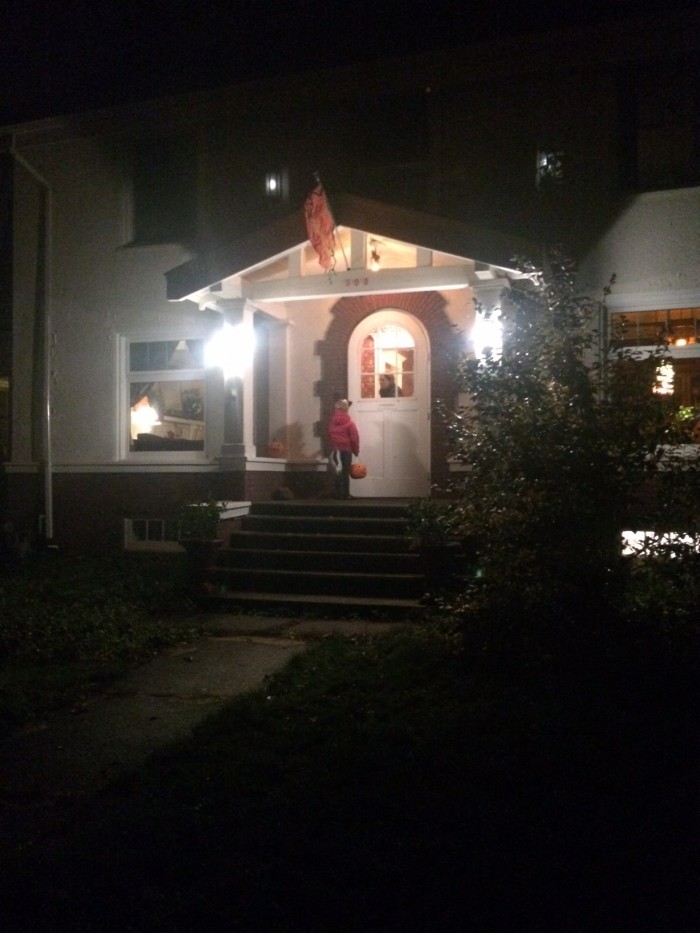 It was a perfect night! The weather wasn't too cold, as it usually is by this time of year, and it stopped drizzling just in time for trick-or-treating. We gathered candy and spent time with friends and mama collected a nice little candy tax by the end of the evening! I'm so glad my illness didn't keep us away. Sunday, however, really was a day of rest for the three of us. Movies and candy and naps and games. I'd say it was a pretty good weekend, all around.
Did you or your kids get dressed up this year? What did you go as? And have you already eaten all the candy? (I won't tell if you have. I'm pretty sure the only candy we have remaining is the little bowl I tucked away in the fridge where little eyes will never find it. Chocolate is a precious commodity, after all!)