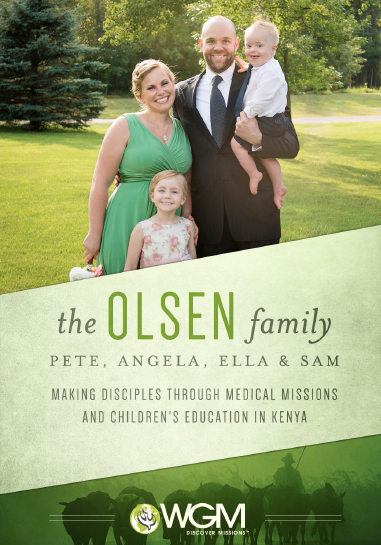 We're in Kenya and you are invited to join our team!
In May 2014, we were officially appointed as missionaries with World Gospel Mission (WGM). Following that appointment, we worked for three years to pay off Pete's medical school and Ang's grad school loans. We then worked hard to raise support for our first two years in Kenya and were able to make our move to Africa in June, 2017! Pete is now working at Tenwek Hospital, discipling and training Kenyan physicians through the Family Medicine Residency Program, teaching internal medicine, emergency care, and obstetrics, including cesarean sections. Angela is teaching our children at home and working with families through a newly established special needs clinic.
We know that we cannot continue to do this work on our own, which is why we want to invite you to be a part of our team. The first way you can be involved is to commit to pray with us. We have seen incredible things happen because of prayer, and we want that power surrounding us everyday. The second way to join our team is to support us financially. Our biggest need is to have partners who give monthly contributions, which will cover such things as health insurance, food, educational materials, and housing. ($75/month = 1% of our budget).  To make your tax-deductible donation, whether monthly or a one-time gift, you can visit our donation page at www.wgm.org/olsen.
Please prayerfully consider how you can be a part of what God is doing in East Africa. Your involvement will impact real lives by teaching new doctors valuable skills, educating families who have children with special needs, and sharing the tangible, life-changing love of Jesus Christ!

Save
Save
Save