Today we are graced with the sweet smile of 21-month-old Tessa Mae. Tessa's darling, little pigtails always catch my eye on Instagram and bring a quick smile. Her mama, Cassandra, shares touching words with us as she reflects on life with her darling girl. You can follow their journey on Instagram at @cassandraallred. Happy 17th day of Down Syndrome Awareness Month!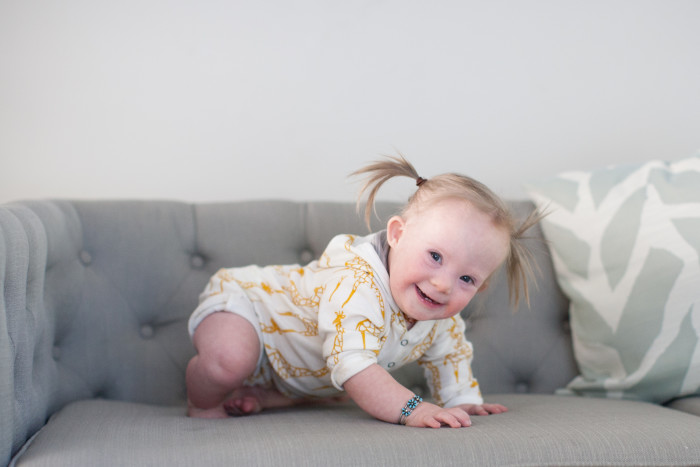 Tessa is the adventure we never knew we wanted, and she's been surprising us since the moment we discovered she would have a little (extra).  Our initial thoughts of how our life would change with Tessa in it has turned out to look NOTHING like what we first imaged. Tessa brings as much, if not more, joy into our home as any of our other three children do. She is a light in our family, and we all adore her.
Tessa loves following her sisters around and getting into her brothers Legos (she knows the exact shelves that are off-limits and shoots directly for them)… Tessa loves her 8 year old brother the most and he often sends her into gut-laughing fits. Tessa loves to play, laugh and get tickled. She loves people and wants to be close to her family members by cuddling in and sucking her thumb. Tessa loves food, and eats anything and everything her siblings are eating. She's learning to sign (and picking up new ones weekly) and loves to scream "Mama!" when she sees me across the room. Tessa is a people magnet wherever she goes, and loves to study new faces and play with other babies. Tessa loves baby dolls and likes to point to their eyes, ears and nose. Just like her siblings, she likes to nap in her own bed with her favorite blanket, she likes the straw cup best, and if I kiss her too much she bats my face away.
I guess what I've realized most over these last 20 months is that life just feels normal with Tessa in it. Down syndrome didn't collapse our world like I initially thought it would. Down syndrome hasn't effected our quality of life or the love we share or the fun we have. In fact, quite the opposite. Down syndrome opened our eyes.  We want to celebrate and understand others differences and love them for it. In a world that feels so homogenous in style, fads, and culture, it's a refreshing new perspective. I feel deeper and I love harder. I don't take as much for granted. I want the world to know that Tessa is just a little baby girl, who loves her siblings, chocolate chip cookies, and cuddling with her blanket on her daddy's lap. She also happens to have almond-shaped eyes and a third copy of her 21st chromosome- but don't we all have something that make us unique? Life doesn't let anyone off easy. Tessa will want and dream and become, just like any other child. And we can't wait to be along for the awesome ride.
Finding and connecting with other families was my absolute saving grace while pregnant with Tessa. I mostly found them through social media. Because that was such a great sense of comfort to me, I share Tessa publicly on Instagram hoping that I can be a happy resource to a new family out there facing a diagnose that feels terrifying and unknown. Find our family at
@cassandraallred
.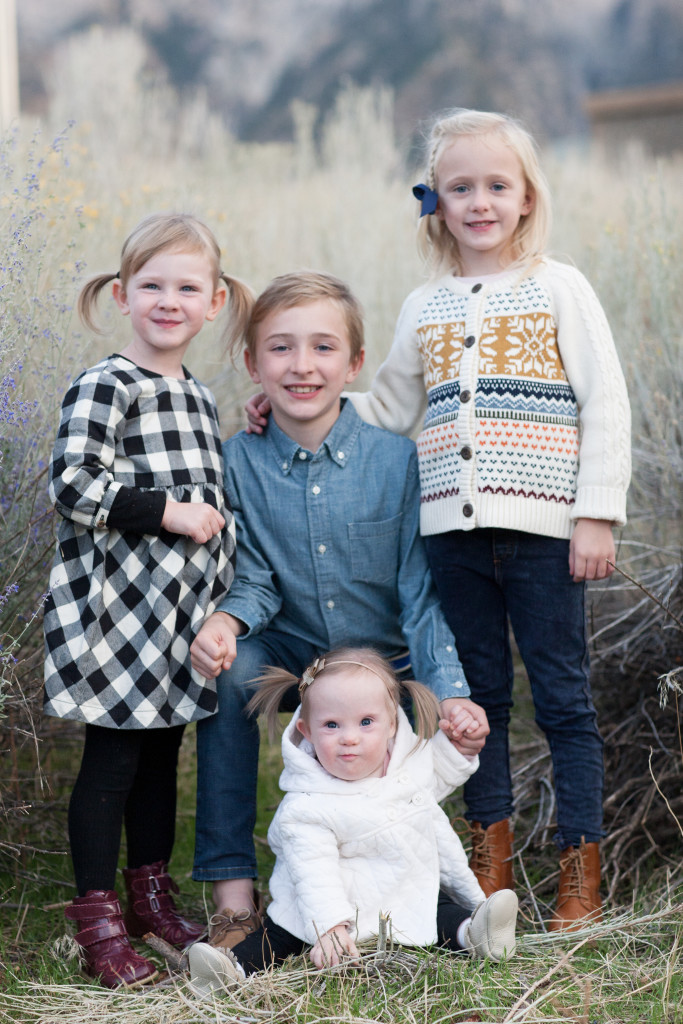 Check back tomorrow as we continue celebrating Down Syndrome Awareness Month or click below to read all of our previous posts.