Miss Hazel is here to celebrate day 23 of Down Syndrome Awareness Month with us! I introduced to you Hazel last October and am so happy to have her back as a four-and-a-half year-old this year. You can find Hazel and her family on her mama's blog ChasingHazel.com and on Instagram @chasinghazel.   Thank you, Steph, for taking the time to share your gorgeous girl with us!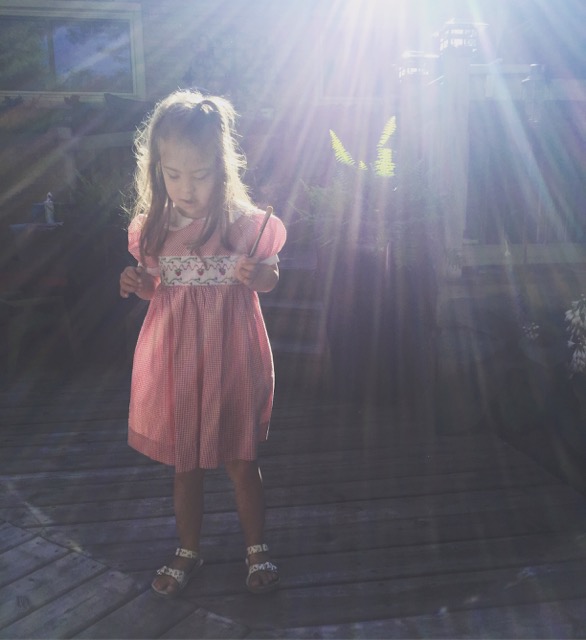 What would Hazel do if she could design her very own day?
If Hazel could design her own day, she would get up bright and early and jump right into her daddy's arms. He's her all time fav. (I believe the feeling is mutual.) If she could shrink him and stick him in her pocket THAT would definitely be ideal. If not her dad, her Nonna is next in line.
She might choose to go to school, hang on the monkey bars with her friends and sing together with them at circle time. Likely, she would carve out some time to play with her shadow and/or look at herself in the mirror. That's where she practices all her songs and the signs she's learned. She has some pretty lengthy conversations with herself in that mirror.  Then, if she could find time in the day, we would certainly be at the park where she loves to climb all over everything and go down the slide. Or, maybe she would rather go for a long walk outside with her sister. THE BEACH!!! She LOVES the beach. Splashing in the waves, swimming and jumping into the water all bring a huge smile to her face.
Heading into the evening, Hazel would ask me to listen to all her favourite songs or watch a movie while eating a bowl of Sunchips. Her current favourite songs are, "A Woman's World" by Cher, "My Church" by Maren Morris, the theme song for Tinkerbell, and any Jimmy Fallon Lip Sync Battle. Once her chips were done she would ask to listen to all the songs again so she could dance this time around. Think…"If You Give A Mouse a Cookie" but "If You Give Hazel A Song…" Her top movies at the moment are Shrek, Tinkerbell, Frozen and Peanuts.
Oh, and if she could just eat pasta, pizza, chips, grapes, ice cream and Oreos that would be fantastic. All of which are free range, organic so it's cool. #nope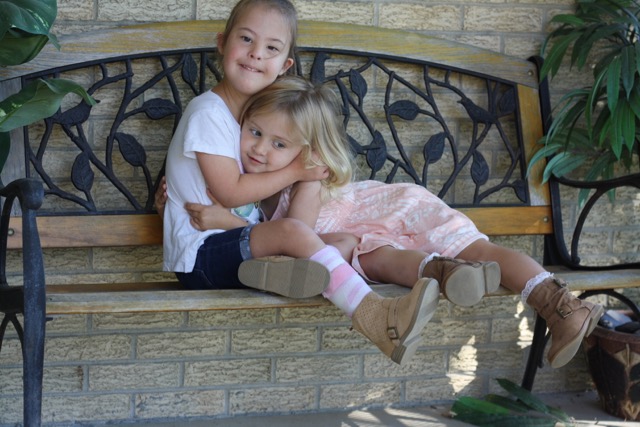 What has Hazel taught her sister, Nola? What has her Nola taught Hazel?
Since Hazel came first in birth order I really didn't spend much time stressing about what having a child with special needs would mean for a sibling. When I found out I was having another little girl though, my heart nearly exploded right out of my chest. I felt that we were given the most perfect person to care for, nurture, shape, love and teach Hazel for a lifetime ahead. What I didn't realize at the time was how Hazel would nurture, shape, care for and teach her younger sister, Nola.
There could not be a more perfect pair. They are extreme opposites in every single way except for the fierce love they have for each other. They laugh, play, run, jump on the bed, fight, cry, yell (well mostly Nola yells…sigh), hit each other (well mostly Nola hits…double sigh). They do all the things that siblings do. Good and bad. They look for each other when they aren't together, walking all around calling out each others names, "NOLA?? Where are you??? NOLA???" and vice versa. They sit together, criss-cross facing each other and talk in a language that only know AND they think it's hilarious! They sing and dance together. They share with each other.
They are learning to be partners. They are learning to be friends. They are learning to be sisters.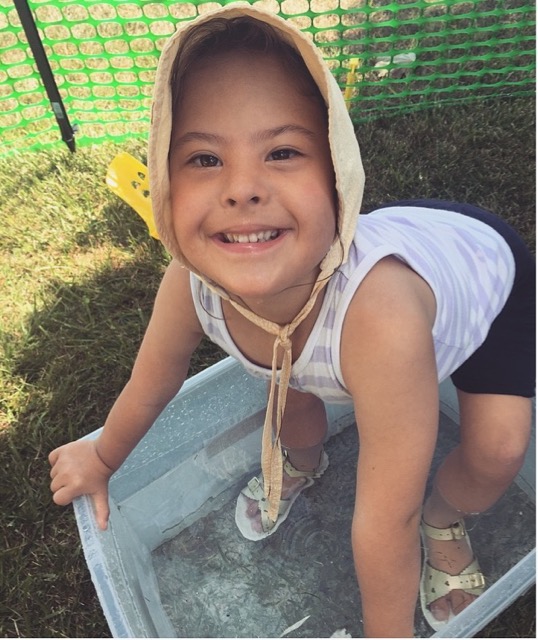 What is the most wonderful part of knowing her?
The most wonderful part of knowing Hazel is the way that she has helped me to really FEEL. Until I laid eyes on her, I had no idea what unconditional love meant. She taught me right from the beginning how to love in the biggest, most wholesome way. And not only for her, for everything. The world was a big new place that I hadn't seen before in this way. Like my heart had not really been beating at all before she came along. My vision once blurry became crystal clear. Everything heightened.
When I feel pride for her it nearly knocks me down in my tracks. When I feel discouraged it almost cripples me. When I see that bright, smiling face of hers, my heart skips a beat. When she brings me in for a hug or a kiss, well – I almost melt into a puddle right there on the floor. It's true love – a fairytale.
The real beauty is watching her interact with every. Single. Other. Person. Her purity and sparkle surpass all borders. Even the most reluctant of people in the grocery store are taken by her. All she has to do is flash them her smile, and a "HI!!!! How are YA?!!!" They are hers. I watch everything wash away and see them truly FEEL happiness even if only for a moment. Every room we walk into is brighter not only because of her smile but because all the other people are smiling back at her. You can almost feel their hearts beating a little faster when she's around.

Being able to witness the joy your daughter brings to the world has been one of the greatest gifts that she has given me. I feel honoured to walk beside her. She is absolutely perfect in every single way. I can not imagine how I would have gone through life feeling as blessed and fulfilled as I do right at this moment without my sweet Hazel.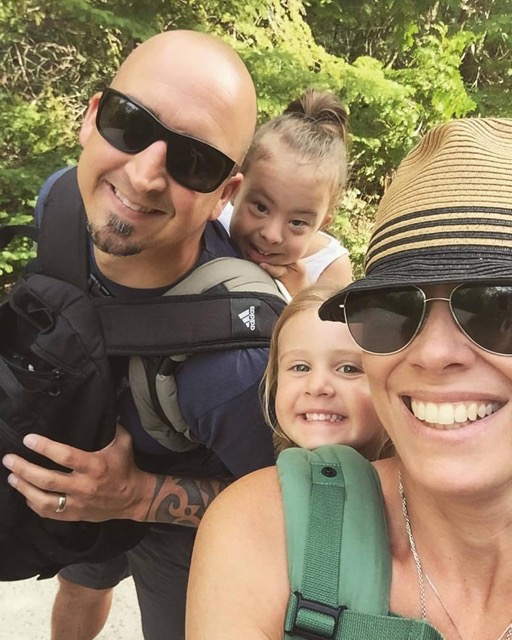 Check back tomorrow as we continue celebrating Down Syndrome Awareness Month or click below to read all of our previous posts.
Save