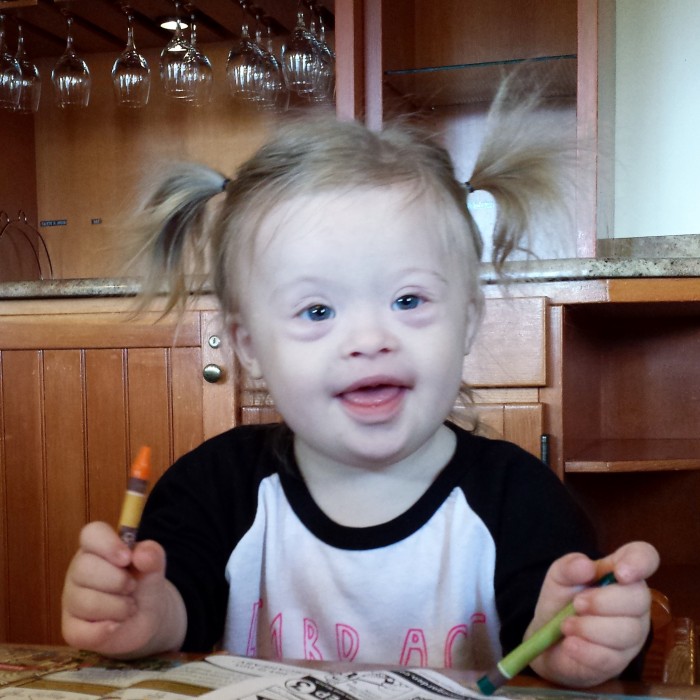 I would like to introduce you to Lily! Lily is 22 months old, and today her mama, Amy, has some very touching words to share on how she learned about her little girl's diagnosis and what she would tell herself if she could go back, knowing what she knows now. You can find Amy on Instagram at @amy_janell. Or, check out her blogs Neglecting My Kids and Life with Lily.
How did you find out Lily had Down syndrome?
I was 10 weeks pregnant and I was given a blood test and an ultrasound by my Ob/gyn. They measured the nuchal fold and discovered it was a teeny tiny bit on the thicker side, a possible indication of Down syndrome. It could be something, or it could be nothing. They wanted to send me to a geneticist, just in case because I was just this side of being an "old" Mom, but told me the geneticist absolutely would not see me until I was at least 16 weeks pregnant. I felt like it was no big deal. Just a precaution.
A week later the Doctor's office received the results of my blood test. They called to tell me the geneticist would see me on Monday. No waiting, she wanted me in her office as soon as possible. My hcg levels were high and my papp-a was low. I didn't even know what it meant but is sounded scary. It was a long weekend full of consultations with Dr. Google.
We were given a level two ultrasound at the geneticist's office. Sitting in a dimly lit room watching our tiny bean kick and roll. She was perfect. How could there be anything wrong with our baby? The second ultrasound showed a "soft" marker for Down syndrome, a spot on the heart, but the nuchal fold was now within the normal range for our stage in pregnancy. So nothing conclusive. Nothing definitive. And I needed a definitive answer. I couldn't spend my pregnancy wondering. I'm a worrier, and a planner. I needed to know. I needed to be prepared. I was given the choice of waiting until I was far enough along for an amnio or having a Materniti21 blood test drawn that day. I was all for the noninvasive super cool scientific blood test that, most importantly, could be done that very day.
It was a tense 10 days while I waited for the call with our results. Every time the phone rang my heart stopped. I was home alone with the children when the call came. My Husband had run to the store for more milk. Sometimes I feel like we spend our lives running to the store for more milk. I hid in the bathroom trying to find a quiet spot to hear the words the geneticist was telling me. "You are having a little girl. And your little girl has Down syndrome." I collapsed under the physical weight of those words. My Husband returned to find me sobbing on the floor of the bathroom. I cried so hard I couldn't breathe. I thought everything about my life was about to change.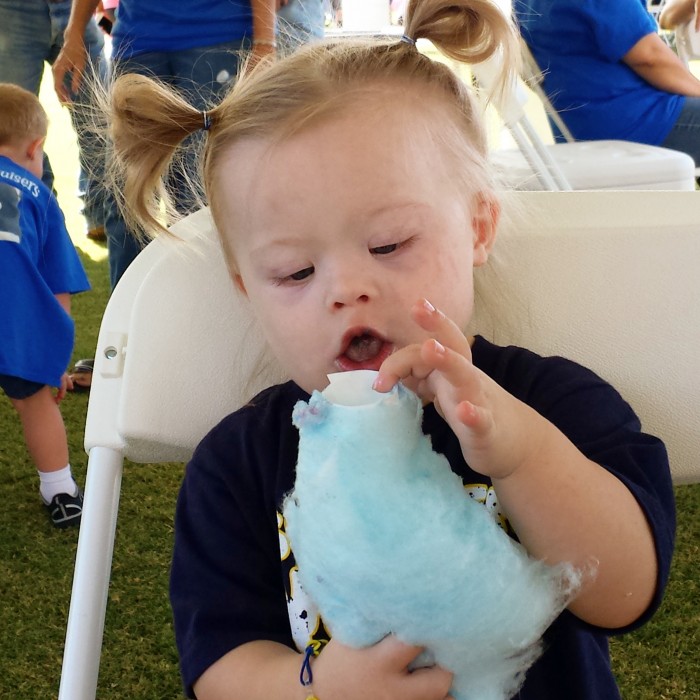 What were some of the emotions you had when you got the news?
At the time of diagnosis my world exploded.  All my hopes and dreams of my child and who that child would be were shattered.  My life as I knew it was gone.  I was being handed a challenge that was unwanted and unwelcome.  I felt devastated.  And angry.  And guilty.  My body had failed.  First the miscarriage, and now I was growing a "broken baby."
I told trusted friends, and they looked at me with sadness.  They used the word "amazing" a lot.  Families who have Down syndrome children are amazing.  My daughter was going to be amazing.  I was so amazing to have such a special child.
I started to hate the word amazing.
It felt like an accusation.
If only we were ordinary parents.  Then we would be getting an ordinary baby.
But no, my baby was going to be "amazing."
The well-meaning words of encouragement felt hollow.  I was on one side of the fence staring at the desolation, a post-apocalyptic wasteland.  While my loved ones were on the other side of the fence, in a place untouched by the devastation, telling me they were sure I was going to love my new home, a home they would not have to live in, a life they would share from the sidelines, but not have to live every second of every day for the rest of their lives.  Their words hurt for reasons I still can't fully explain.
I cried.
A lot.
My Husband just shrugged and said "She's going to be my baby."
How I love that man.  He really is The Greatest.  He allowed me to be weak, and to be angry, and to have ugly soul crushing emotions.  He gave me space to feel my ugly feelings, and then he would talk me back to reality.
She was going to be our baby.
We know what to do with a baby.
The rest we would figure out as we went along.
If I could go back to the days and weeks after first hearing the diagnosis of Down syndrome, I would tell myself…
Don't you cry.
Not for one single second.
This is going to be beautiful in ways you can't even imagine. Isn't always going to be easy but raising a child never is. But don't you dare cry. This is not a tragedy. This is a child. This is YOUR baby.
She is going to be beautiful, and funny, and clever, and determined. She is going to change your life and it is all going to be good. She is going to fill your world with sunshine and music. She will dance. Anytime she hears even the smallest snippet of music, she will dance. She is desperate to learn the skills to sing. She laughs and it is the most contagious sound you have ever known. She is stubborn. When she decided she is going to do something there is no power in the verse that can stop her. She is a force of nature.
None of your fears are real.
Nothing you imagine is true.
Yes, it is going to be hard sometimes. You are going to have to learn and grow and find a core of steel you didn't even know you had. But there is no down side in that. You are stronger than you ever imagined and you will be strong for her.   You will learn to advocate for her. You will change the world for her.
She is your baby, and she is amazing.
Don't you dare waste a single second crying when you could be celebrating.
She is something to celebrate.
The most wonderful part of knowing my loved one is…
She fills my world with joy. She has a full body smile that is irresistible. Her laughter is contagious. She is delighted by life and she spreads that joy to everyone she meets. Even when she is teething or ill, she smiles. Which isn't to say she doesn't get sad or mad or frustrated or hangry. She does. But the dominant emotion that defines her is joy. She is sunshine. I am so proud of her and how hard she works every day to learn and grow. She brightens my world and I am so grateful I get to be her Mom.
 Click below to read all the stories from Down Syndrome Awareness Month!