Ladies, this one is (mostly) for you. Women of the Word by Jen Wilkin.  Since ordering the book following a short, online class I took last fall with The Influence Network, my time in Scripture has been impacted in a pretty powerful way. I would love to have read this book 15 years ago (even though it was only actually written two years ago), but I'm so very thankful to have this wisdom now!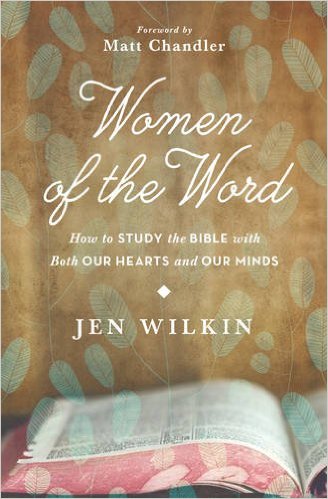 One of the main ideas in Women of the Word is clear through its tagline: How to study the Bible with both our hearts and our minds. As women it's natural for us to focus a great deal on our emotions. That's wonderful, since God did design us to love and feel beautifully and deeply. But he also designed us to use our minds to think critically. I have picked up scripture many, many times to simply find an answer to my issue-of-the-moment needs, merely wanting to walk away feeling better about myself. In those moments, the Bible became what I wanted and needed instead of what it truly is – the inspired Word of God. Yes, the Bible includes feel-good verses and inspiring texts, but on a much grander scale, it is telling the story of who God is. Women of the Word walks readers through how to get to that big picture view by digging into the reality of the Bible (the culture in which it was written, the audience, the author, etc) with our hearts and our minds.
Honestly, I kinda wish it wasn't only geared toward women. There are certainly a few small moments where the writer, Jen Wilkin, speaks directly to women, but they aren't all that numerous. Pete read it after I told him how inspiring it was for me, and he gave it a thumbs up. So read it for yourself and then pass it around!
Disclaimer: I have written this post only because I so enjoy this book and want to share it with you. I have not been compensated in any way for my thoughts or for this post.
---

If you live in the Duluth area and you're a mama of kids in elementary school or younger, I would love for you to join us for a small group study throughout the summer every Tuesday morning 9:30-11:30. (Child care is available.) We just finished reading Women of the Word together and are getting ready to use what we learned to study the book of James beginning the first week of June. Leave a comment or send me a message for more information!
---
Photo Friday is a little glimpse at our week in pictures. To see more, follow @TheMangoMemoirs on Instagram!