Our family has been loving The Jesus Storybook Bible for the last month. This book was written for children ages four and up, but I will openly admit that it is impacting my own faith. The book makes its way through many well-known Bible stories, but it's not like any other children's Bible collection I've ever read.  The book beautifully tells each story and then explains how the story points to Jesus. It is profound and thought-provoking while evoking a feeling of intimacy and love from a Creator who knew exactly what he was doing to save the people he loves so dearly. All this while writing on a level that can be comprehended by a four-year-old. Amazing.
Ella loves reading this book every night before bed. We usually only read two stories so we can talk about them and spend time praying about what we've read. She gets pretty excited to get it out each night, but we've also been reading during the day because who can say no when their little girl brings them a Bible storybook and asks to hear another story?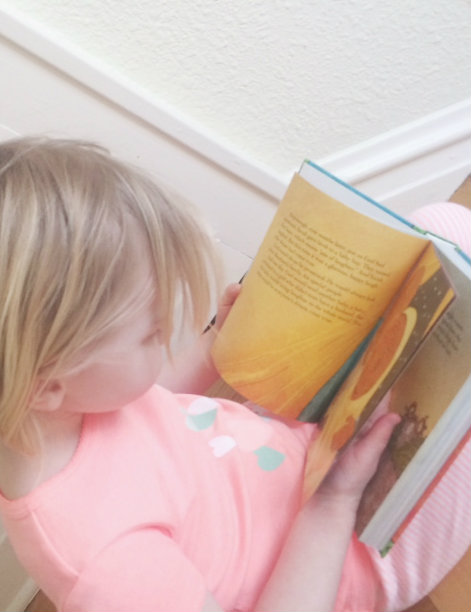 I was searching yesterday on Pinterest for any fun, creative ideas connected to this book and came across a few posts. My favorite was this blog that created a different activity to go with each story. I'll definitely be checking it out for ideas to do with Ella.
I highly recommend this book whether or not you have little ones. I often find that, while the depth of most biblical literature is very good, it's healthy to take a step back and remember that God's message for his people is simple. He loves us and would do anything for us, including sending his only Son to die so that we can spend eternity with him. I truly believe that. The Jesus Storybook Bible has been such an encouragement to my heart and Ella's through the last month.
Charlotte & Ella blowing bubbles in the yard
Our dear friends – the Floreks – gave Ella this book as a gift when they stayed with us a little more than a year ago. We've always shared a heart for missions with them, and in September of 2013, they moved with their two beautiful girls (Charlotte pictured above) to Ethiopia for long-term medical mission work. You can follow their adventures on their blog Floreks in Ethiopia.
Disclosure: All opinions in this post are my own. I was not compensated for this content in any way.