One very special community trip I made with Solomon (director of the special needs clinic) and a few others happened back in August before I got sick. I don't want to miss sharing these photos with you and holding the memories for our family here on the blog. These visits are one of my absolute favorite things I get to do here. Spending time with families, and especially praying with and supporting the mamas, is what God has prepared my heart for. On this particular visit, we traveled to the home of little U to deliver her new wheelchair. Just look at this beautiful girl, finally sitting in her long-awaited chair!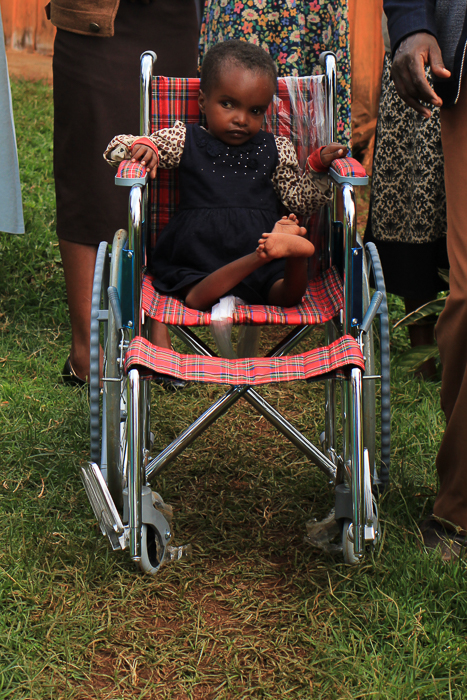 As we exited the car on the narrow dirt road outside U's home, her mother caught her first glimpse of the wheelchair. It was moving to see her response to something we so often take for granted – access to medical equipment that is completely life-changing.
Lots of neighborhood kids came to see what all the commotion was about.
A moment later, U's grandfather joined us on the road to help carry the wheelchair into the yard. We carefully made our way through the wire fence to help situate the chair for U and to meet her family.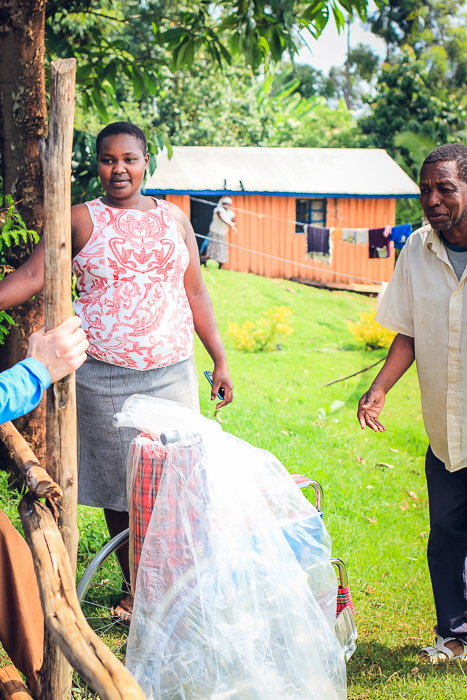 It's such an honor in Kenya to be invited into someone's home. It was incredibly special to be welcomed by U's grandfather and given a place to sit on a small couch inside.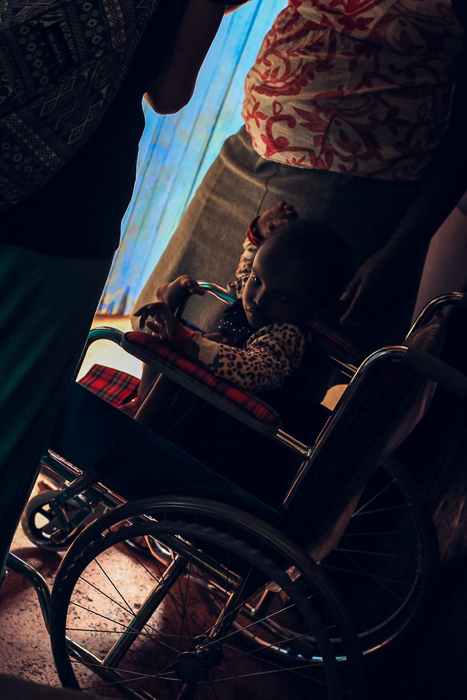 Sweet U was a little shy with visitors in the house. She sat quietly while her grandfather spoke, fingering the bright fabric on her chair. There was no missing the twinkle in her eye.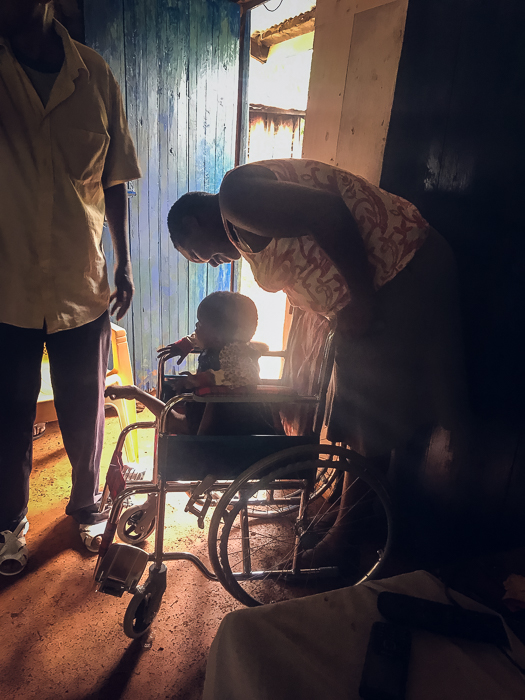 Nearly all of U's family was present for the delivery of the wheelchair. Her grandmother and grandfather, her aunt and uncle, her mother, and shortly afterward, her father arrived home from work. This was indeed a very memorable occasion for them all. As is tradition here, we were given a formal welcome by the head of the house. After that time, Solomon gave a very moving talk about the beauty God sees in U and how important her life is. He then shared the Good News of Jesus' death and resurrection and what that means for each of us today. Solomon has an incredible heart for sharing Jesus with every family and patient he encounters. I know I'll learn a lot from him in the years ahead.
Following the greeting and Solomon's talk, we were each given a cup of steaming chai. Chai is served everywhere here! It's made with hot milk, lots of sugar, spices, and the black tea grown in the fields surrounding us.
I'm still getting used to how hot it is when served. Our Kenyan friends drink it when it's practically still boiling, but I prefer to wait a few minutes. Or fifteen.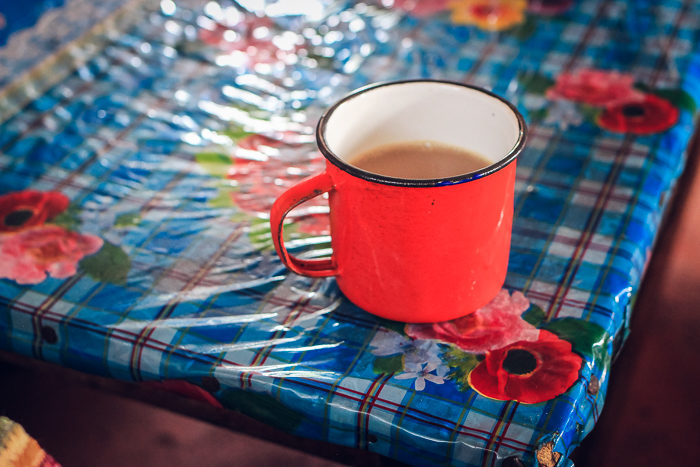 U's family was excited to try her wheelchair outside. It was a little bumpy, but it was clear she was happy to be sitting on her own.
Here you can see all of U's family along with the group of us who went out with Solomon (front left). I was taking the photo.
U's grandfather showed us the land surrounding his home.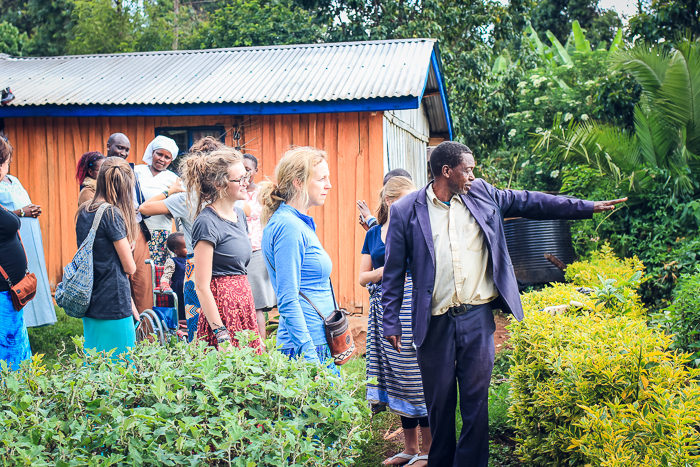 So green and lush. Most of that is tea.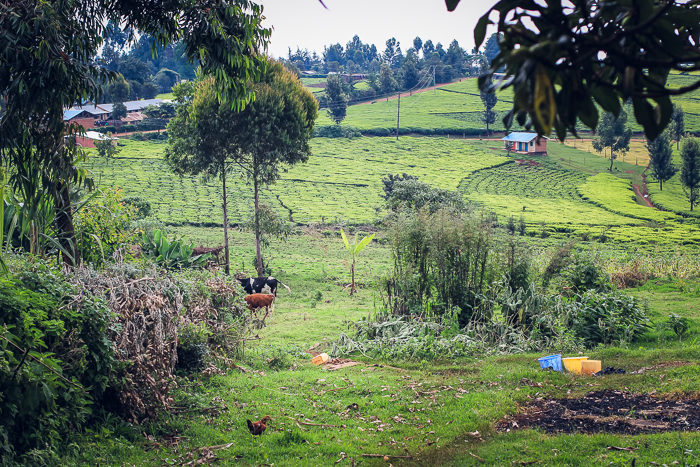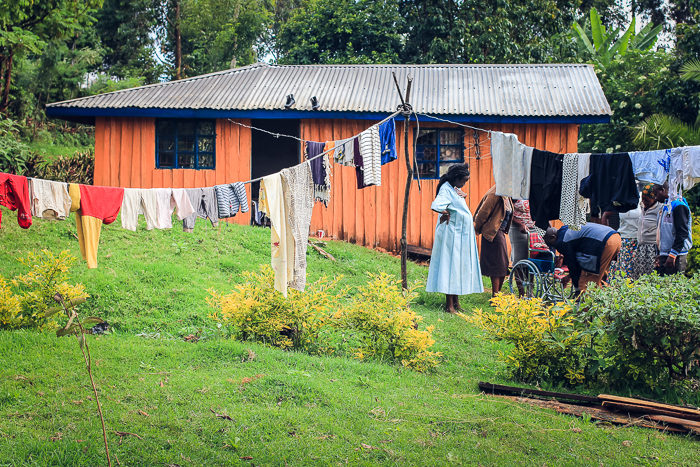 A few neighbor kids waited near the gate for us and loved having their picture taken.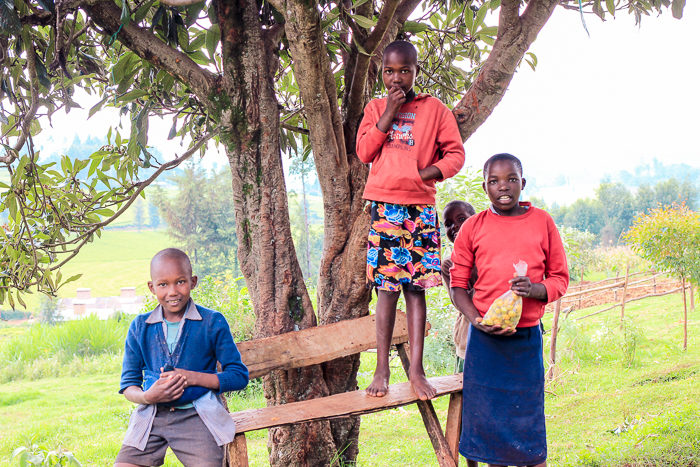 I'm happy to share that I've seen U and her mama at the special needs clinic since the delivery of U's wheelchair. I love seeing the same mothers return on Friday mornings. It's not easy for many of them to travel all the way to the clinic, but they are working incredibly hard to get the help their children need. Please keep praying for them! They are fighting against the long-held stigma that children with special needs are not worthy of education, attention, or even love. But God sees them differently. They are fearfully and wonderfully made (Psalm 139:14). We continue to believe that and work to share that message!