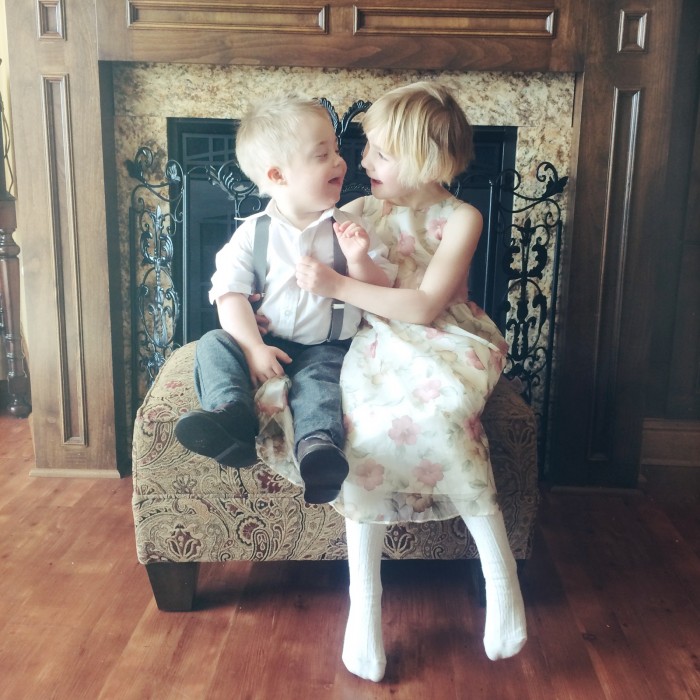 The thing I truly enjoy about Easter in our family is that we don't go crazy over the activities that surround it. I love traditions at holidays, but from the time we were newlyweds, we decided to keep Easter on the quite side and celebrate with local friends. I suppose it was partly due to Pete's med school and residency schedules, but I feel like it keeps our focus primarily on the excitement happening at church, which usually includes a dramatic, artistic service on Good Friday and a huge celebration on Sunday morning.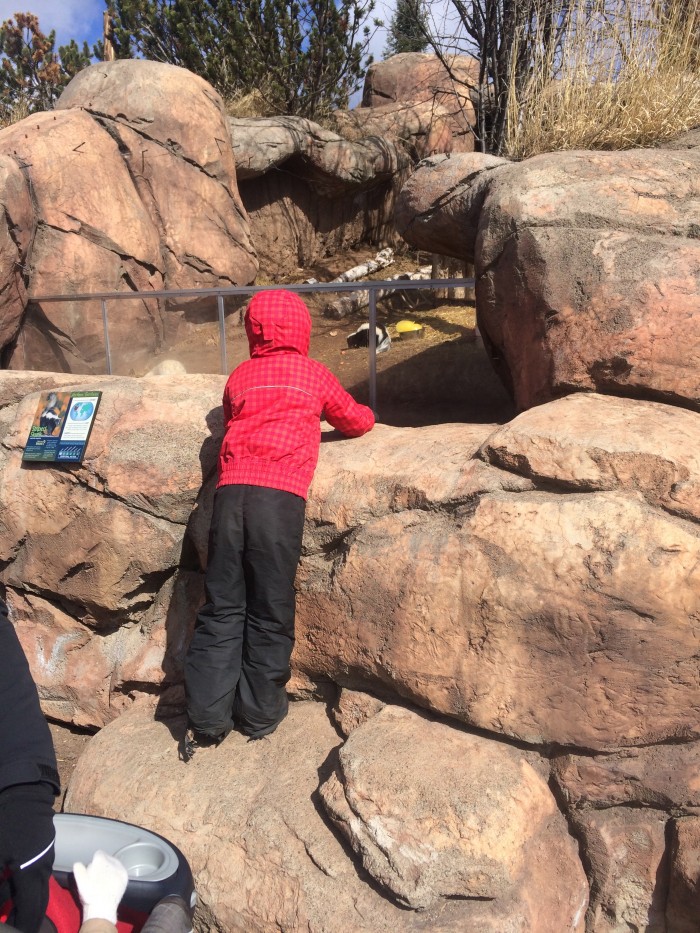 Again this year, Pete worked a lot of Easter weekend. While he was away, I met Krista and the boys at the zoo on Sunday morning for a great big egg hunt! Before we could even look for a single egg, though, we had to visit the skunks. Have I mentioned that Ella's FAVORITE animal is the skunk? When she started talking about the furry animals last summer, I was sure it would be a short phase, but it has lasted to this day. We got her a little clip-on skunk tail and headband with ears for Christmas and she made a valentine in February that said I LOVE SKUNKS. So yes, when we visit the zoo, we must always see the skunks.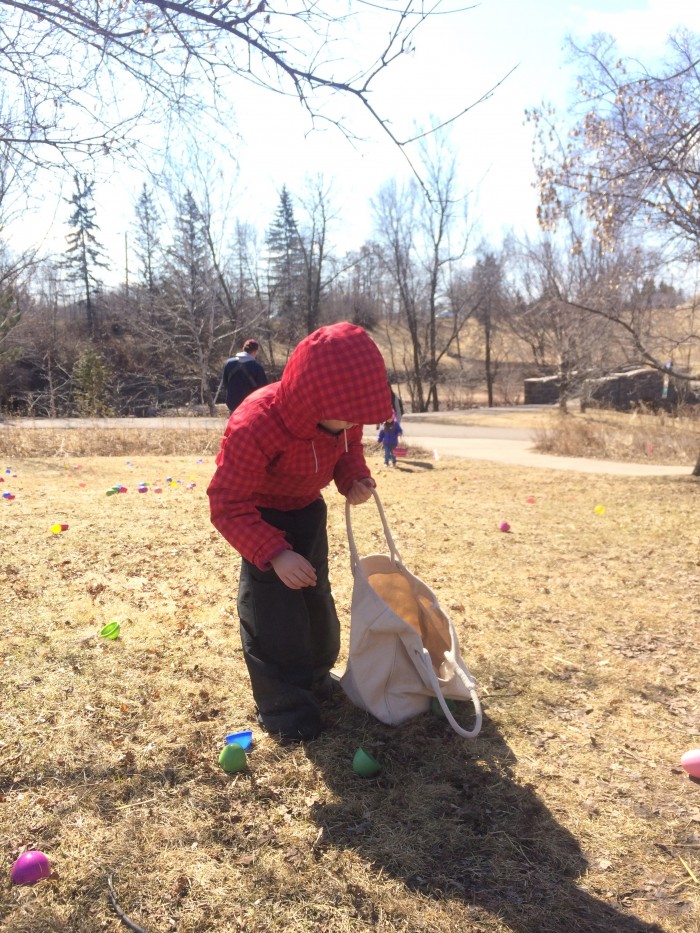 Even though it was more of an egg gathering than an egg hunt, Ella was excited to participate. This mama forgot to bring a cute basket, like most the kids had, but we were lucky enough to have a grocery bag in the car. So festive! Ella popped all her eggs into the bag and then traded them in to the zoo volunteers for a ticket to get a little bag of treats before leaving the zoo. Sam had zero interest in the egg gathering this year but was happy to watch all the other kids. Maybe he'll like it more next year when he can run around on his own.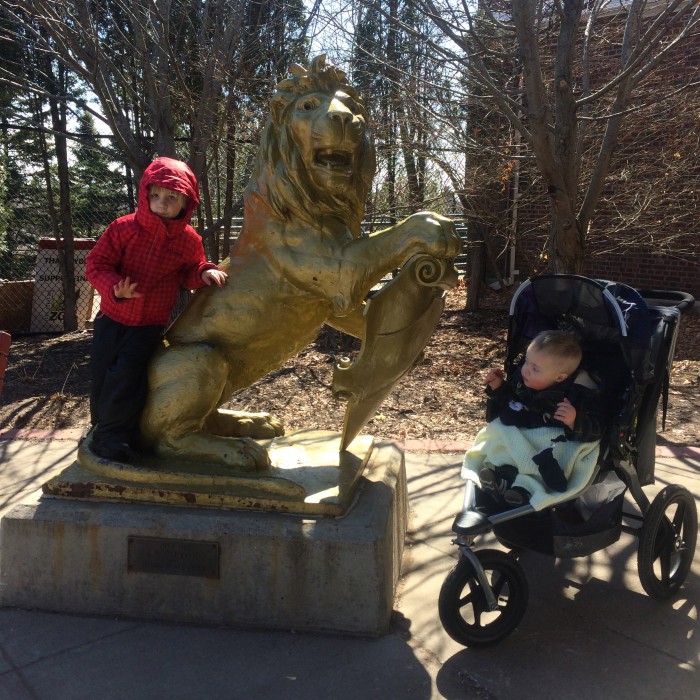 At home we painted eggs. Did you know you can bake eggs instead of boiling them? I've seen it a lot on Pinterest, so I gave it a whirl this year. Worked like a charm! (As opposed to last year when I burned my entire first batch of eggs on the stove. Tip: Don't leave to give your daughter a bath after putting the eggs in the water. You will likely forget the eggs are cooking, all water will evaporate, and your eggs will scorch on the bottom of the pan. Just sayin.) Baking the eggs for half an hour worked beautifully!
Daddy found these little Q Tip-like paints for eggs, which Ella thoroughly enjoyed. She made us each our own special creation.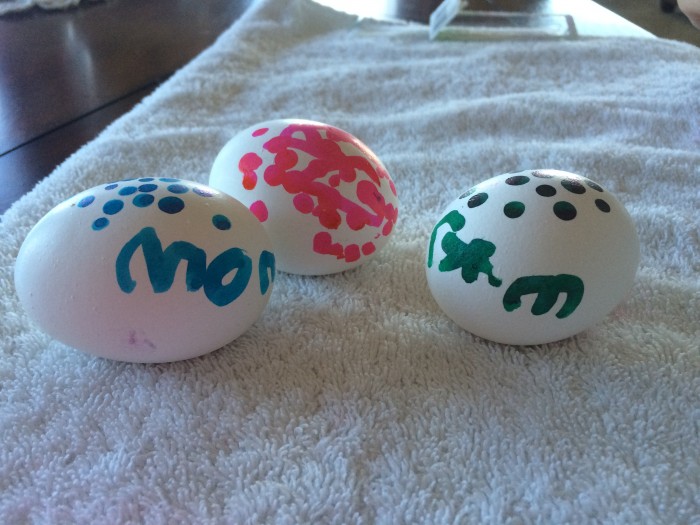 As we continue on our six months of very minimal spending, we decided to create Easter gifts with what we had around the house. I really enjoyed finding little things for the kids and putting them together in little baskets, also items we already had. After creating the baskets, I realized that I didn't have any little eggs for our annual egg hunt at the house. Instead of buying the plastic versions, I jumped on Pinterest and found a free printable of these colorful eggs. To make the egg hunt a little more challenging this year, I turned it into a sort of scavenger hunt and glued on photos of different places in our house. I thought about taking actual pictures and printing them, but I kept it simple and just used random photos from my computer.
I told Ella she would find her basket at the end of the hunt and gave her the first clue. To say she liked the game would be the understantment of the YEAR. I can't even tell you how many times we hid and re-hid all the paper eggs. Seriously. I wear a Fitbit and got in a whole lot of steps just from searching for eggs!
She searched and searched, getting a little stumped at times.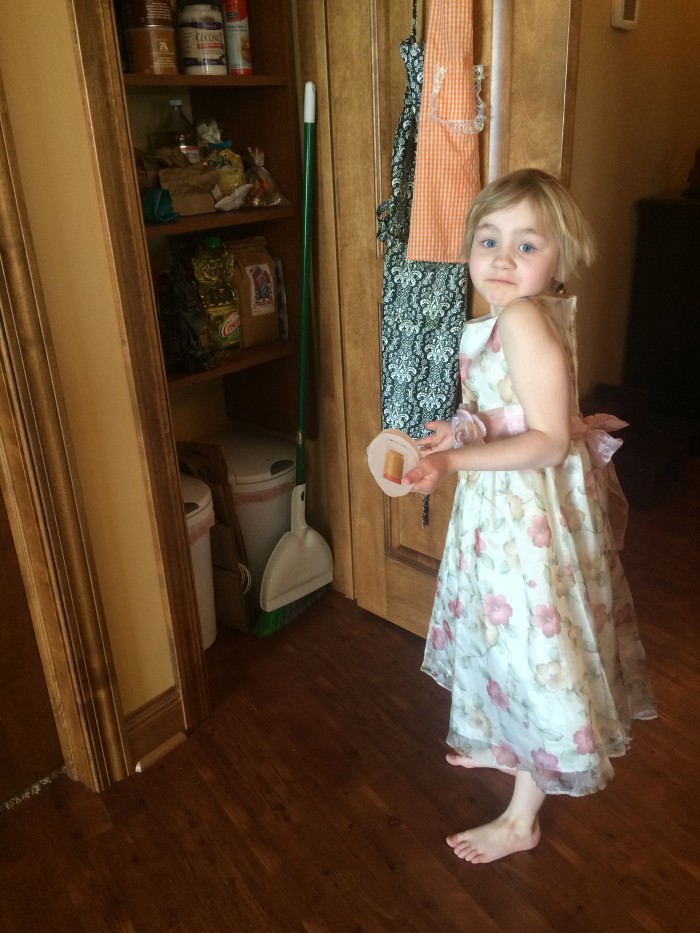 But at last, she found it! This was my favorite place I found my Easter basket when I was little.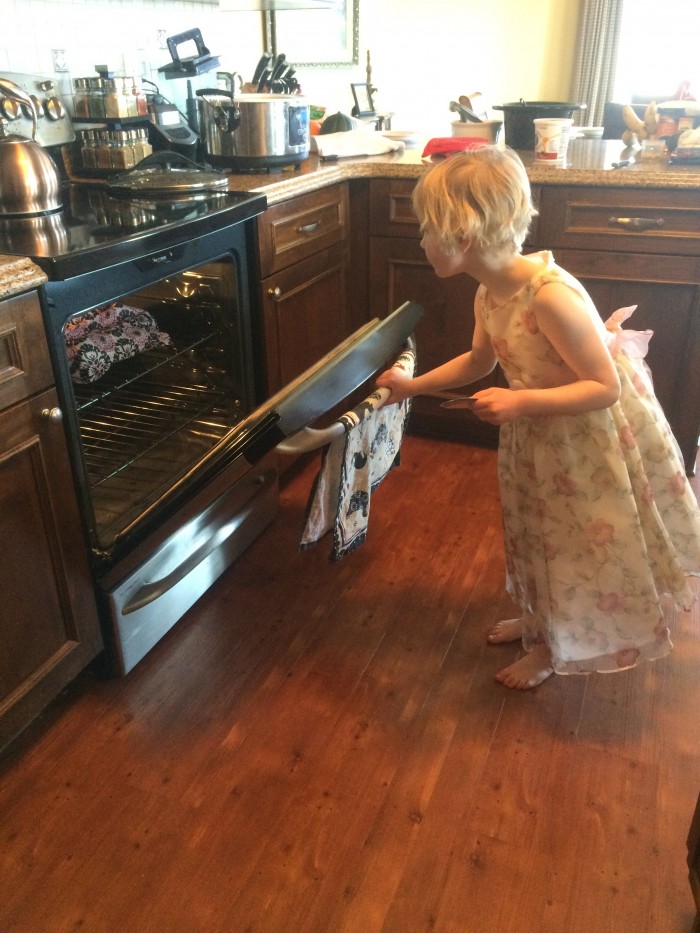 Ella found a Spring Cutie Barbie in her basket! (A bag, rather than a basket, actually.) I would like to thank whomever gave Ella the Spring Cutie Barbie as a recent gift. At Christmas, maybe? Here's what happened. I was cleaning the kids' closet a couple weeks before Easter and realized I had put this doll on the shelf to save for a later time. I often do that after big holidays so we can later pull out gifts instead of playing with everything right away. I don't know remember who gave it to her, but it was perfect to pull out for Easter. She was thrilled! She also got a few Strawberry Shortcake tattoos, left from her third birthday party.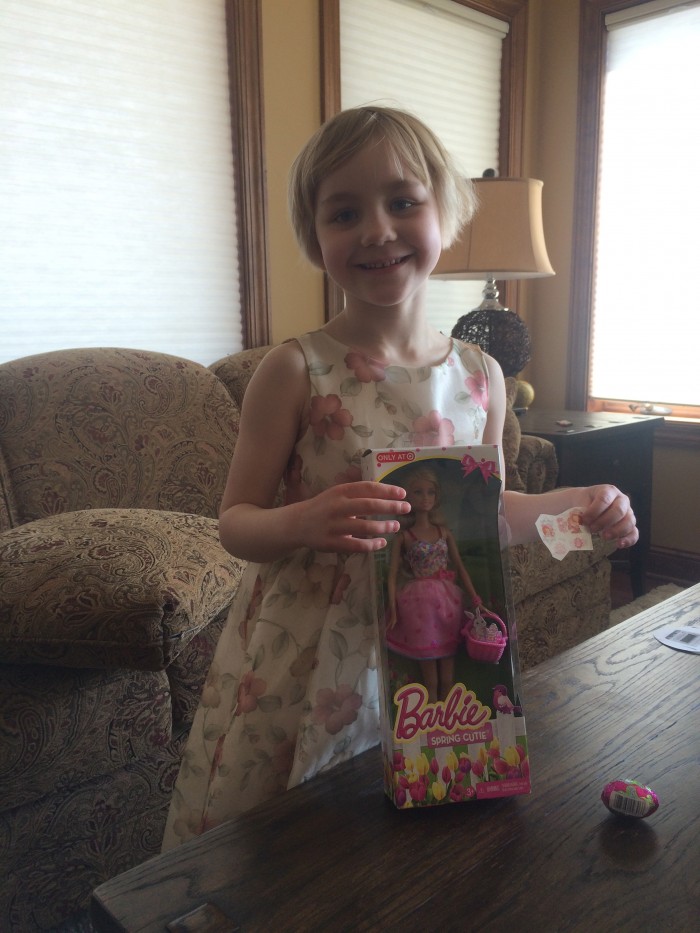 Sam was very excited about his basket, too. He got a VHS copy of Beauty and The Beast, which I picked up months ago for 49 cents at Goodwill. The kids have a VHS/DVD player in their room from the previous owners, but this is the only VHS we have. I'm not actually sure it's going to come back out of the machine, so we might be stuck with it for a good while! Sam shared his Easter excitement with his buddy, Kai.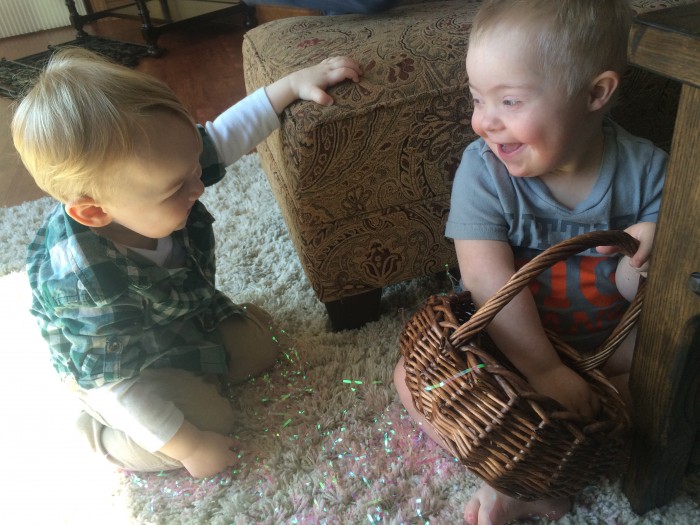 Along with realizing I didn't have any little eggs for an egg hunt, I discovered I didn't have much in the way of candy for Easter treats. I did, however, have ingredients to try a little gummy making of my own and made these cranberry flavored gels. I tought they ended up tasting a whole lot like thick Jell-o jigglers rather than gummies. The kids loved them!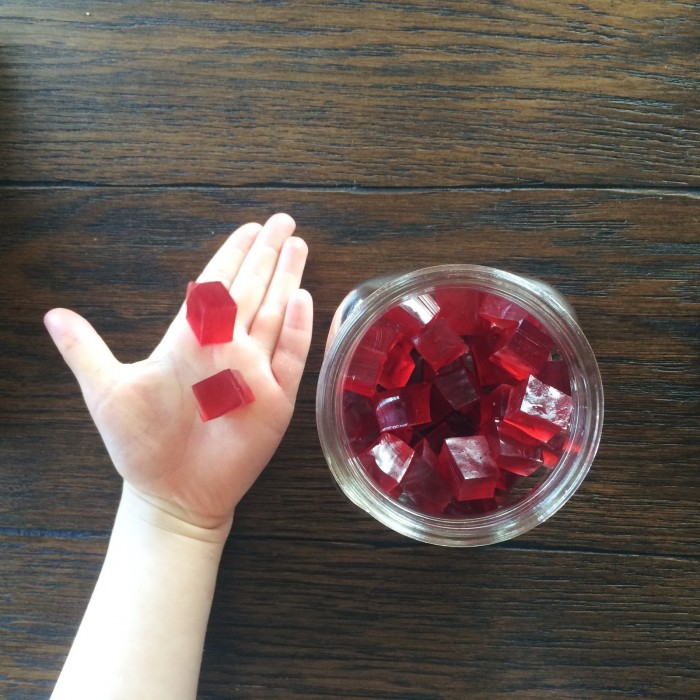 My two little loves, as cute as buttons in their Easter clothes!
The layout of this post might be a little funky since I'm posting from a blogging app on my iPad. I often write on the iPad and edit the layout on our Macbook. But alas, our dear laptop has seen its final day! We knew it was on its way out, so we got everything backed up, but we wanted to wait as long as possible before finding a new one. Even though we're trying not to buy much until mid-July, we just can't go without a laptop. We have a lot of Kenya-related work that has to be done on it. Until we get a new one, I'll post this way and hope for the best!