Happy 2017 from Colorado! Last night we rang in the New Year in a hotel in Des Moines, Iowa, and today we drove, drove, drove to the edge of Colorado. It's been quite the week of car travel. This is our fourth hotel! First it was Christmas in Pequot with my family, then a night in Rochester for travel shots at Mayo, then last night in Iowa and tonight in Colorado. So glad we'll reach our final destination for the month tomorrow afternoon. We'll be at Mission Training International near Colorado Springs for four full weeks. We've been told really great things about the training, so we're looking forward to getting there and meeting everyone in our session. Just two and a half more hours of driving, which seems like cake at this point.
The kids are rock star travelers, which I have been endlessly thankful for since the day they were born. I would likely be at my wits end if they didn't travel well. I mean, we're a traveling family, so thanks, God, for putting that in them! We've definitely learned a few things about car travel since having kids. Like a DVD player is the best invention ever for trips, and non-spill snack containers and cups are a must. I've also realized that it doesn't take a whole bunch of different things to keep them busy. Instead, a few simple things can keep their attention for long enough. Then we rotate through each item. The car stays cleaner, the kids aren't overwhelmed with options, and they can work on focusing their attention. This trip I bought them each a pencil box and put their name on the front for a place to keep small things together, like markers, pieces of clay, and stickers. Sam loves buttons, so I gave him a cheap calculator he uses like a phone. He is seriously joyously happy each time we hand it to him. He also has a small tractor and a motorcycle he got for Christmas. He's just starting to enjoy coloring, so the Color Wonder markers and color pages Luke & Hannah gave him for Christmas are perfect. (The markers don't color on anything but the paper!) Ella enjoys projects and workbooks, so I ordered this fantastic lap desk for her a week ago and it has been a dream in the car. She spent today working through a paper doll book from Usborne and creating felt creatures in this Melissa and Doug set. Of course, snacks are also pretty helpful. Our snack of choice on this trip has been popcorn. We have a few little baggies of gummy worms for the kids, too. Something we can easily pull out and hand to them.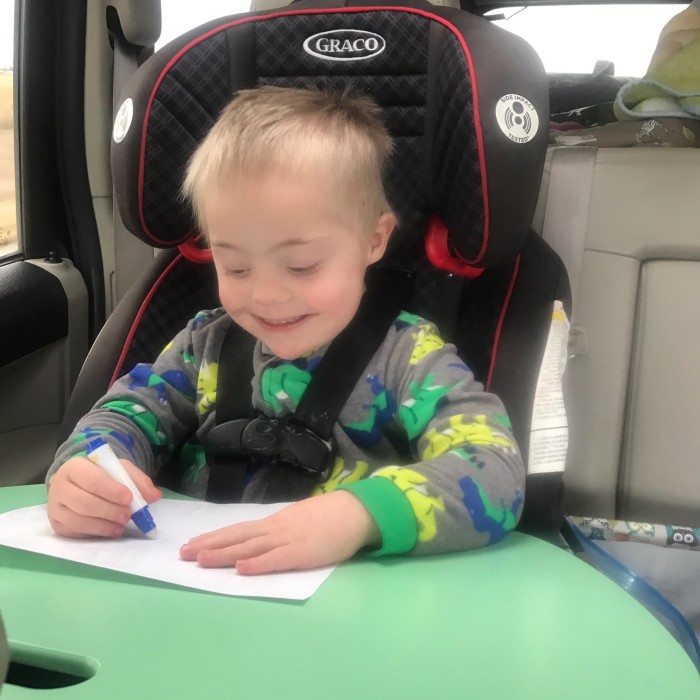 Here's a trick we've picked up that some might say ruins a movie, but we do it anyway: We turn the sound off on lots of movies the kids watch. They don't seem to mind! This is especially true if they're working on or playing with something at the same time. This way, Pete and I can listen to audio books up front. I do the same thing when it's just me on longer trips with the kids. Last night and today we listened to The Magnolia Story by Chip & Joanna Gaines of Fixer Upper. So good! We totally relate to their love of dreaming together and going after big things that seem a little impossible. And every time Joanna said she wouldn't have tried some of what got her started in design and sales without her husband, I could absolutely relate. Pete is the one who hears my secret, little dreams and encourages me like none other. The little bake shop I had for a couple years? I never would have done that without him, and I loved it! They also talk about marriage, another topic Pete and I are really into. Plus, Chip & Joanna read the book. It was such a great way for us to spend five or six hours of driving time.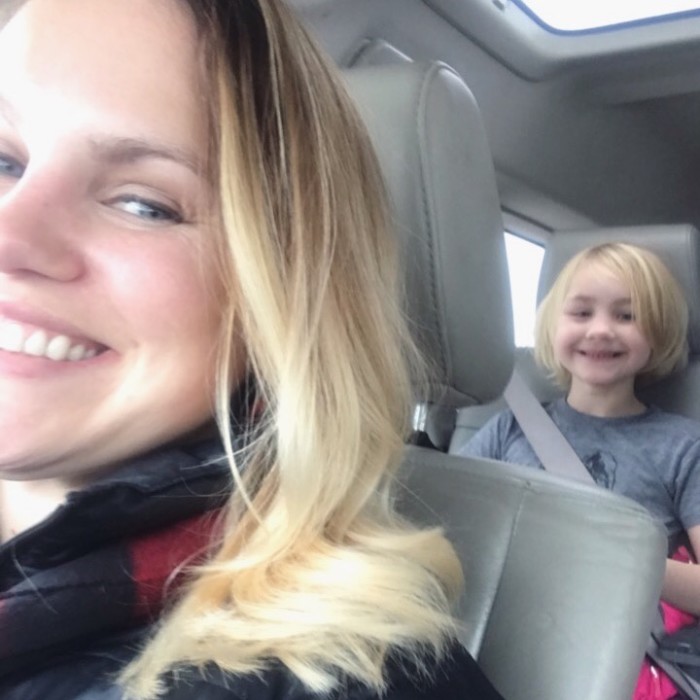 Tomorrow we'll get to the MTI lodge and settle into our room for the month. Yes, we all get to be in one room for the whole month. We're praying this goes well. I'm so glad Sam still wants to sleep in a portable crib when we travel. It seems to bring him comfort. Otherwise, I have no doubt he'd be all over that room in the night.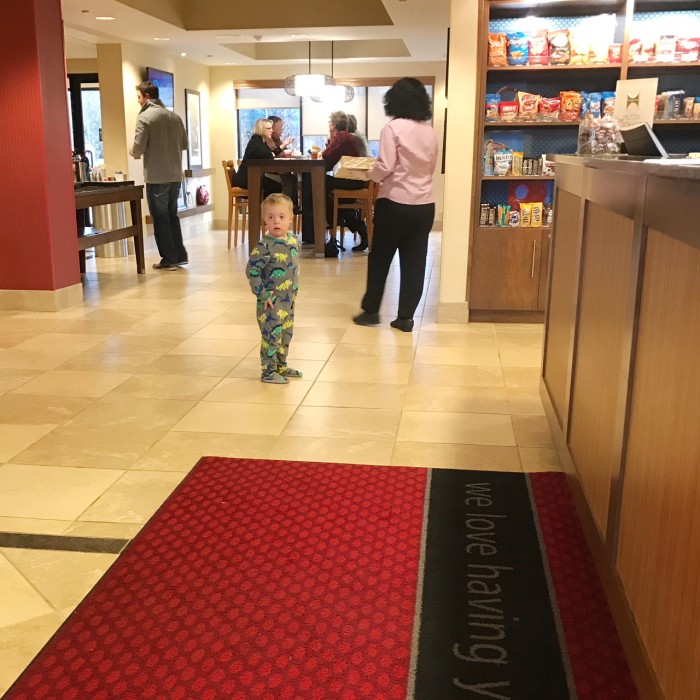 Oh, it's a new year. With everything going on right now, I feel like that has slipped right by me. I need to spend some time reflecting on the last year and all that happened. You guys, I had a word of the year and I actually thought about it all year long! Maybe tomorrow I'll start praying about a word for this year. And if I get a chance, I'll share the word and verse from last year. But for now, we're all going to cuddle into the king bed in this hotel room and finish watching The Polar Express.
Happy 2017!