Meet three year-old Connor! Today his mama, Jessica, writes about her strong emotions when she was told he had Down syndrome and how she reached out for help. You can find Jessica on Instagram at @jessicamucka. And check out Connor's hat. Jessica says he has to have it when he leaves the house, and he sometimes takes it to bed! Too cute.

If you've been following along with our Down Syndrome Awareness Posts this month, you have likely noticed the trend of parents expressing how difficult it was to first learn their child had Down syndrome. This is one thing I point out to any new parent. Whatever emotions you feel after any unexpected diagnosis is okay. The most important thing to do at that time is to surround yourself with people who love you and to find good resources. Take the time you need before fully embracing the diagnosis. Be healthy and give yourself grace. The sadness or frustration will melt away and a whole lot of love and hope will remain.
My husband and I found out that Connor had Down syndrome 3 days after he was born. Each pediatrician that came to see him had a different opinion on whether or not he showed signs. Finally a blood test was ordered and it was confirmed. Connor had Down syndrome. Being only 29 years old when I was pregnant with him, I refused any testing. My husband and I knew that we would love our child no matter what. So I wish that in the moment I heard the news I smiled and said something wonderfully poetic like, "That doesn't change a thing, we committed to love him and we're thrilled he is who he is." What actually happened was a sea of tears that didn't end for weeks. I couldn't stop crying for days on end. I felt every emotion there is but the worst, most prominent feeling was that of guilt. The guilt I felt for crying so hard and being so upset. I loved Connor so why was I so upset about this diagnosis. He was a beautiful baby boy but I couldn't make the tears stop and the guilt just intensified. I soon started to just feel numb. As we walked into the Cardiologists office when he was 6 days old to have an echocardiogram, I wasn't present. I was sleep deprived and depressed. Thankfully Connor was cleared of any hear defects and surgery wasn't necessary. When my husband and I got back into the car to go home, I broke down. I again felt guilty that I hadn't really been aware of what potentially could have come out of the appointment. The numbness was taking over. It was how I was coping. I decided to get help and we reached out to the Massachusetts Down syndrome Council. The MDSC provided support, information and hope.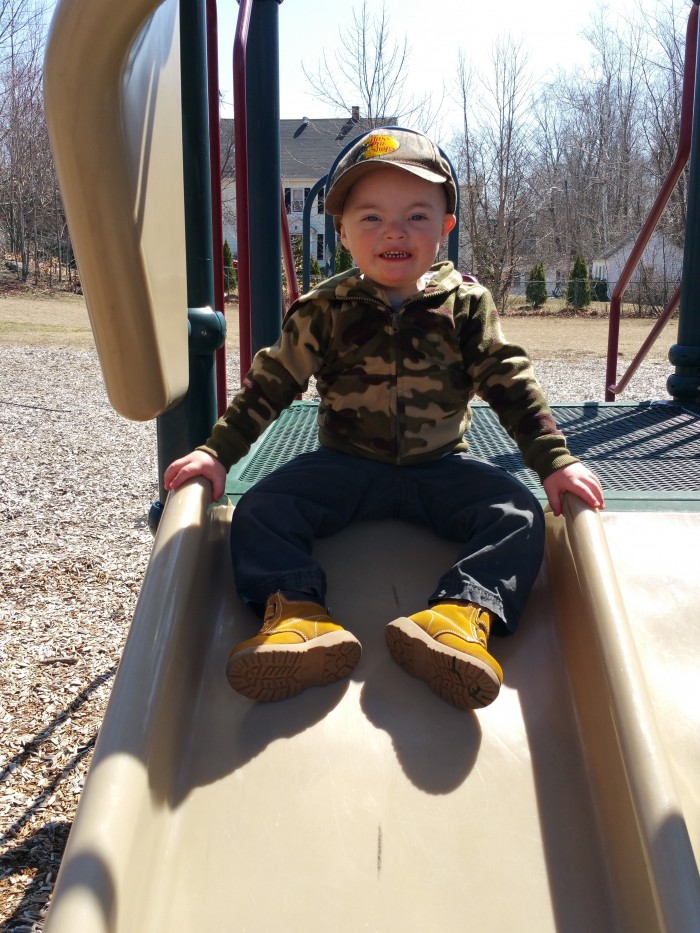 Fast forward to three years later and the guilt is gone. Sometimes I wish I could go back and not have wasted so many tears, but I think that healing was necessary. I was mourning the son I thought I was having and that allowed me to accept the one that was meant for us. I couldn't be prouder of Connor. I watched him struggle with therapy and now he's running circles around me. We have been overjoyed by every milestone, every word he adds to his vocabulary still warrants large celebrations. We clap, jump and embrace in happiness daily. He makes us laugh every day and he loves to dance. Don't get me wrong not every day is completely magical; after all he is still a toddler! He still gets mad if he gets the wrong cup or doesn't get his way. But, these are challenges that were would be facing with any kid.
The biggest gift he has given me is the ability to watch life through his eyes. He is so pure and loving. He has overcome more challenges in his three years than many do in a lifetime. We are truly blessed to be given the ability to love and care for him. He has already changed the world around him. I couldn't be more thankful for him.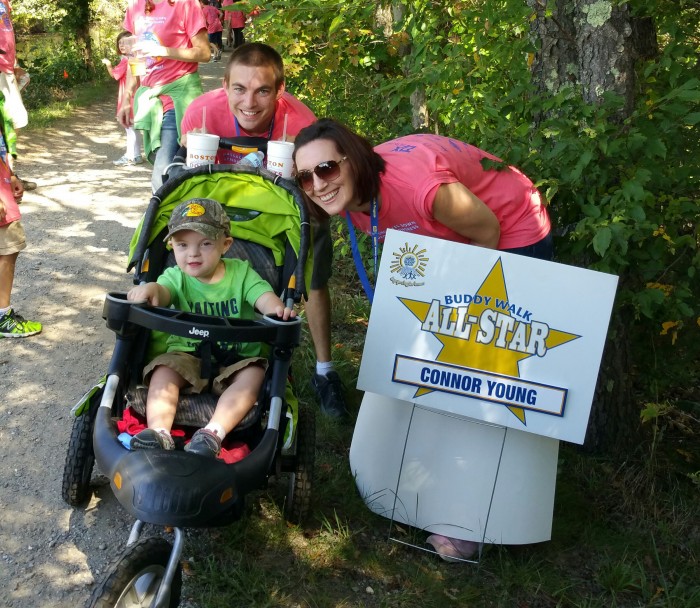 Click below to read all the stories from Down Syndrome Awareness Month!