I'm so excited, you guys! My sister – Mama Bex – is engaged!! Mr Adam Olson popped the question last Friday night and, of course, she said yes!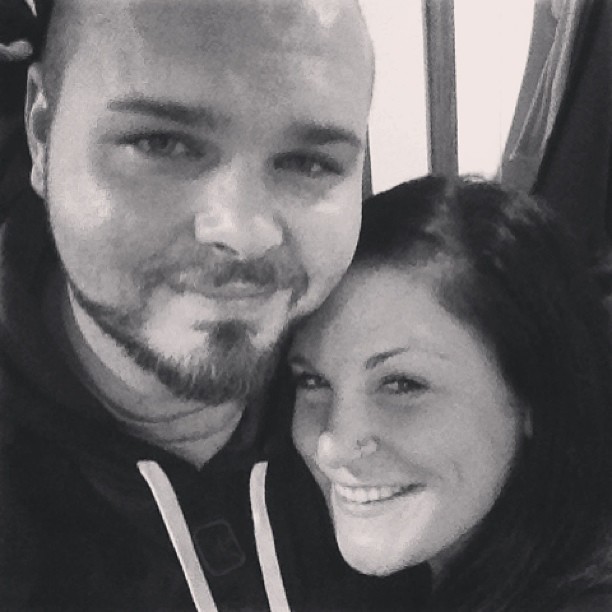 I could not be happier for them! And guess what…my dear sister asked me to be her Matron of Honor. Ahhh! I just love weddings and everything about them, and I adore party planning, so this is that much more exciting. I have to admit, though, I kinda wish I could be called the Maid of Honor. I think it sounds so much better than Matron. Matron just sounds old. But never mind, there is a wedding to plan! And plan we will, as these two loves will be getting hitched in just three months on July 19 in Nisswa, the quaint little resort town where we all grew up. It's true, Adam went to high school with us. I graduated with his sister, Becky graduated a year after us, and Adam was the next year. Becky and Adam reconnected on Facebook last year and have become best friends. We're all thrilled he'll be joining the family! And yes, once again, I will be sharing the same last name with my darling little sister. Angie & Becky Scott will soon be Angie & Becky Olsen/Olson. It's just like our grandma and her sister who had a double wedding and both went from Anderson to Johnson. Yay for another wedding in the family!
---
Easter morning, we met up with the future bride & groom, and Malena & Maira for an early breakfast. You know, before the Easter brunch crowd hit. Ella was thrilled to see Auntie's ring & I know Sammy approves of his soon-to-be uncle!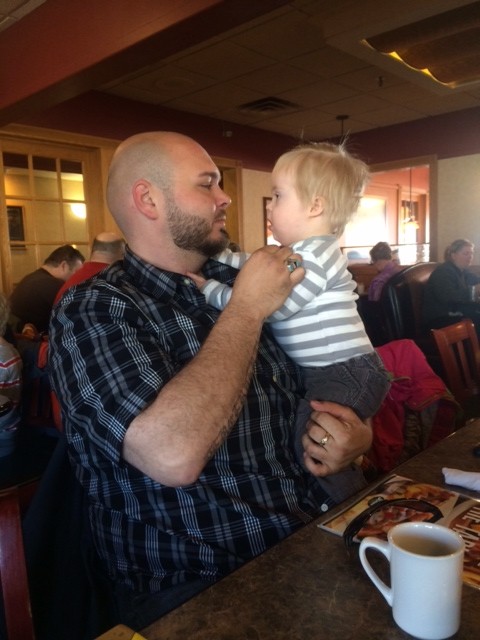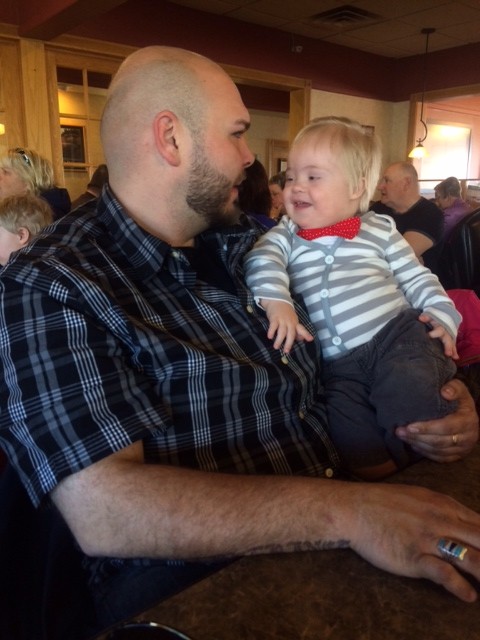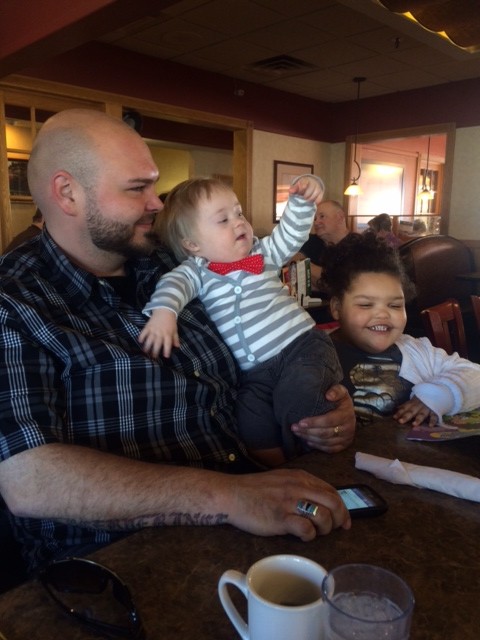 My little sunshine insisted on the rainbow pancakes as soon as she learned they had sprinkles.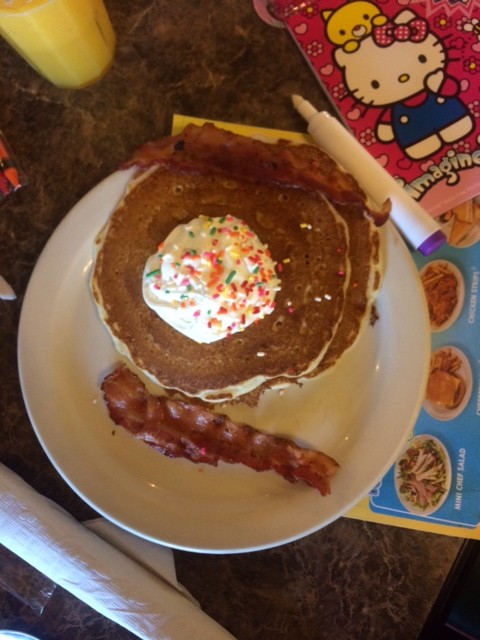 Daddy was able to join us after his 24 hour shift ended. I will never be able to get enough of my boys together.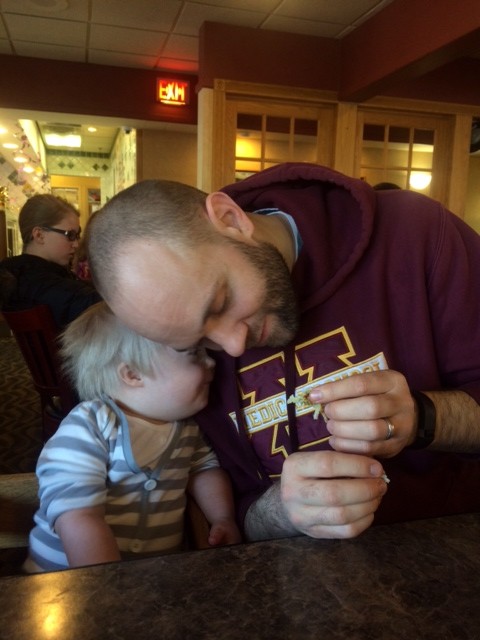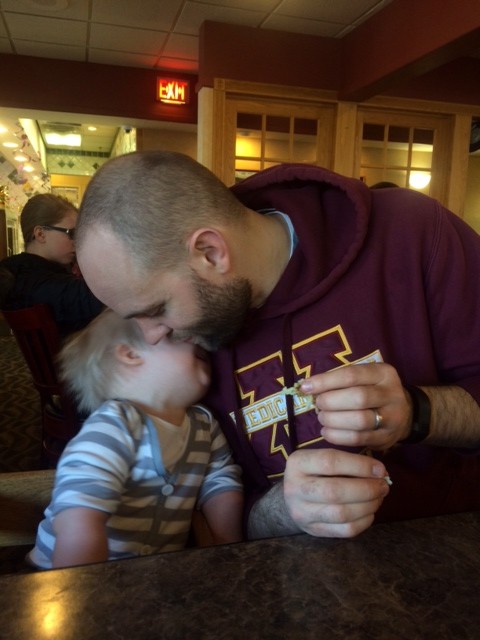 I didn't mean to catch them mid-bite, but look at how similar these two are!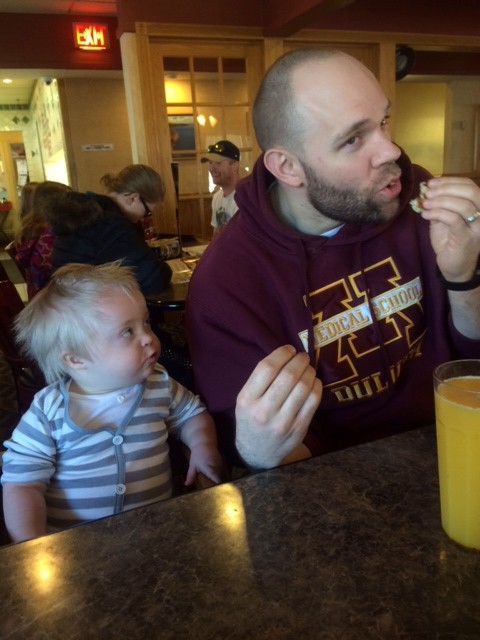 Easter has become my absolute favorite holiday. Jesus' sacrifice is overwhelming! It was incredible to celebrate with my loves and our big church family.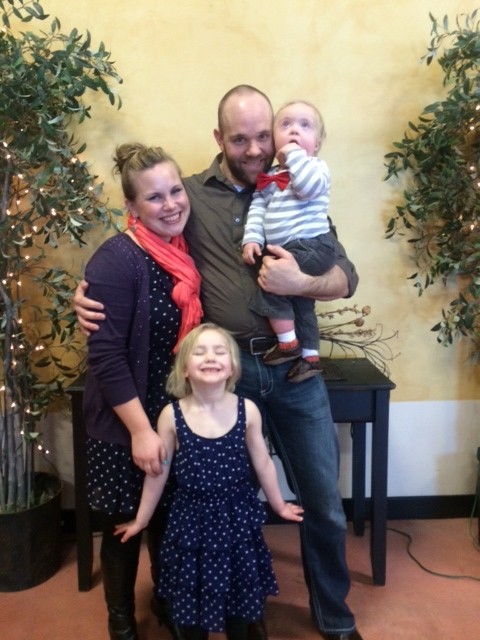 What? We wore matching dresses?? Oh yes we did! I'm pretty sure this was the first time we had coordinating outfits. I bought mine a couple months ago at the mall and then I found hers a few weeks later at Target. She was absolutely thrilled. Can't you tell?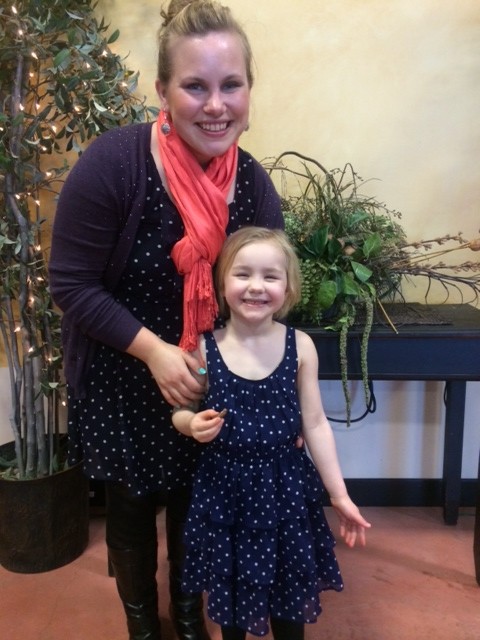 Oh dear, the eggs. The eggs did not go well this year. Friends, how hard is it to boil one dozen eggs before soaking them in little cups of vinegar and food coloring? Apparently, a bit to challenging for me this time around. Ella and I set them on the stove and then I made a rookie mistake. I walked away. What?! How safe is that? Ellla wanted to show me something in her room and I knew I wouldn't possibly forget the boiling water on the stove. At least, I wouldn't forget it until Ella was in the bath a good while later and suddenly exclaimed, "Mama! The eggs!" Round one, down the drain.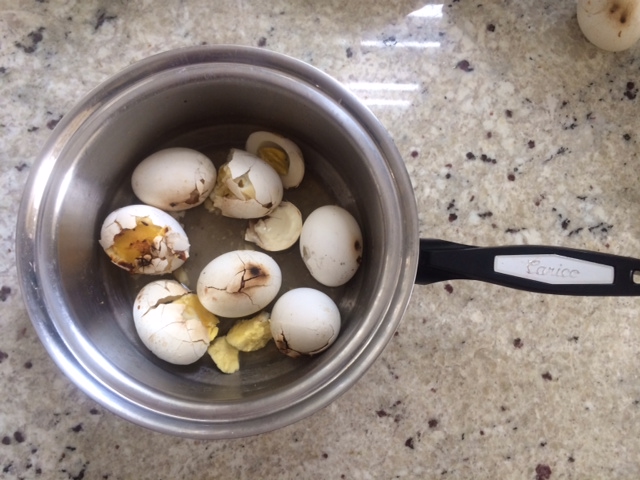 Those were my only white eggs. Instead of throwing in the towel, I grabbed the brown eggs, closely watched them the entire 12 minutes they cooked, and decided to skip the dying part altogether.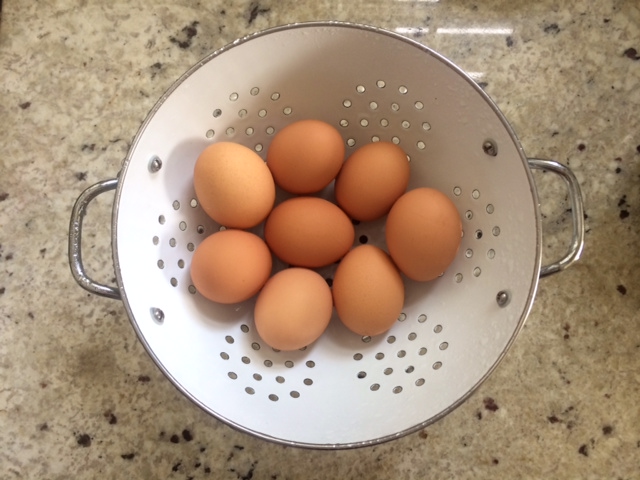 Who needs to dye the eggs when they're going to be disguised as artistically as this?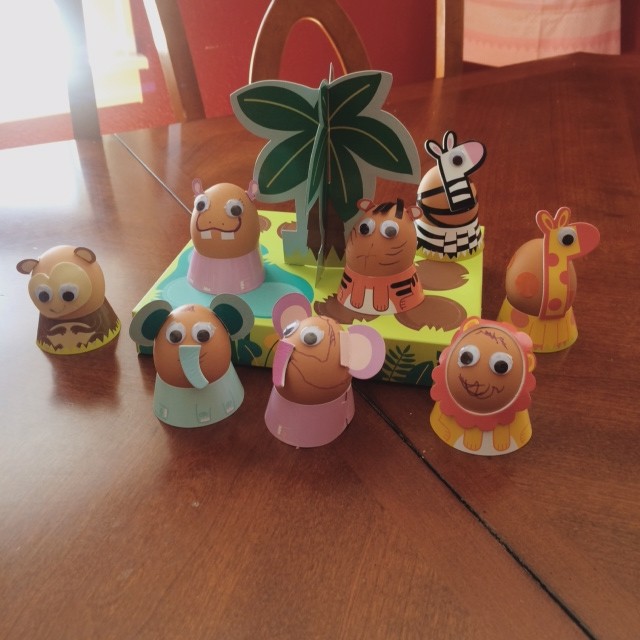 We'll call that a success. You know what else was a success? Sam's first Peep!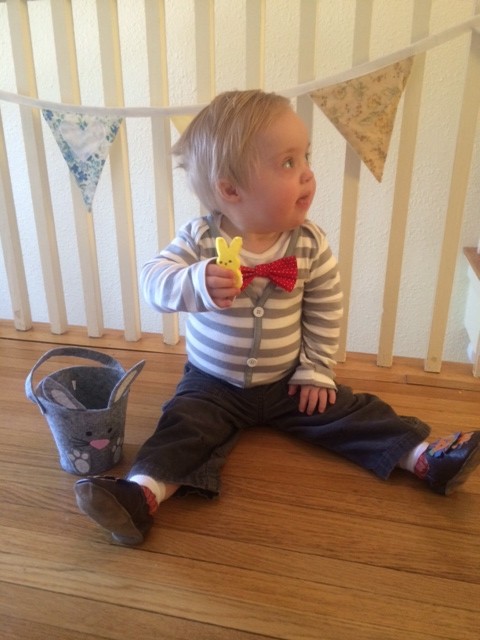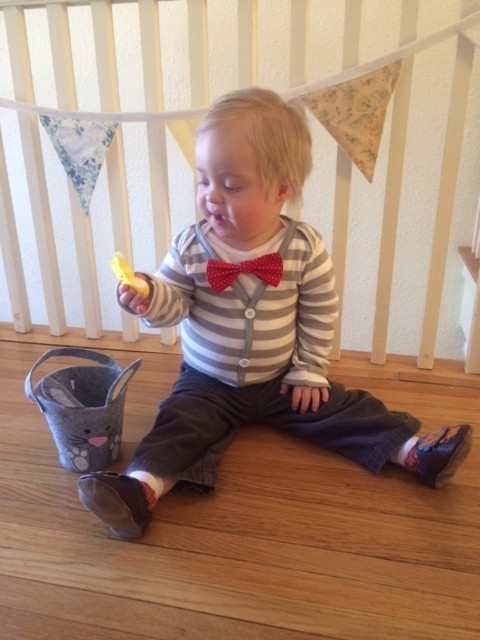 When it comes to Peeps, I think you either love 'em or you hate 'em. I'm a lover, people. A true Peep lover. I was pretty happy that Sam so thoroughly enjoyed his first. His second, though? Let's just say he may need a little time to warm up to the art of multiple Peep consumption. Me? I'm a pro.
All the sugar and activity of the day hit an end point for this little bunny. He was calling it quits.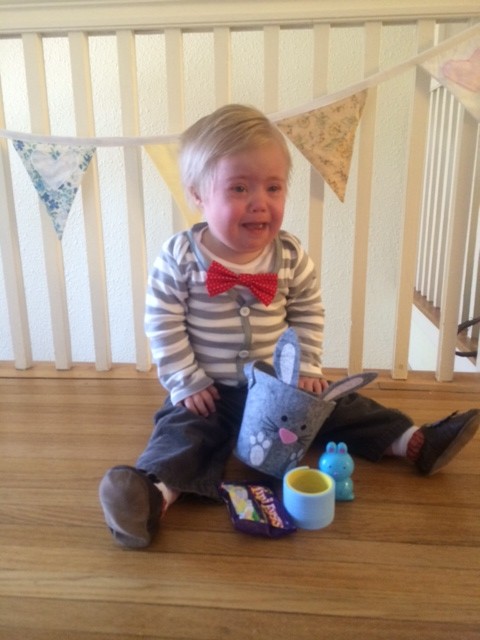 It's good the Easter Bunny includes milk in little baskets. Big points for that bunny from this guy.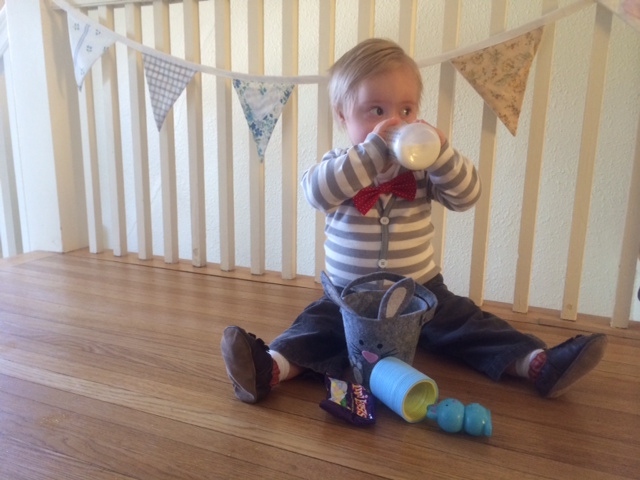 With that, our celebrating came to a close. This year, Ella made the holiday extra special. We read the story of Passover and the Crucifixion every night for the week leading up to Easter. She had so many thoughtful questions, which really set my heart on the real story behind this very special holiday. I hope you, too, were able to focus on the real story and the incredible, selfless act of our Savior so we can spend eternity with Him. Such hope & peace because He has risen!